Running a successful barbershop involves more than just great haircuts and shaves. It's about smart marketing and effective sales strategies.
In this guide, we'll walk you through creating a sales and marketing plan tailored for your barbershop. We'll start with a market analysis to understand your competition and identify your target customers.
Next, we'll discuss how to build your brand and position your shop in the local market. We'll then dive into various marketing channels to reach and engage your customers, followed by outlining effective sales tactics to boost your revenue.
By the end of this article, you'll have a clear plan to attract more clients to your barbershop and keep them returning for more.
Market Analysis
Understanding the market is key to tailoring your sales and marketing efforts for your barbershop.
Competitive Analysis
Identify local competitors and analyze their services, pricing, and marketing strategies. For example, if a nearby barbershop offers a loyalty program, consider how you can create a more appealing version.
Conduct a SWOT analysis to understand where your barbershop stands in comparison. This involves assessing your strengths (like skilled barbers), weaknesses (perhaps limited seating), opportunities (a growing male grooming market), and threats (new barbershops opening nearby).
Target Audience Profiling
Define the demographics and preferences of your ideal customers. Are they young professionals, students, or older gentlemen? What styles and services might they prefer?
Understand what these customers value most in a barbershop experience. It could be quick service, luxury grooming experiences, or affordable prices.
Branding and Positioning
Establishing a strong brand identity is crucial for your barbershop's success.
Brand Identity Development
Create a compelling brand story and visual elements that reflect your barbershop's personality. For instance, a vintage-themed barbershop might use classic barber poles and leather chairs in its decor.
Ensure consistency in your branding across all platforms and in-shop experience. This includes your logo, shop signage, staff uniforms, and even the music you play.
Market Positioning Strategy
Define your Unique Selling Proposition (USP) that sets your barbershop apart. This could be anything from exclusive beard grooming services to organic hair care products.
Develop a positioning statement that guides your marketing and operational decisions. For example, "Our barbershop provides a modern grooming experience for the contemporary man."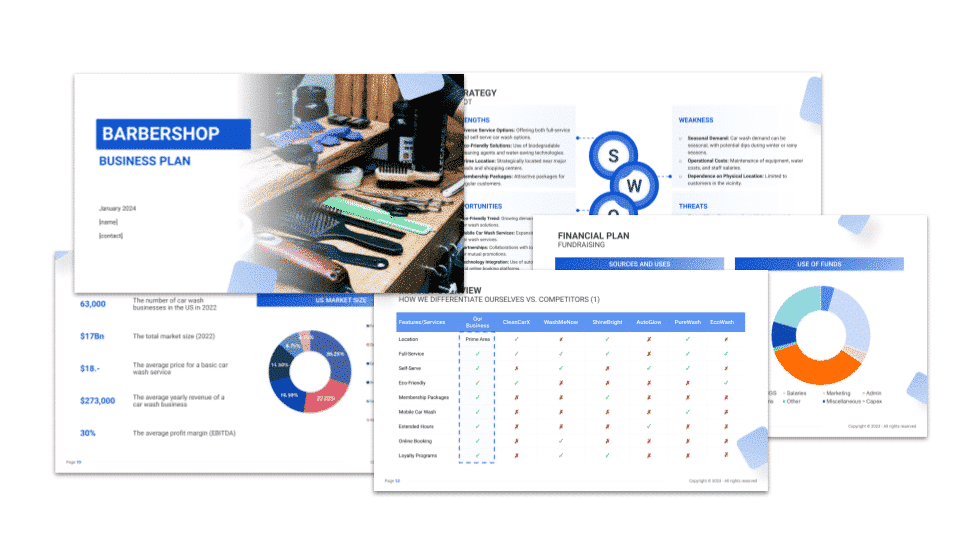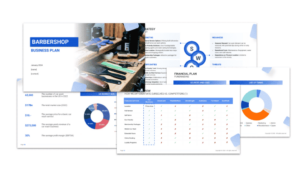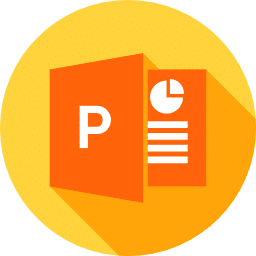 Barbershop Business Plan
Download an expert-built 30+ slides Powerpoint business plan template
Barbershop Business Plan
Download an expert-built 30+ slides Powerpoint business plan template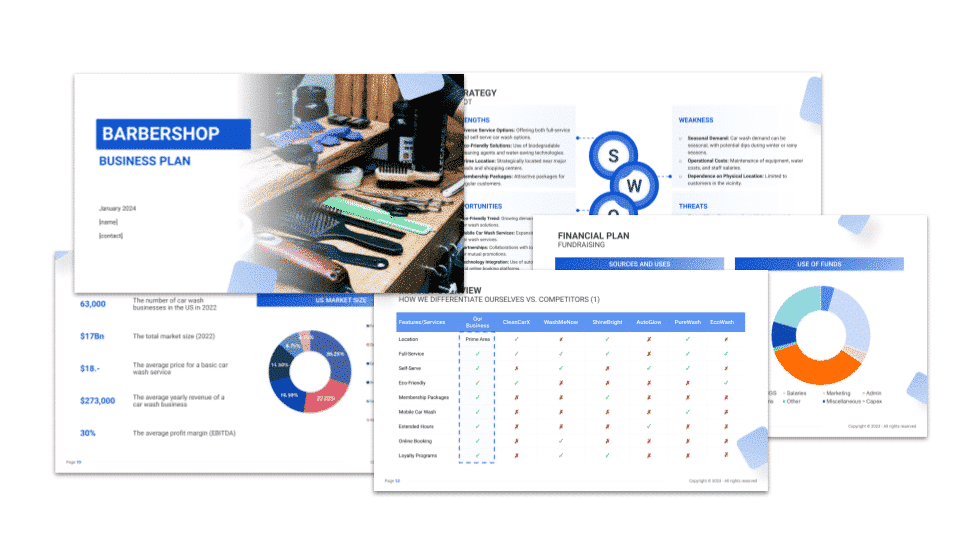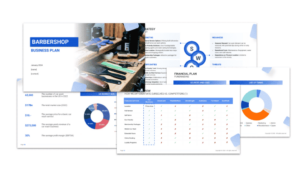 Marketing Channels
Effective marketing is about reaching the right audience through the right channels. Here's how you can do that for your barbershop.
Digital Marketing
Social Media: Use Instagram to post before-and-after haircut photos, style tips, and behind-the-scenes glimpses of your barbershop. Host live Q&A sessions on Facebook to engage with your audience. On YouTube, post tutorials on men's grooming and hair care.
Website and SEO: Develop a professional website that showcases your services, staff bios, and customer testimonials. Optimize your site for search engines with keywords related to barbershops and grooming in your area. Include a blog section with articles on hair care, style trends, and grooming tips.
Email Marketing: Build an email list by offering a discount for online sign-ups. Send out monthly newsletters with updates about your services, exclusive offers, and styling advice. Use email campaigns to inform customers about special events or new services.
Local Community Engagement
Events and Partnerships: Participate in local community events, such as street fairs or festivals, offering quick trims or beard grooming. Partner with local businesses like gyms, men's clothing stores, or coffee shops for cross-promotion. For example, offer a discount to the gym members and in return, promote the gym in your barbershop.
Local Advertising: Place eye-catching flyers and posters in high-traffic areas like local gyms, cafes, and male-centric retail stores. Consider local radio ads or sponsoring a local sports team.
Special Promotions: Run promotions targeting local residents, like a 'Neighborhood Discount Day' or a special rate for first responders and military personnel.
Referral and Loyalty Programs
Referral Incentives: Encourage your current customers to refer friends by offering them a discount on their next visit for every new customer they bring in.
Loyalty Program: Implement a loyalty program where customers earn points for every visit or purchase, which can be redeemed for a free haircut or product after reaching a certain number of points.
Sales Channels
Maximizing sales involves not just attracting customers, but also encouraging them to spend more per visit.
In-Shop Sales Tactics
Upselling Services: Train your staff to gently suggest additional services like beard trims, scalp massages, or luxury shampoos during a haircut.
Package Deals: Offer bundled services at a discounted rate, such as a haircut and beard trim combo. Seasonal packages, like a summer refresh package including a haircut and a cooling scalp treatment, can also be appealing.
Retail Products: Stock a range of grooming products like beard oils, pomades, and shampoos. Train your staff to recommend products based on the customer's hair type and style preferences.
Online and Mobile Sales
Online Booking: Implement an online booking system on your website and social media platforms. Offer a small discount or an additional service for first-time online bookings.
E-Commerce: Sell your grooming products online. You can also offer gift cards for services, which can be a great gift option for customers to purchase.
Exclusive Online Offers: Create online-only deals, like a discount for booking through the app or a special package available for purchase only on your website.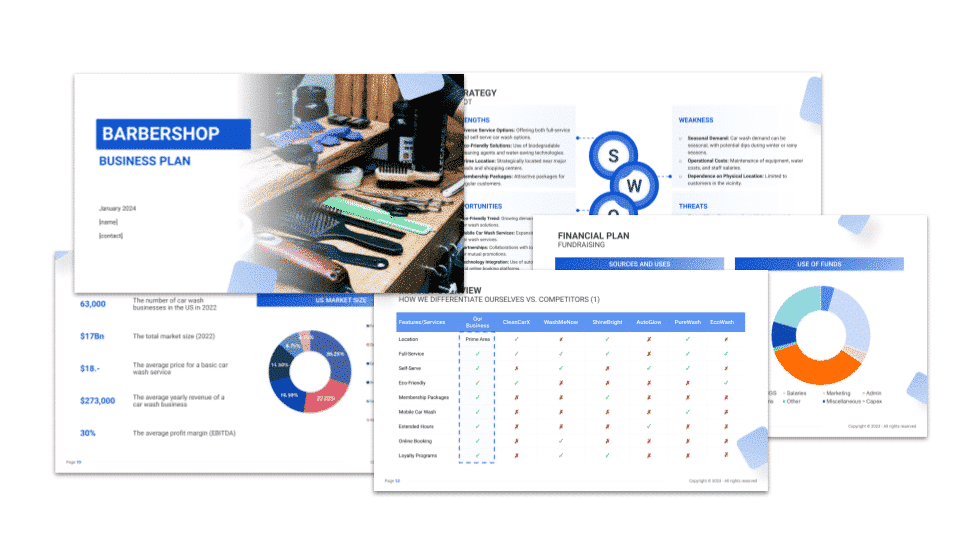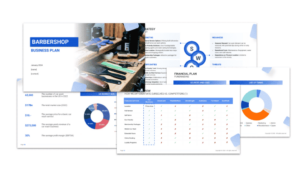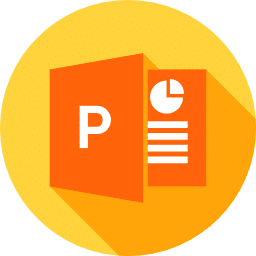 Barbershop Business Plan
Download an expert-built 30+ slides Powerpoint business plan template
Barbershop Business Plan
Download an expert-built 30+ slides Powerpoint business plan template