Starting and managing a successful spa involves more than just offering excellent services; it requires a well-thought-out approach to marketing and sales.
This guide aims to assist you in creating a tailored sales and marketing plan for your spa.
We'll begin by analyzing your market, understanding your competitors, and identifying the needs of your clientele.
Spa Business Plan
Download an expert-built 30+ slides Powerpoint business plan template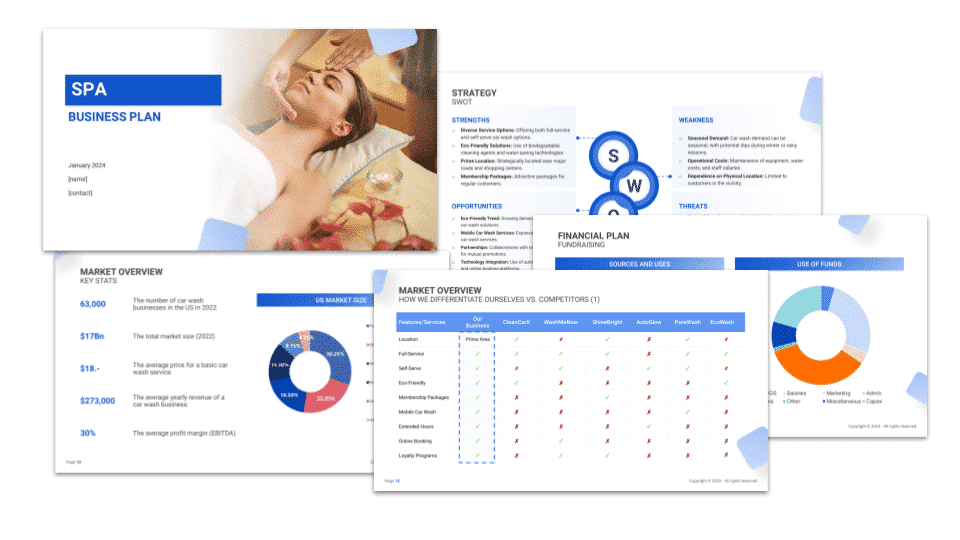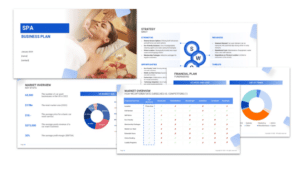 Market Analysis
Competitive Analysis
Identify Your Competitors: Research other spas and wellness centers in your area. Scrutinize their service offerings, pricing strategies, customer reviews, and promotional tactics.
SWOT Analysis: Conduct a SWOT analysis (Strengths, Weaknesses, Opportunities, Threats) for your spa in comparison to your competitors. This will help identify areas where you can excel and differentiate from them.
Target Audience Profiling
Demographic and Psychographic Details: Define the demographics (age, gender, income) and psychographics (lifestyle, preferences, interests) of your ideal spa clientele. Understanding their desires and motivations will shape spa's marketing strategies and service offerings.
Branding and Positioning
Brand Identity Development
Craft Your Spa's Story: Share the narrative behind your spa, your commitment to wellness, and what sets your establishment apart. Highlight the unique values or philosophies that distinguish your spa.
Market Positioning Strategy
Define Your Unique Offering: Determine what makes your spa stand out. Is it specialized treatments, an emphasis on holistic wellness, top-quality organic products, or a particular relaxation ambiance?
Marketing Channels
Digital Marketing
Leverage digital platforms for outreach:
Social Media Engagement: Utilize platforms like Instagram to showcase serene spa settings, share wellness tips on Facebook, and create Pinterest boards featuring holistic health. Engage with followers through comments and direct messages. Collaborate with influencers or wellness bloggers for increased exposure.
Email Marketing: Build an email list by offering exclusive spa tips or introductory discounts upon sign-up. Send newsletters with spa insights, upcoming events, and promotions. Personalize emails to cater to specific client preferences.
Website and SEO: Develop an informative website showcasing your spa services, spa packages, and client testimonials. Optimize the site for local SEO to ensure visibility in searches for spa services in your area. Include a blog section with wellness advice and relaxation techniques.
Local Engagement
Connect with the local community:
Flyers and Local Outreach: Distribute well-designed flyers in high-traffic areas, partner establishments, and local events. Advertise in local publications or wellness magazines to expand your reach.
Community Events: Host or participate in wellness fairs, health expos, or charity events. Offer mini spa sessions or wellness consultations to attract potential clients. Collaborate with gyms or yoga studios for joint wellness programs.
Partnerships: Establish collaborations with hotels, gyms, or beauty salons to offer combined packages or reciprocal promotions. Cross-promote with health-conscious eateries or organic markets for mutual benefits.
Promotional Activities
Engage potential clients with enticing offers:
Special Packages: Introduce seasonal promotions like 'Holiday Relaxation Packages' or 'Spa Detox Retreats'. Provide exclusive discounts for first-time visitors to encourage trial sessions.
Referral Programs: Incentivize existing clients to refer new clients by offering discounts or complimentary spa add-ons. Implement a referral program with rewards for multiple successful referrals.
Loyalty Rewards: Launch a loyalty program rewarding frequent spa-goers with free upgrades, exclusive access to events, or discounts on retail products.
Spa Business Plan
Download an expert-built 30+ slides Powerpoint business plan template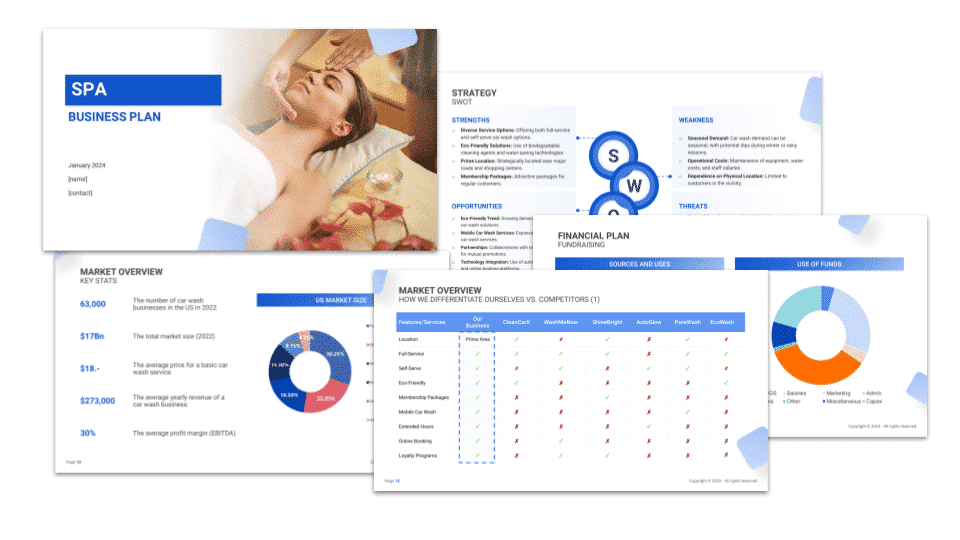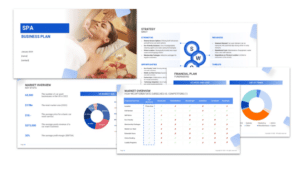 Sales Channels
In-Spa Upselling
Maximize revenue with each client visit:
Enhanced Services: Offer enhancements like aromatherapy upgrades, extended massage sessions, or specialized skincare treatments to elevate the spa experience.
Retail Sales: Display skincare products, bath essentials, or wellness items in your spa, educating clients on their benefits. Provide exclusive promotions for product purchases along with spa services.
Package Deals: Create bundled spa packages like 'Couples Retreat' or 'Ultimate Relaxation Package' at a reduced rate to encourage multiple service bookings.
Online Booking and Sales
Streamline sales through digital platforms:
Efficient Booking System: Implement a user-friendly online booking system on your website and social media platforms. Encourage online bookings by offering convenience and special perks for digital bookings.
E-Commerce Opportunities: Sell spa products, gift cards, or exclusive memberships through your website. Offer online-exclusive discounts or limited-time promotions.
Virtual Consultations: Provide online consultations for personalized skincare or wellness advice. Enable online scheduling for virtual sessions to cater to clients' convenience.
Membership and Loyalty Programs
Encourage repeat business:
Membership Options: Create membership plans offering discounted services, VIP access, or monthly spa credits. Tailor memberships to suit various client preferences.
Loyalty Rewards: Develop a digital rewards program where clients earn points for each spa visit, product purchase, or referrals, redeemable for discounts or complimentary services.