With 575 locations across the US, Texas Roadhouse is a great choice for entrepreneurs who want to benefit from Americans' taste for Texan comfort quality food. Yet it's also a big investment: at $4,209,500 on average, opening a Texas Roadhouse franchise isn't for everyone.
So is it really worth the price? In this article we'll look into the financial aspects of applying for a Texas Roadhouse franchise in the US.
More specifically, we'll have a look at how much it costs to open such a franchise, how much sales you can expect to generate, and more importantly, how profitable this business really is. Let's dive in!
Texas Roadhouse: key figures
| | |
| --- | --- |
| Franchise fee | $40,000 |
| Royalty fee | 4.0% |
| Marketing fee | 4.8% |
| Investment (mid-point) | $4,209,500 |
| Average annual sales | $2,955,534 |
| Sales to investment ratio | 0.7x |
| Investment payback* | 9.5 years (mediocre) |
| Minimum net worth | n.a. |
| Minimum liquid capital | $25,000 |
* using 15% net profit margin
Texas Roadhouse: a brief introduction
Texas Roadhouse is a fast-growing steak restaurant serving classic American cuisine, from steaks, ribs, and sides made from scratch and fresh-baked bread. Kent Taylor opened the first Texas Roadhouse in Clarksville, Indiana, in 1993.
Headquartered in Louisville, Kentucky, Texas Roadhouse Inc started as a family restaurant where kids and adults enjoyed delicious food and a lively atmosphere. The Texas Roadhouse's mission is "legendary Food, Legendary Service," meaning that the company aims to stay in business by providing quality comfort food to its customers.
Known for its laid-back vibes, large portions for the price, and high-quality steaks, Texas Roadhouse is a perfect choice for many families looking for an ideal dine-out experience.
As of 2022, Texas Roadhouse has 575 restaurants in 49 states, with large concentrations in Texas, Florida, Ohio, and Indiana. Most of these are company-owned: there were only 69 franchises in 2022.
Texas Roadhouse franchise: pros and cons
Although Texas Roadhouse has managed fast growth in a competitive landscape, the restaurant has its share of pros and cons.
Pros
Competitive Business Model: Texas Roadhouse's business model rests on selling affordable steaks, drinks, and bar food. From a recent Hardware study, the company's business model positions each of its restaurants as the domestic destination for the other segmented consumers looking for high-quality, affordable, attentive, and friendly meals. This competitive business model has enabled the restaurant to drive sales growth even as competitors have struggled.
Trained Support Team: the restaurant chain offers a trained crew who will help you through the process of opening up a restaurant. Their team will provide on-site evaluation, so you determine if your preferred site is suitable and determine the best marketing strategies to help you drive sales.
Solid Brand: Texas Roadhouse has earned numerous awards over the past two decades, highlighting why it is a strong brand. The awards showcase the restaurant's high-quality food and beverages and excellent customer service from skilled employees. A solid marketing strategy and excellent customer service have helped the restaurant achieve a strong brand.
Strong customer service: Texas Roadhouse ensures attractive packages for its employees and managers. In that regard, the motivated team strives to provide a variety of price points to meet each guest's budget and value expectations compared to most steakhouses.
Cons
Changing business model: the franchisor might introduce changes to the business model without the franchisee's consent. Such changes might require additional investments in your Texas Roadhouse franchise or even harm your profitability.
Supplier Restrictions: the franchisor might require you to buy or lease items from the franchisor or a limited group of suppliers the franchisor designates. These supplier restrictions might be more expensive than similar items you could source from alternative suppliers.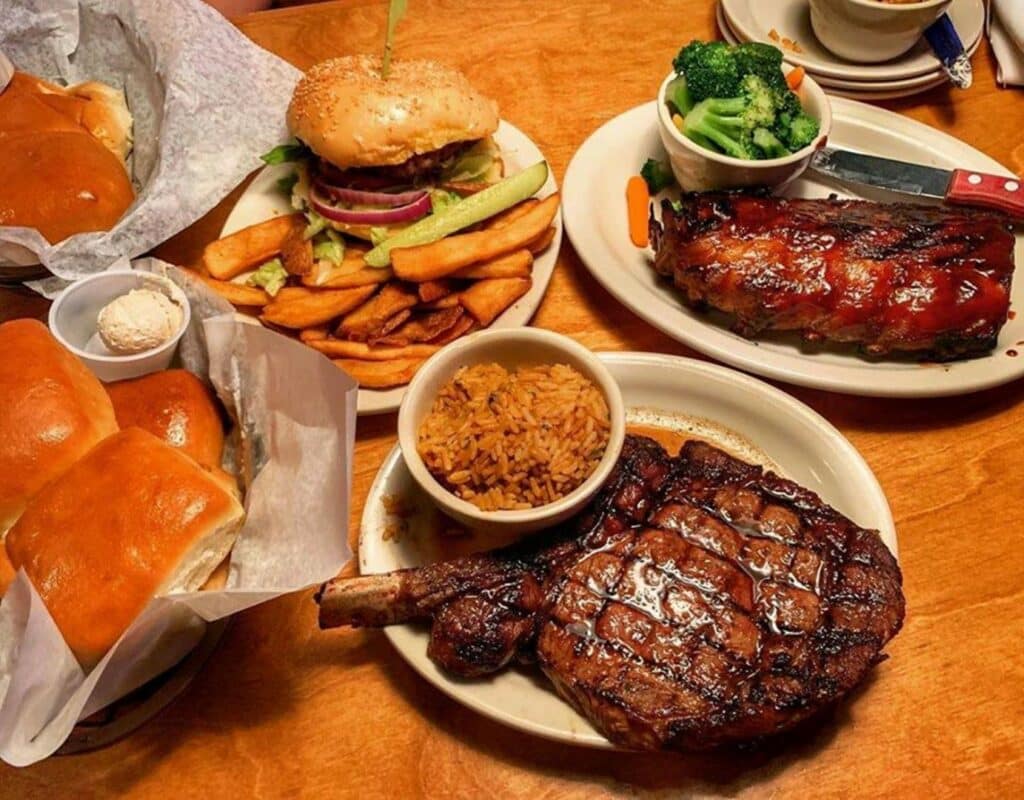 How much does it cost to start a Texas Roadhouse franchise?
In addition to a $40,000 initial franchise fee, Texas Roadhouse requires a substantial investment upfront. On average, you can expect to spend $4,209,500 out of your own pocket (or a SBA loan) to fund startup costs.
This is the average of the investment required for renovation and new build-out franchises:
| Format | Lowest | Highest | Average |
| --- | --- | --- | --- |
| Renovation | $4,685,500 | $2,093,500 | $3,389,500 |
| New Build-out | $6,463,500 | $3,595,500 | $5,029,500 |
| Total | | | $4,209,500 |
Source: 2022 FDD
When it comes to the breakdown, the FDD is quite detailed. Your investment will cover expenses like the site evaluation, engineering and construction (or renovation), the decor, fixtures and furniture, the equipment, supplies, startup inventory etc. Here's a summary of the costs you can expect:
| Type of cost | Renovation | Build out |
| --- | --- | --- |
| Franchise fee | $40,000 | $40,000 |
| Construction/renovation | $605,000 – $1,500,000 | $1,500,000 – $3,000,000 |
| Site evaluation/architect | $150,000 – $200,000 | $150,000 – $200,000 |
| Furniture, fixtures, decor | $180,000 – $200,000 | $180,000 – $200,000 |
| Equipment | $250,000 – $650,000 | $850,000 – $915,000 |
| Training costs | $90,000 – $110,000 | $90,000 – $110,000 |
| Additional funds* | $442,000 – $641,500 | $442,000 – $641,500 |
| Other | $336,500 – $1,343,500 | $342,500 – $1,357,000 |
| Total | $2,093,500 – $4,685,000 | $3,595,500 – $6,463,500 |
Source: 2022 FDD // * runway to cover for losses the first 3 months
What's the annual turnover of a Texas Roadhouse franchise?
Taken aside, the investment amount seems very high: it's clearly on the high-end of the amount you need to spend to start a quick-service restaurant franchise.
Yet this amount makes more sense when we consider the average annual turnover per restaurant. Indeed, a Texas Roadhouse restaurant makes on average $2,955,534 in sales per year.
This makes sense in light of the average order value which is higher vs. common fast food restaurants where spend per head is around $10-20 instead.
Even though Texas Roadhouse doesn't disclose sales per store, we obtained this number by dividing the total franchise revenue of the franchisees ($204 million) by the number of franchises (69).
How profitable is a Texas Roadhouse franchise?
Based on our analysis, a Texas Roadhouse franchise has an average adjusted EBITDA of 29%, in line with similar restaurant chains in the US.
We calculated this adjusted EBITDA by deducting COGS, labor costs, rent and royalty and marketing fees. Here's our calculation:
| Profit and loss | Amount (2021) | Notes |
| --- | --- | --- |
| Revenue | $2,955,534 | |
| COGS | $(738,883) | 25%* |
| Labor | $(857,105) | 29%* |
| Rent | $(236,443) | 8%* |
| Royalty + marketing fees | $(260,087) | 8.80% (as per FDD) |
| Adjusted EBITDA | $863,016 | |
| % margin | 29% | |
* Industry average (not available in the FDD)
How much do Texas Roadhouse franchisees earn?
Here we assume that franchisees are the only investors in their business (which they sometimes aren't) as they most often only use bank loans (e.g. SBA loans) for fund the (costly) investment of $4,209,500 upfront.
With an adjusted EBITDA margin of ~29% margin, we can argue that the net profit margin for Texas Roadhouse is 15% of sales on average.
Now, with $2,955,534 average annual sales, this means that franchisees earn an average $443,000 per year on average.
Bear in mind this is a net profit figure and does not take into consideration any cash outflows like debt repayment. In other words, assuming you would finance your franchise without any debt from your own pocket, you would earn $443,000 per year in dividends.
Instead, if you would for example take up a loan for 75% of the investment ($3 million) which you would repay over 12 years, you would (only) take home around $150,000.
Is a Texas Roadhouse a good investment?
In order to assess whether Texas Roadhouse franchises are good investment, we must compare the investment cost to net profit. That's what we call the payback period:
Payback period = Investment / Average annual net profit
Payback period is the number of years it takes for a franchisee to recoup her/his original investment.
That's where it gets complicated: Texas Roadhouse have a very high payback period. Indeed, it takes on average 9.5 years to recoup your original investment. Of course, this is an average, and some franchises perform better vs. others.
Yet in general we wouldn't say Texas Roadhouse franchises are a good investment from a pure financial standpoint for that reason. Keep in mind this is based on the average performance of a number of Texas Roadhouse franchises, as such your restaurant may perform better vs. others.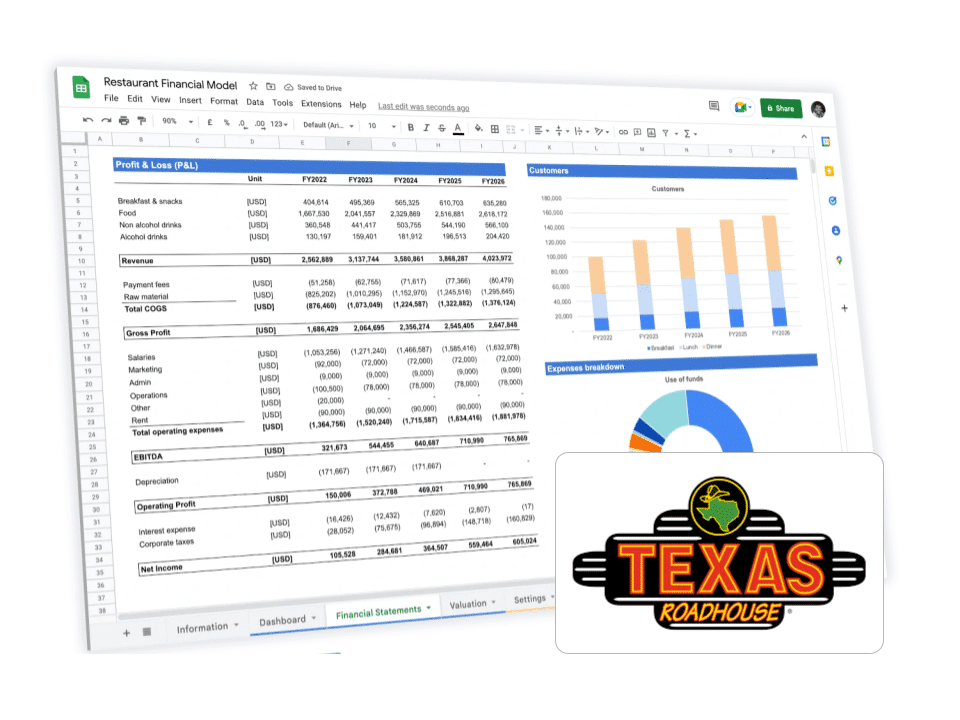 Download the Texas Roadhouse business plan and get your franchise funded
Including a 5-year financial plan built with the latest Franchise Disclosure Document numbers