Tint World Franchise Revenue, Costs & Profits (2023)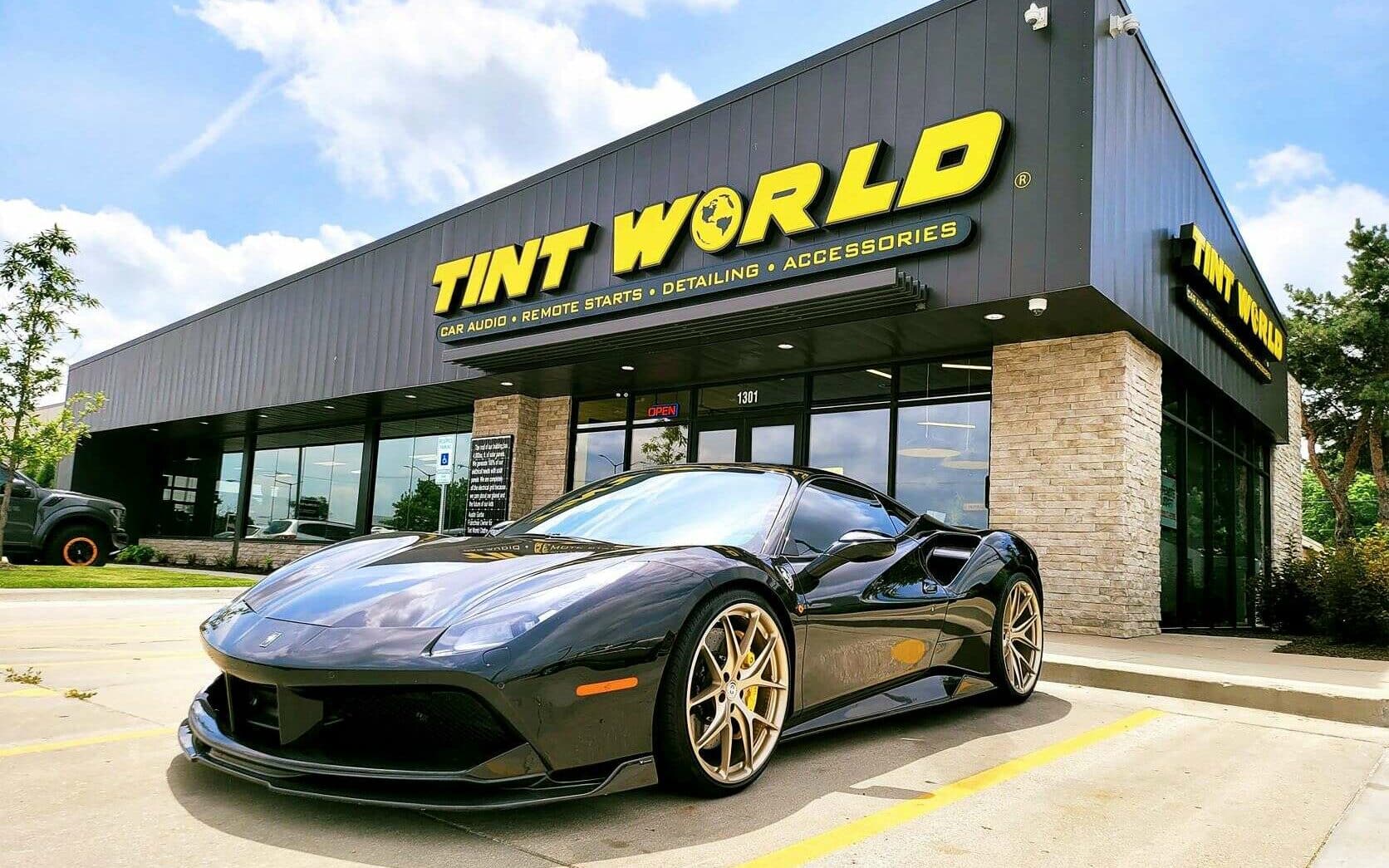 Since it started franchising in 2007 Tint World has had a relentless expansion and now has 107 locations globally, of which 100 are franchise-owned in the US.
A leader in the auto accessories products, Tint World is a very attractive option if you're looking for a franchise opportunity in the automotive industry that's not a car repair business.
At an initial investment of $330,000, Tint World is also a rather affordable franchise. But how much profits can you realistically make with this business?
In this article we're looking at Tint World and its Franchise Disclosure Document to find out how much it (really) costs, how profitable it is and whether it's a good investment. Let's dive in!
Key stats
| | |
| --- | --- |
| Franchise fee | $49,950 |
| Royalty fee | 6.0% |
| Marketing fee | 6.0% |
| Investment (mid-point) | $330,000 |
| Average sales | $896,000 |
| Sales to investment ratio | 2.7x |
| Payback period | 4 years |
| Minimum net worth | $200,000 |
| Minimum liquid capital | $120,000 |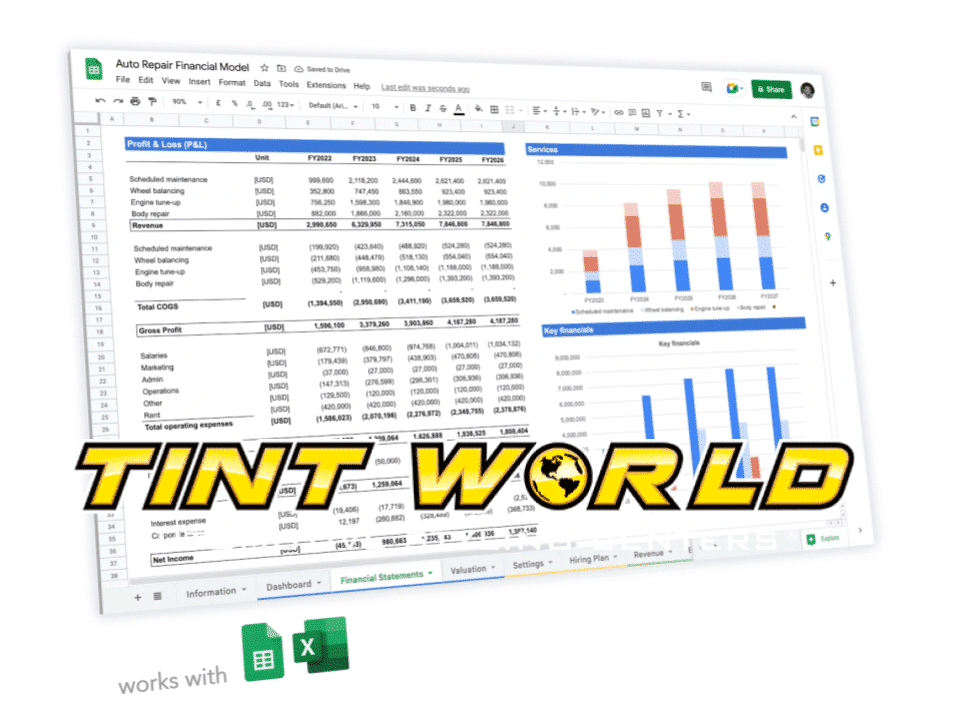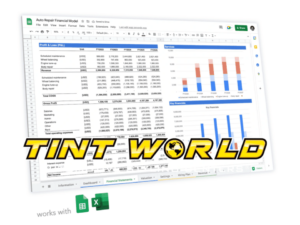 Tint World Franchise Business Plan
All the stats: startup costs, profits, breakeven, etc.
5-year financial projections built with the FDD

Excellent 4.8/5 based on 70 reviews
Excellent 4.8/5 based on 70 reviews

About Tint World
Tint World is a leading auto and window tinting franchise focusing on auto window tinting, vehicle wraps, mobile electronics, residential and commercial film and coating services, car audio and video, auto security, styling accessories, auto detailing and reconditioning services.
The franchise was founded in 1982 in Tamarac, Florida and currently it is located in Roca, Florida.
Its franchising journey began in 2007 and it currently has over 107 locations worldwide, with 99 of those based in the US.
Tint World franchise: pros and cons
The Pros:
Third-party financing: Tint World provides its franchisees with financing for startup costs, fees, equipment, inventory and payroll through partnerships with third-party lenders.
Exclusive territory protection: The franchisor grants its franchisees the right to operate in an exclusive development location. It does not authorize any other franchise to operate a competing business in the protected area.
Pre-opening training: The brand offers its franchisees comprehensive start-up and ongoing training to help them establish and build their businesses. This includes grand opening, service and product, sales, technician and operational training.
Marketing and public relations: Tint World has a dedicated and proven marketing team to help franchisees create awareness about their products and services. Franchisees can for example leverage national marketing programs, regional advertising, email marketing, social media, SEO and local store advertising.
Real estate and site selection: Tint World helps its franchisees with site selection to ensure they identify the right location for their businesses. In addition, it assists them in lease negotiations, design and construction of their centers.
Operational support: The franchisor provides its franchisees with dedicated operations managers to assist them with grand openings, staff training and ensuring the store is fully prepared and ready. In addition, they offer regular store visits, excellence evaluations, solutions and support.
Multiple income channels: Tint World works with various industries, giving franchisees diversified income streams. These include automotive, residential, commercial and marine window tinting and security film services.
The cons:
Not a passive investment opportunity: The franchisor does not allow for absentee ownership. It requires franchisees to be fully involved in the decision-making and daily operations of their centers.
Not a home-based business. A Tint World franchise cannot be operated from home or a mobile unit. Franchisees need to have established office spaces, warehouses or retail facilities.
Competition: May include brands such as Ziebart, Windows Genie Inc. and Realty World, among others.

How much does Tint World franchise cost?
You would have to invest on average $329,500 to open a new Tint World franchise centre.
The investment covers all the start-up costs you may need to open Tint World franchise centres. You must pay the franchisor an initial franchise fee of $49,950. In addition to this franchise fee, the investment also covers:
Formulation costs include: initial training, leasehold improvements, business licences, freight, delivery, setup package, signage package, showroom displays, furniture package, etc.
Equipment: equipment package, computer hardware phone package, software package, etc.
Initial marketing: grand opening promotion package
Operating costs: business insurance, initial inventory, accounting, legal expenses, administrative, marketing, graphic package, work vehicle brand wrapped, miscellaneous funds, additional funds for 3 months, etc.
Startup costs
Here's the full breakdown of costs:
| Type of Expenditure | Amount |
| --- | --- |
| Initial franchise fee | $49,950 |
| Formulation costs | $118,400 – $204,100 |
| Equipment | $24,500 – $35,500 |
| Initial Marketing | $5,000 |
| Operating costs | $61,650 – $104,950 |
| Total | $259,500 – $399,500 |
Source: Franchise Disclosure Document 2022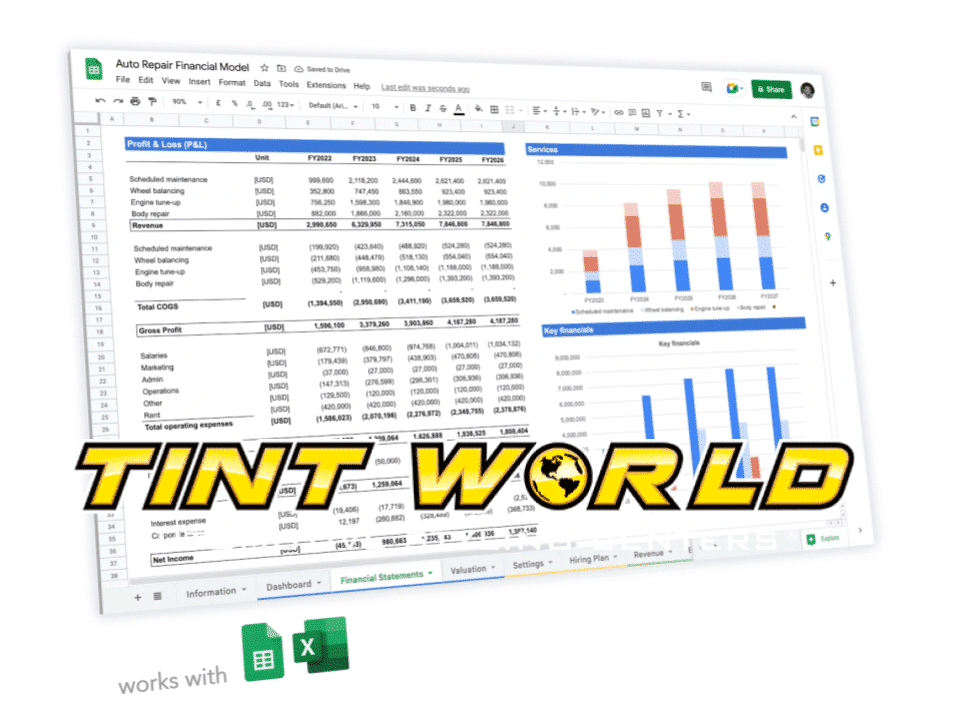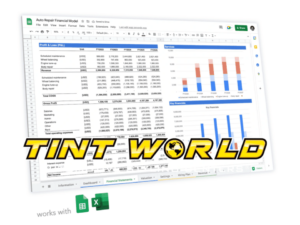 Tint World Franchise Business Plan
All the stats: startup costs, profits, breakeven, etc.
5-year financial projections built with the FDD

Excellent 4.8/5 based on 70 reviews
Excellent 4.8/5 based on 70 reviews

How much revenue does a Tint World franchise make?
A Tint World franchise makes $896,000 in revenue per year on average.
This is the average revenue per centre for 60 of the 84 centres that were operating all of 2021.
How profitable is a Tint World franchise?
We estimate that, on average, a Tint World franchise makes $188,000 in profits per year.
Note that to obtain this number we used the detailed profit-and-loss from the Franchise Disclosure Document (see below) to which we also deducted an hypothetical $75,000 owner's salary expense. Indeed, the operating profit described in the FDD does not include any owner's salary which you would have to pay anyway.
All in all, Tint World is a very profitable franchise: the 21% EBITDA margin is well above the industry average for automotive businesses (10-15% as per our own benchmarks).
| Profit and loss | Amount | % revenue | Source |
| --- | --- | --- | --- |
| Revenue | $895,571 | 100% | as per FDD |
| COGS | $(190,277) | 21.2% | as per FDD |
| Gross Profit | $705,294 | 67% | as per FDD |
| Staff | $(214,937) | 24.0% | as per FDD |
| Royalty | $(53,734) | 6.0% | as per FDD |
| Advertising | $(53,734) | 6.0% | as per FDD |
| Facility Expense | $(81,000) | 9.0% | as per FDD |
| Other | $(39,006) | 4.4% | as per FDD |
| Owner's salary* | $(75,000)* | 8.4% | assumption* |
| EBITDA | $187,883 | 21% | |
*assumption (the FDD doesn't include the owner's salary)
Source: Franchise Disclosure Document 2022
Is Tint World a good franchise investment?
When we compare profits to the initial investment, we estimate that Tint World has a 4 years payback. In other words, you would be in a position to reimburse all creditor and investors within 4 years on average, by using the profits of your business.
This is an excellent payback of automotive franchises, and as such we consider Tint World to be a great investment.
Note that to obtain this number we had to divide the average initial investment of $330,000 by the net profits which we estimated (as they are not provided in the Franchise Disclosure Document).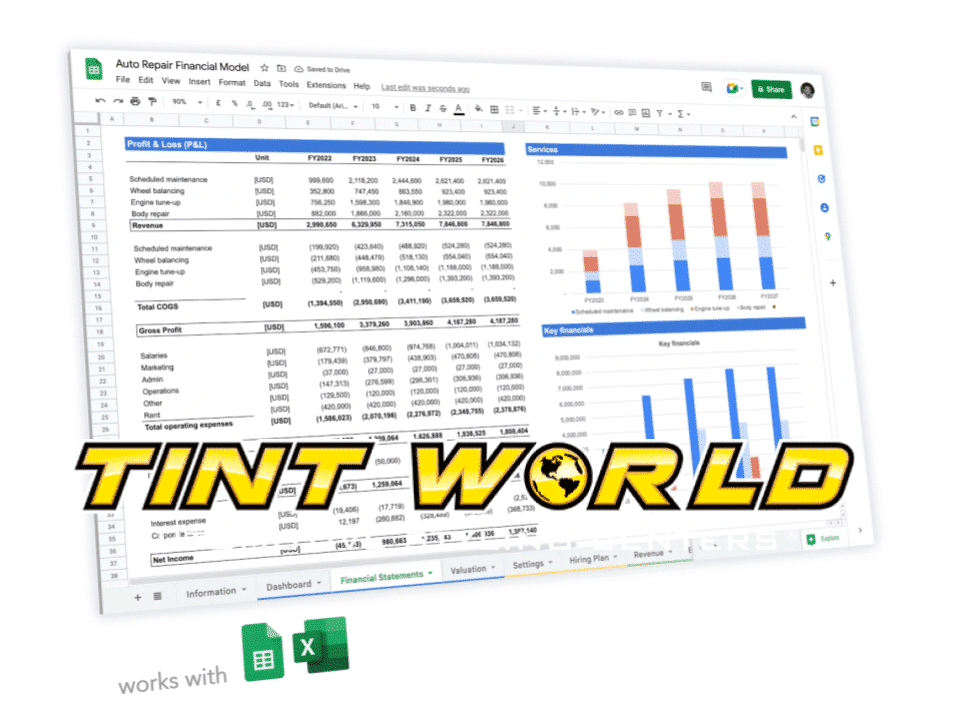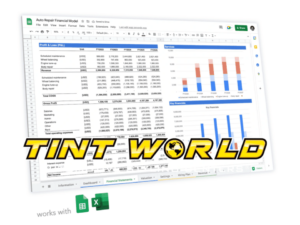 Tint World Franchise Business Plan
All the stats: startup costs, profits, breakeven, etc.
5-year financial projections built with the FDD

Excellent 4.8/5 based on 70 reviews
Excellent 4.8/5 based on 70 reviews

Disclaimer: This content has been made for informational and educational purposes only. We do not make any representation or warranties with respect to the accuracy, applicability, fitness, or completeness of the information presented in the article. You should not construe any such information or other material as legal, tax, investment, financial, or other professional advice. Nothing contained in this article constitutes a solicitation, recommendation, endorsement, advertisement, or offer to buy or sell any franchises, securities, or other financial instruments in this or in any other jurisdiction in which such solicitation or offer would be unlawful under the franchise and/or securities laws of such jurisdiction.
All content in this article is information of a general nature and does not address the detailed circumstances of any particular individual or entity. Nothing in the article constitutes professional and/or financial and/or legal advice, nor does any information in the article constitute a comprehensive or complete statement of the matters discussed or the law relating thereto. You alone assume the sole responsibility of evaluating the merits and risks associated with the use of any information or other content in this article before making any decisions based on such information or other content.