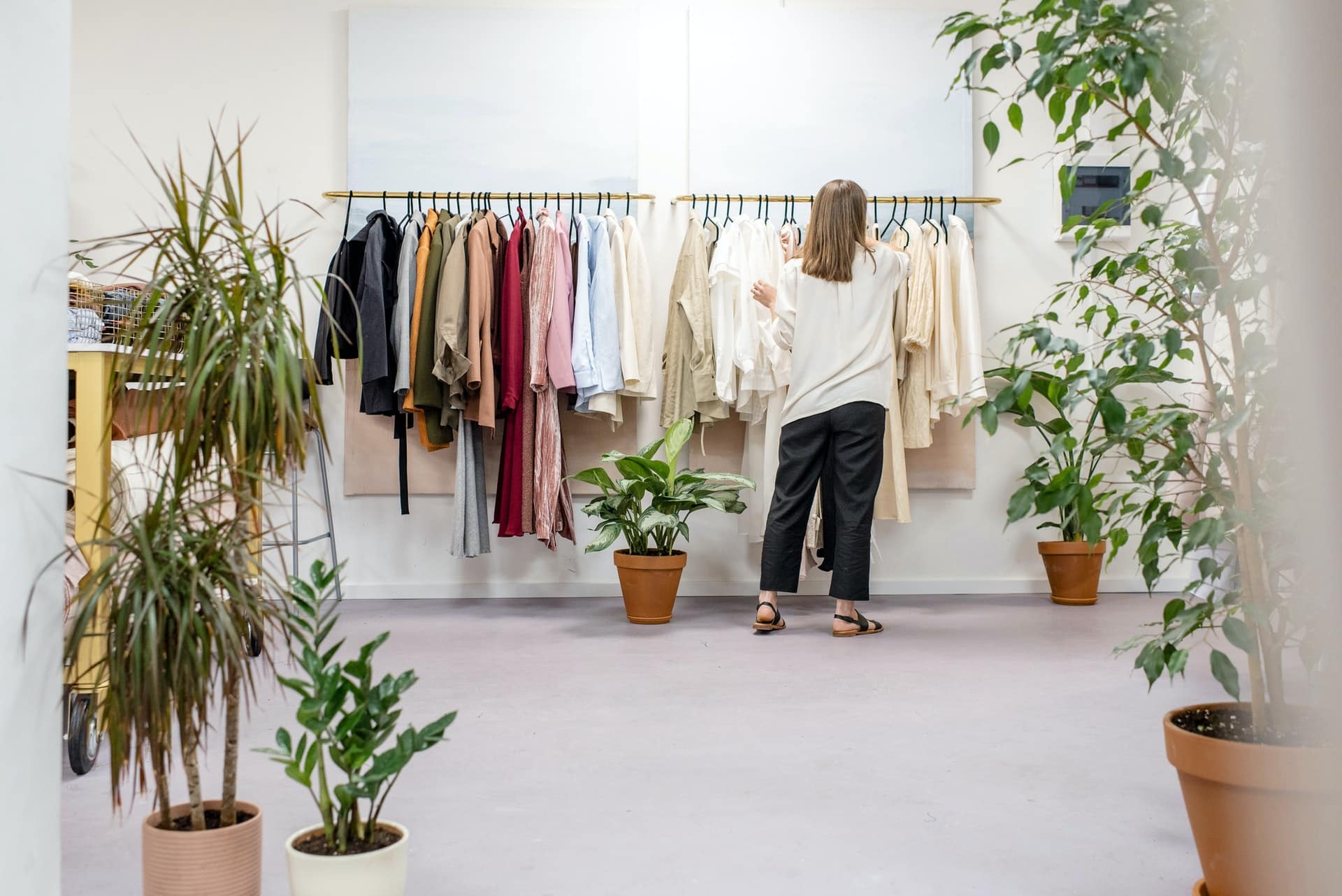 Whether you're looking to raise funding from private investors or to get a loan from a bank (like a SBA loan) for your apparel or fashion store, you will need to prepare a solid business plan.
In this article we go through, step-by-step, all the different sections you need in your fashion store business plan. Use this template to create a complete, clear and solid business plan that get you funded.
1. Executive Summary
The executive summary of a business plan gives a sneak peek of the information about your business plan to lenders and/or investors.
If the information you provide here is not concise, informative, and scannable, potential lenders and investors will lose interest.
Though the executive summary is the first and the most important section, it should normally be the last section you write because it will have the summary of different sections included in the entire plan.
Why do you need a business plan for your fashion store?
The purpose of a business plan is to secure funding through one of the following channels:
How to write your fashion store's business plan's executive summary?
The executive summary of the business plan of any fashion or apparel store must include the following information:
Business overview: write about your business. Provide its name and whether your fashion store will be a franchise store or an independent store. Give a short description of the products you will sell (kids' clothing, plus size clothing for women, maternity clothing, your own brand of clothing, etc.), your store's legal structure, etc.
Market analysis: this segment will include information about fashion stores in your area. Tell whether they are direct competitors or whether you are offering something that others don't. Also, include the weekly or monthly customer footfall in competing stores, your target audience demography, average monthly or yearly income of households in the area, etc.
People: organizational setup and the management hierarchy along with the fashion industry experience of the key people in the management
Financial plan: how much profit and revenue do you expect in the next 5 years? When will you reach the break-even point and start making profits? It is ideal to include a chart depicting your key financials such as revenue, gross profits, and net profit
Funding ask: what loan/investment/grant are you seeking? How much do you need? How long will this last?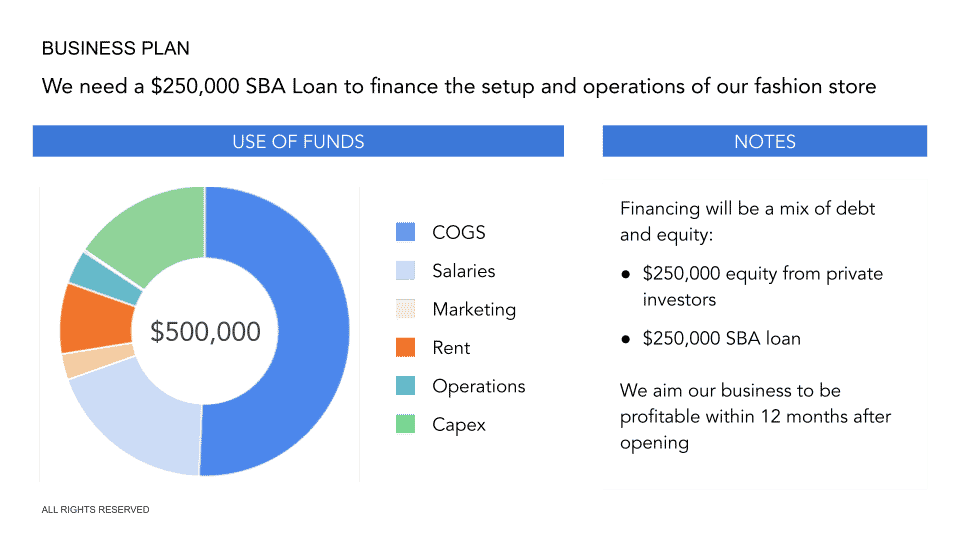 2. Business Overview
The 2nd section of your fashion store business plan is where you will describe your fashion store: the business, the products, the store, the customers, etc. It must cover the following:
The history of the project
The business model you choose to go for (franchise vs. independent store, reseller vs. in-house fashion design, etc.)
The range of products your want to sell (children's fashion, women's fashion, teens' fashion, men's fashion and more)
The target audience you want to sell to and your corresponding pricing strategy
The legal structure of your company
Let's look at different subsections that you must include:
a) History
The fashion industry is already very crowded and there are too many players. So, you are likely to face heavy competition. Thus, this sub-section must validate your rationale. The two things that you must include here are:
Your passion for fashion and retail fashion specifically
Feasibility of the business
Passion will reflect your interest and expertise in the industry. Explain why you have chosen to open a fashion store instead of selecting a less competitive industry.
Feasibility will explain how logical it is to open a fashion store in the area you have selected. For example, you may be targeting an affluent area, but there may not be enough fashion stores, or possibly, the existing stores do not service a specific niche of the fashion and clothing industry.
Let's say that there are no fashion stores selling high-quality and premium clothing lines for rich mothers-to-be. Your fashion store may be addressing that gap and remain profitable.
Potential lenders and investors always want to know whether investing in a business makes sense or not. The feasibility study is one of the many factors they will look into.
b) Business Model
This is where you will explain the following:
Will your fashion store be independent?
Will you buy an existing fashion store or build one from scratch?
Will you opt for a franchise model or will you sell products from various brands?
Will you introduce your own fashion line with in-house designs?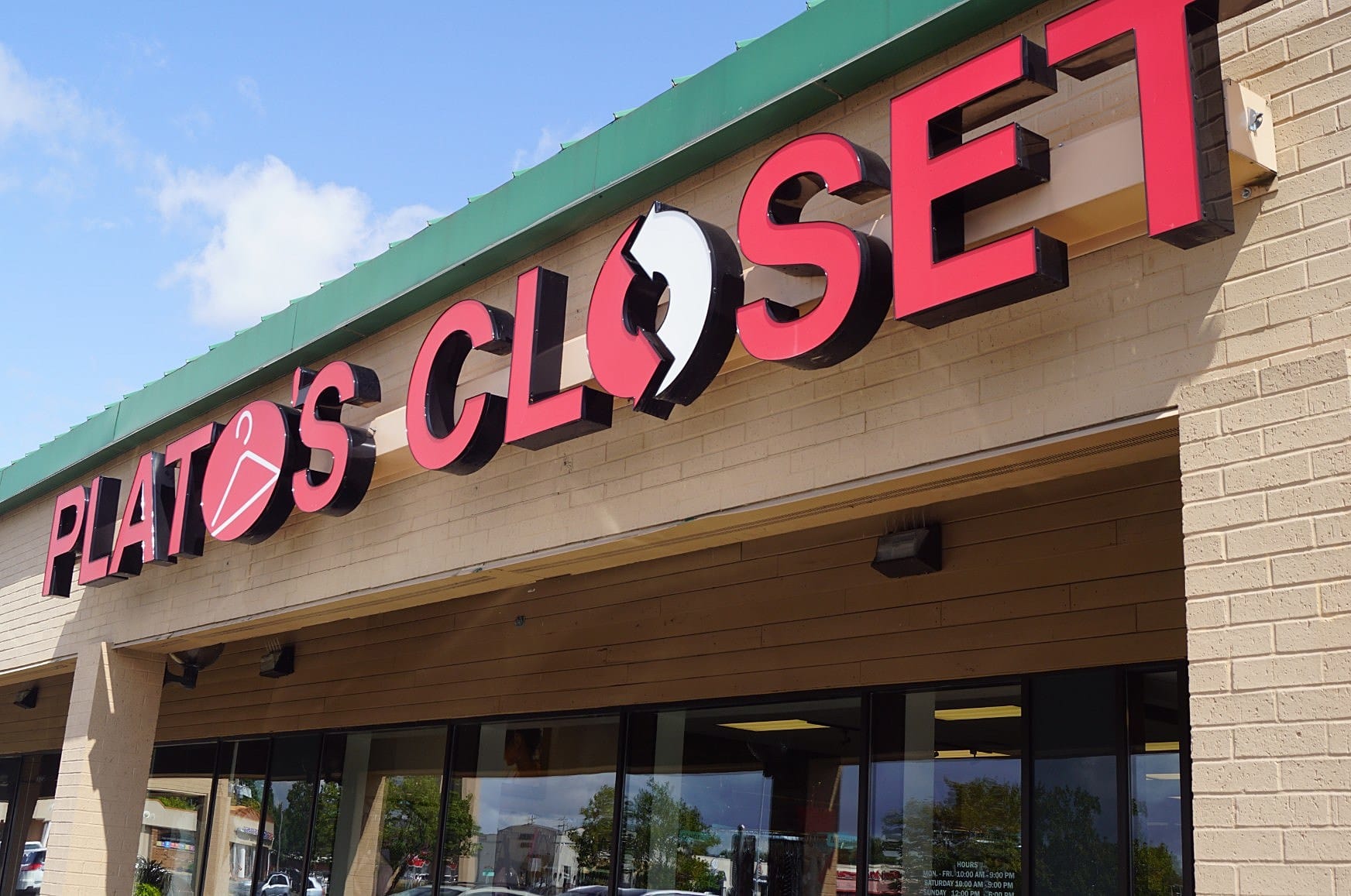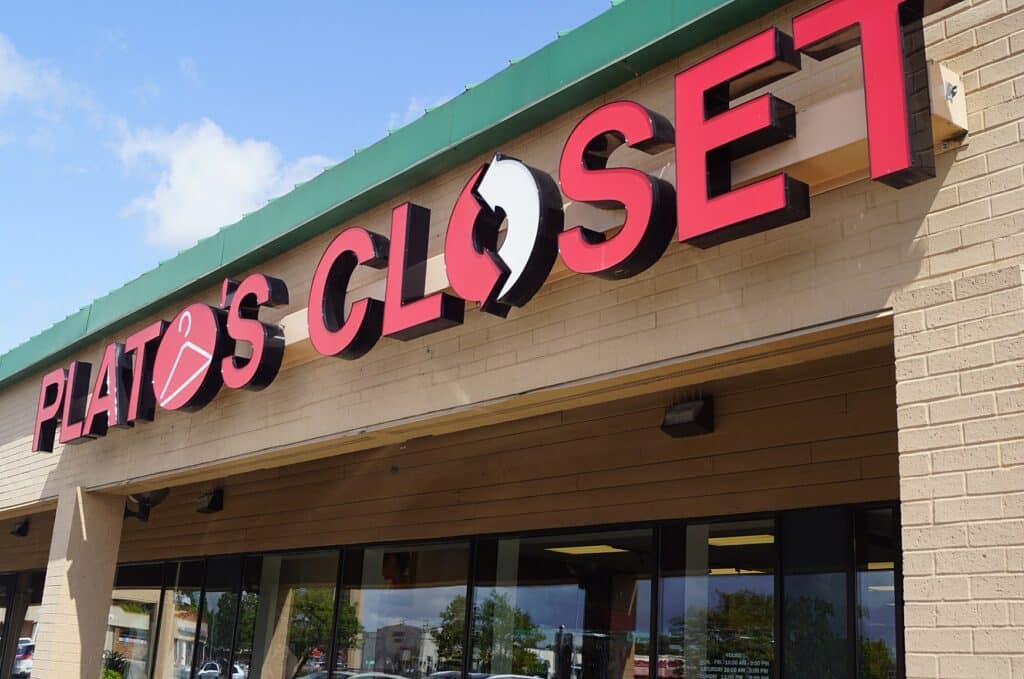 c) Products
Give your potential lenders and investors an idea about the fashion products that you want to sell. For instance, if you are going for a boutique-style fashion store, you will possibly offer a very specialized range of high-end products. Again, if you are going for maternity clothing & related fashion wear, the range of products you offer will be different.
This section will allow you to speak about your vendors and the estimated cost of raw material acquisition. You can also define your purchasing strategy and tell whether you want to go for a local manufacturer or an international manufacturer. You can also touch on inventory management.
d) Pricing Strategy
Add a tentative price list in this sub-section. You don't need to provide fine details, but an average price for the items you want to sell will do. For instance, if you are selling inner garments, you don't need to provide individual prices for each product. You can instead provide price range for each product category.
A pricing chart for all major products you are offering can help the investors or lenders to tie your pricing strategy with your financial projections.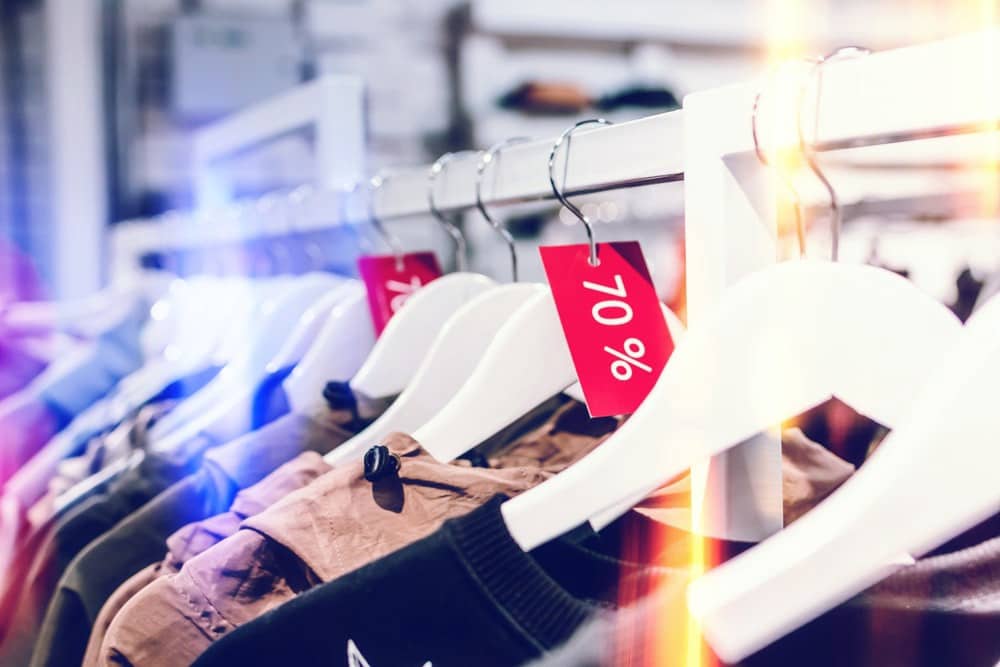 e) Target Audience
In this sub-section, provide details about your target audience. You must do your research properly before adding anything to this sub-section.
For instance, if you are opening a fashion store in an area where there are a few reputed colleges and universities nearby, you can expect a large influx of students (both local and from other states). Thus, you may want to target teens.
You must take it a step further and provide a gender-based audience breakup to explain the viability of your business. For example, if the teen population in the area has 60% females and 40% males, opting for female fashion makes more sense.
Similarly, do not forget the spending capability. Again, if the colleges and universities in that area have a high fee structure, you can expect the students to come from affluent families who can afford education in such institutes. By extension, they can afford expensive fashion products.
Knowing your customers well helps in two things:
You can better retain your customers
Lenders or investors will be more confident about your business strategy
f) Legal Structure
Finally, your business overview section should specify what type of business structure you want. Is this a corporation or a partnership (LLC)? Who are the investors? How much equity percentage do they own? Is there a Board of Directors? If so, whom? Do they have experience in the industry?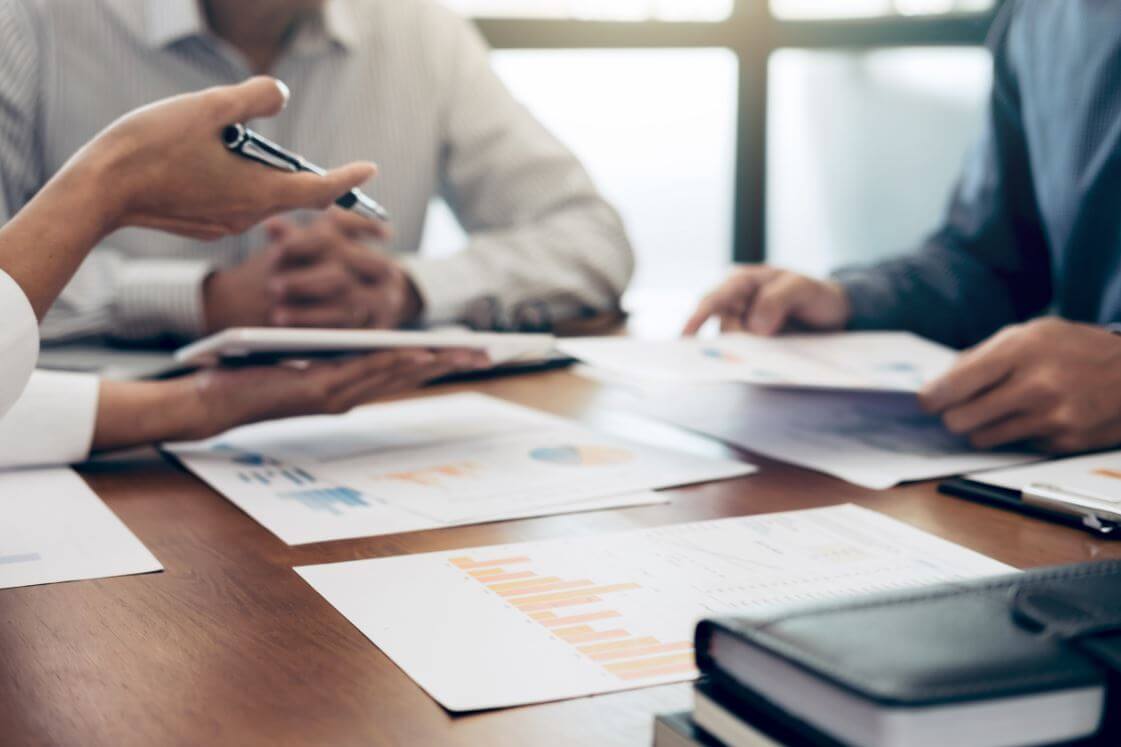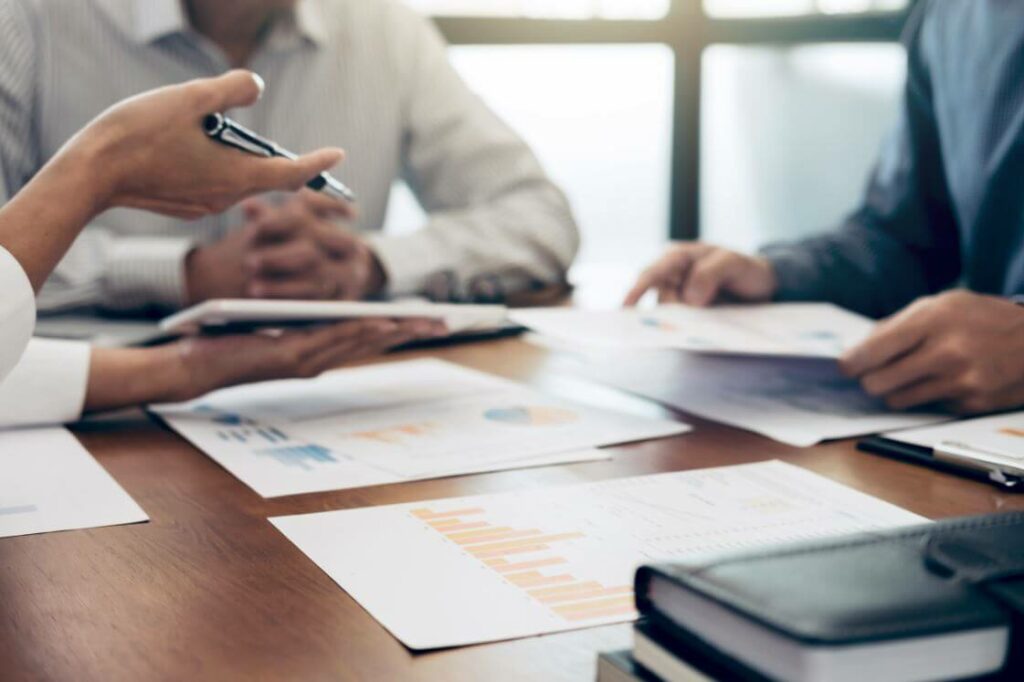 3. Market Analysis
This section of your business plan should spell out your research on the market. Unless you know your market well, you cannot succeed. Also, not demonstrating your market understanding will lead to a loss of confidence among potential investors and lenders.
For example, if your fashion store is selling expensive fashion items including clothing, jewelry, footwear, etc., you must select an affluent area. Let's assume that you are trying to sell women's handbags with an average price of $1,100 in an area where the median household income is $3,500 a month, you are obviously not going to succeed in selling those products.
Thus, a clear understanding of your target market is vital.
a) Market Trends
Understanding the market trends is necessary. This will allow you to identify growth opportunities. For example, if you are opening your fashion store in an area with a large campus crowd, trying to focus on maternity or wedding dresses will possibly lead to slow growth.
Thus, it will make more sense if you focus on teen fashion. As explained earlier, depending on the fee structure of the universities and colleges, you may go for expensive products. But if there is a high demand for discounted fashion clothing, that is what you must focus on.
The goal here is to understand what the potential customer base wants. You may have a liking for a specific brand of clothes or handbags, but if there isn't enough demand for that in the market, you must not try to sell that product line.
Also understand that while adding national data is fine, your business plan will be more robust if you can add city-level data.
One of the best ways to understand market trends at the city level is to run surveys and directly interact with your target audience. Analyze the data and attach it to the business plan to validate your decision. Make sure that your research is as detail-oriented as possible.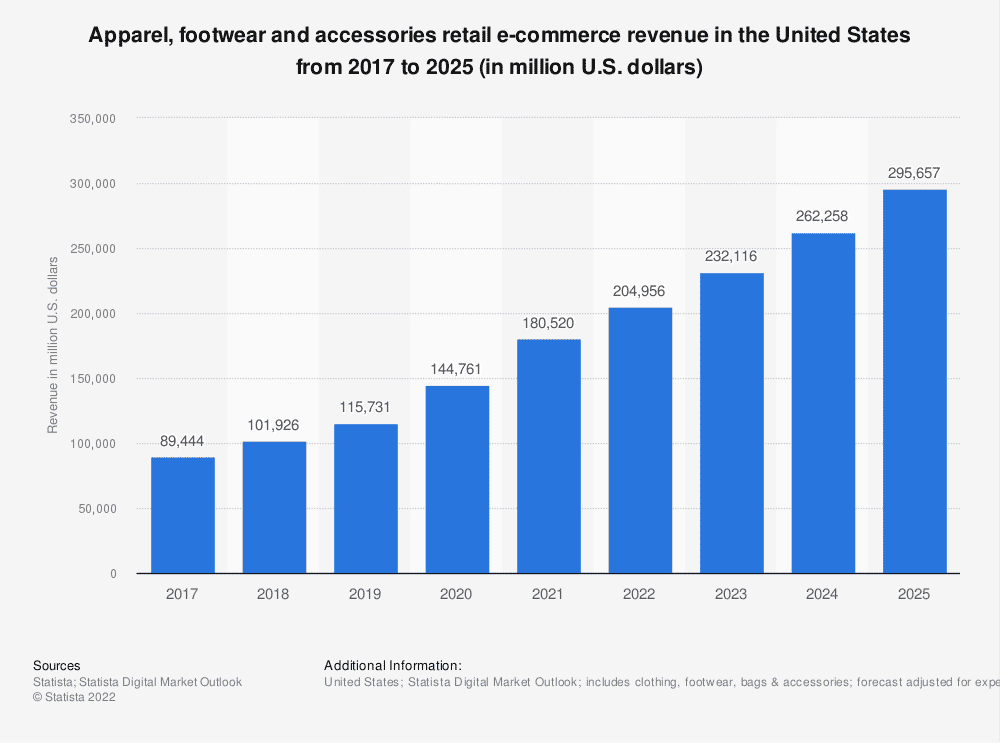 b) Competition
It is highly likely that there will be existing competition and new competitors will show up in the future. Knowing your competitors will give you an edge and even help you select an untapped niche.
Here are a few questions that you must answer in this sub-section:
How many fashion stores are there in the area?
What type of fashion products are they offering?
What is the average price range for the categories of products they are selling?
Are there other competing franchise stores (if you are going for a franchise model)?
What's the average number of employees your competitors have?
What is the average customer footfall of your competitors per month?
When are their peak seasons?
Add as many questions or points as required for your analysis. The more detail-oriented the analysis is, the better it is.
Remember, you may not get the exact numbers. Some approximation is fine. However, the idea here is to understand your competing business models and the factors that drive their sales.
A proper analysis followed by a strong conclusion is necessary. You may conclude something like this:
There is no fashion store in the area that offers discounted fashion products to the massive campus crowd
There is no fashion store in the area that offers fashion footwear conforming to the health requirements of pregnant women
The conclusion you draw will depend on the target audience and the product lines you want to sell.
c) Customers
You have already talked about the target audience in the Business Overview segment, but this is where you add extra details. For example, if you are going for teenage fashion, you must add substantial data that is supported by market trends. Here are some examples of information that you must include:
Estimated teenage population in your area
Fashion preferences (hip hop, gothic, etc.)
Gender distribution of the teenage population
Average household income
Shopping preferences (online or offline)
Shopping pattern (frequent buyers, festive buyers, etc.)
Product preferences (cheap or high-end)
While it is essential that you conduct your own research, you can also derive some data from competitor analysis.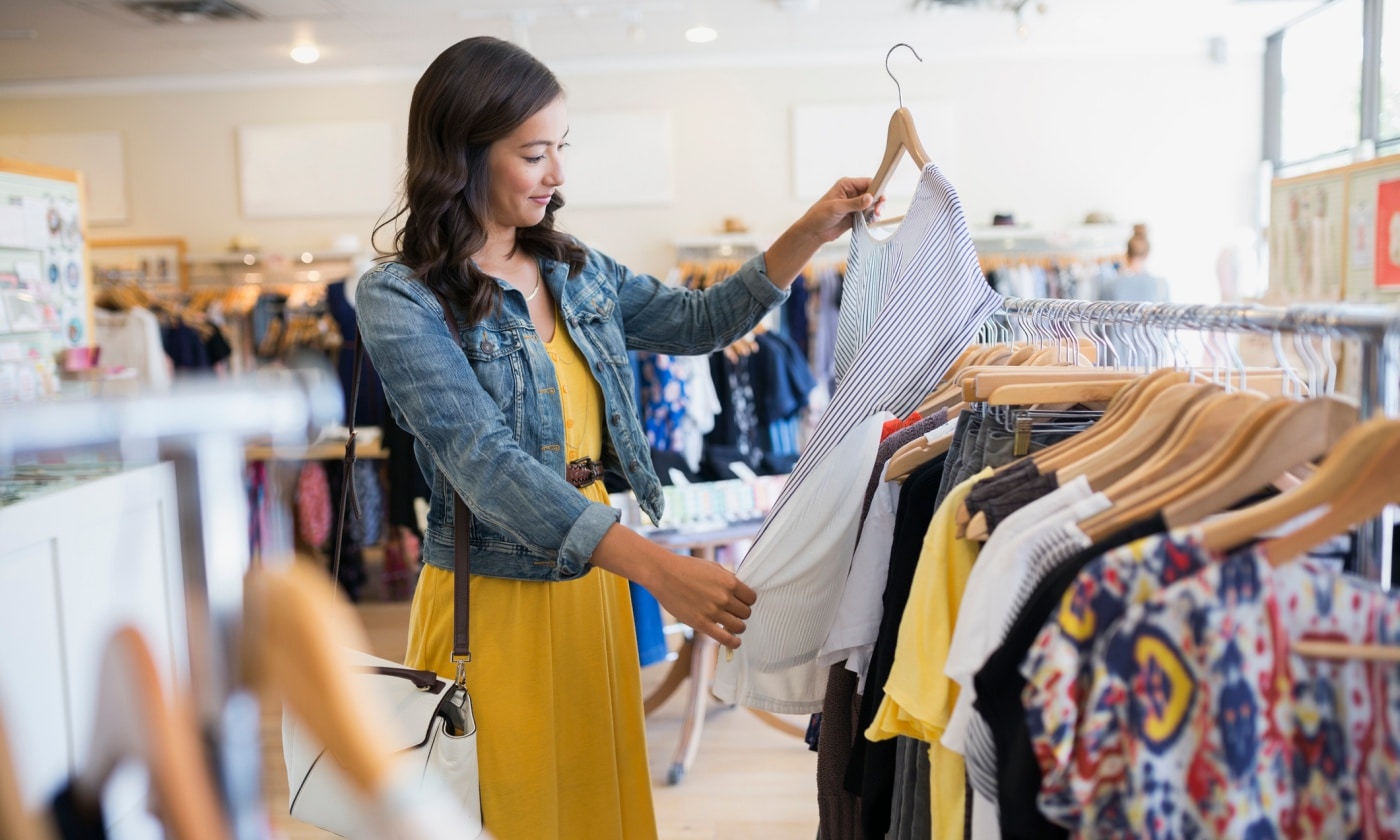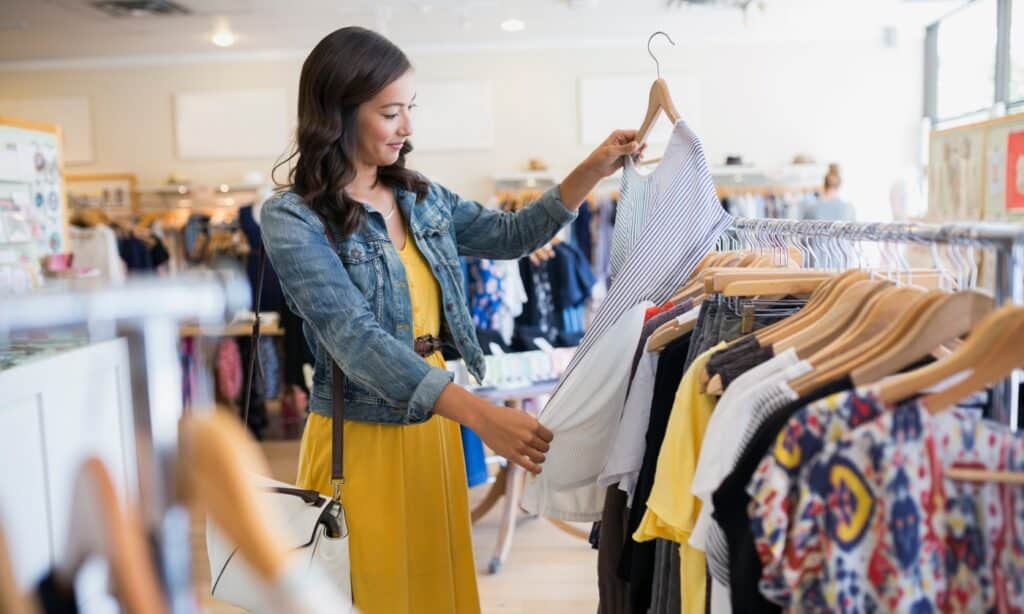 4. Sales & Marketing
In this segment, you must spell out your strategy for acquiring customers.
This is the segment where you outline your customer acquisition strategy. Try to answer the following questions:
What is your USP?
What marketing channels will you use (online or offline)?
Do the marketing channels aptly grab the attention of your target audience? For instance, young adults will most likely not pay attention to TV ads. They are more hooked on social media.
How do you intend to track the success of your marketing strategy?
What is your CAC (customer acquisition cost)?
What is your marketing budget?
What introductory promos and offers do you intend to provide for attracting new customers?
Let's expand a bit on a few questions below:
What marketing channels do fashion stores use?
A few marketing channels day spas typically use are:
Email marketing
SMS marketing
Social media
Pay-per-click campaigns (e.g. Google Ads, Amazon Ads)
Sponsorships (especially for B2B customers)
Partnerships (for example with health studios, sports celebrities, etc.)
Billboards
Radio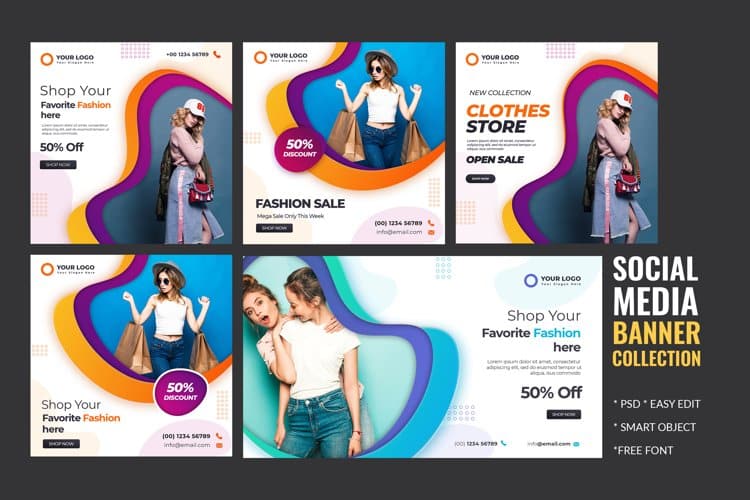 What is your unique selling proposition?
In other words, how do you differentiate yourself vs. competitors? This is very important as you might need to win customers from competitors.
A few examples of USPs are (with reference to our teenage fashion example above):
Price: you may have cheaper prices than competitors
Specialization: you may be specializing in some specific type of fashion products (e.g. shoes, accessories, etc.)
Additional products: you may not just sell clothes. Instead, you may consider selling fashion footwear, jewelry, bags & purses, etc.
Fashion advisor: you may offer a 'fashion advisor' or a 'stylist' service to your customers to help them understand the type of fashion products that will fit well with their skin color & tone, body shape & height, and hairstyle, etc.
Your USP will vary based on the products you want to sell and the target audience you want to attract.
5. Management & Organizational Structure
You must address two things here:
The management team and their experience/track record
The organizational structure: what are the different teams and who reports to whom?
Management
Your store's management will vary depending on the business type and size. For instance, if you are opening a franchise store, you may have to give a lot more details compared to an independent store.
You may have co-founders and/or senior managers. You must explain their roles, too. Apart from that, you must also explain their industry experience and why they are suitable for those positions.
Organizational structure
Note that even if you have not already hired senior managers and other team members, you must include the details.
You must define their roles and the hierarchy of reporting. This will demonstrate to the potential lenders and investors the solid management plan you have in place to operate your business efficiently and successfully.
Create and attach an organizational chart for a visual understanding of your store's staff and their reporting lines.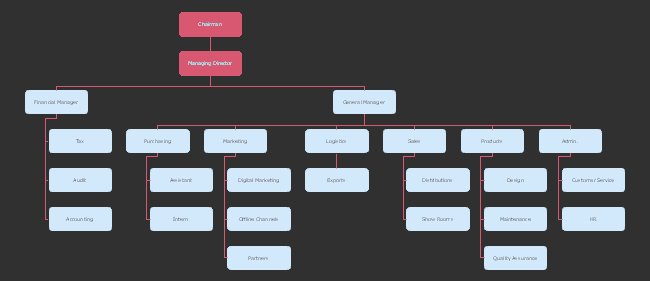 6. Financial Plan
The financial plan is perhaps, with the executive summary, the most important section of any fashion store business plan.
Indeed, a solid financial plan tells lenders that your business is viable and can repay the loan you need from them. If you're looking to raise equity from private investors, a solid financial plan will prove them your fashion store is an attractive investment.
There should be 3 sections to your financial plan section:
Your historical financials (only if you already operate the business and have financial accounts to show)
The startup costs of your project (if you plan to open a new fashion store, renovate your store, etc.)
The 5-year financial projections
Historical Financials (optional)
In the scenario where you already have some historical financials (a few quarters or a few years), include them. A summary of your financial statements in the form of charts e.g. revenue, gross profit and net profit is enough, save the rest for the appendix.
If you don't have any, don't worry, most new businesses don't have any historical financials and that's ok. If so, jump to Startup Costs instead.
Startup Costs
Before we expand on 5-year financial projections in the following section, it's always best practice to start with listing the startup costs of your project. For a fashion store, startup costs are all the expenses you incur before you open the space to your customers. These expenses typically are:
The lease deposit for the space you rent
The design and renovation of the existing facilities
The equipment and furniture
It costs on average $47,500 to $237,500 to open an independent fashion store in the US. See the full cost breakdown below.
Note that the startup costs depend on a number of factors, such as the size of your store, the quality of the building (whether there is a lot or remodeling to do or not), the quality of the furniture, etc.
| Startup cost | Amount |
| --- | --- |
| Lease security deposit (or loan down payment) | $11,000 (rent) – $40,000 (buy) |
| Renovation & design | $0 – $100,000 |
| Upfront inventory | $25,000 – $75,000 |
| Permits and licenses | $1,500 |
| Equipment | $5,000 – $15,000 |
| Marketing and advertisement | $5,000 – $6,000 |
| Total | $47,500 – $237,500 |
Financial Projections
In addition to startup costs, you will now need to build a solid financial model over 5 years.
Your financial projections should be built using a spreadsheet (e.g. Excel or Google Sheets) and presented in the form of tables and charts in your business plan.
As usual, keep it concise here and save details (for example detailed financial statements, financial metrics, key assumptions used for the projections) for the appendix instead.
Your financial projections should answer at least the following questions:
How much revenue do you expect to generate over the next 5 years?
When do you expect to break even?
How much cash will you burn until you get there?
What's the impact of a change in pricing (say 5%) on your margins?
What is your average customer acquisition cost?
You should include here your 3 financial statements (income statement, balance sheet and cash flow statement). This means you must forecast:
The number of customers over time ;
Your expected revenue ;
Operating costs to run the business ;
Any other cash flow items (e.g. capex, debt repayment, etc.).
When projecting your revenue, make sure to sensitize pricing and the number of customers, sales as a small change in these assumptions will have a big impact on your revenues.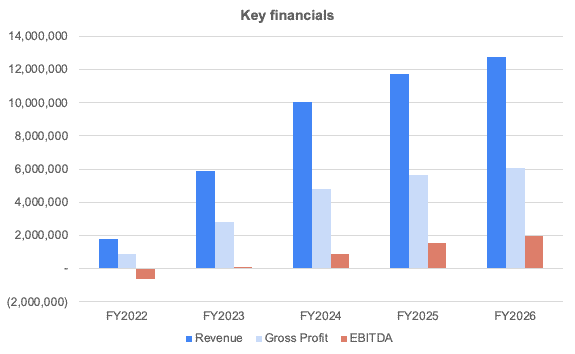 7. Use of Funds
This is the last section of your fashion store business plan. Now that we have explained what your fashion store sells and to whom, the industry, management and your marketing strategy, this section must answer the following questions:
How much funding do you need?
What financial instrument(s) do you need: is this equity or debt, or even a free-money public grant?
How long will this funding last?
Where else does the money come from? If you apply for a SBA loan for example, where does the other part of the investment come from (your own capital, private investors?)
If you raise debt:
If you raise equity
What percentage ownership are you selling as part of this funding round?
What is the corresponding valuation of your business?
Use of Funds
Any business plan should include a clear use of funds section. This is where you explain how the money will be spent.
Will you spend most of the loan / investment in paying your employees' salaries and the inventory? Or will it cover mostly the cost for the lease deposit and the renovation of the building?
Those are very important questions you should be able to answer in the blink of an eye. Don't worry, this should come straight from your financial projections. If you've built solid projections like in our retail store financial model template, you won't have any issues answering these questions.
For the use of funds, we recommend using a pie chart like the one we have in our financial model template where we outline the main expenses categories as shown below.