Operating a successful beauty salon goes beyond offering top-notch beauty services; it requires a strategic approach to marketing and sales.
This comprehensive guide is designed to assist you in crafting a tailored sales and marketing plan for your beauty salon.
Next, we'll focus on how to build brand loyalty and position your beauty salon in the market.
After that, we'll explore various marketing channels to help you reach your customers and take a look at different sales strategies to increase your revenue.
By the end of this article, you'll have a clear roadmap to attract more customers to your beauty salon and foster their loyalty.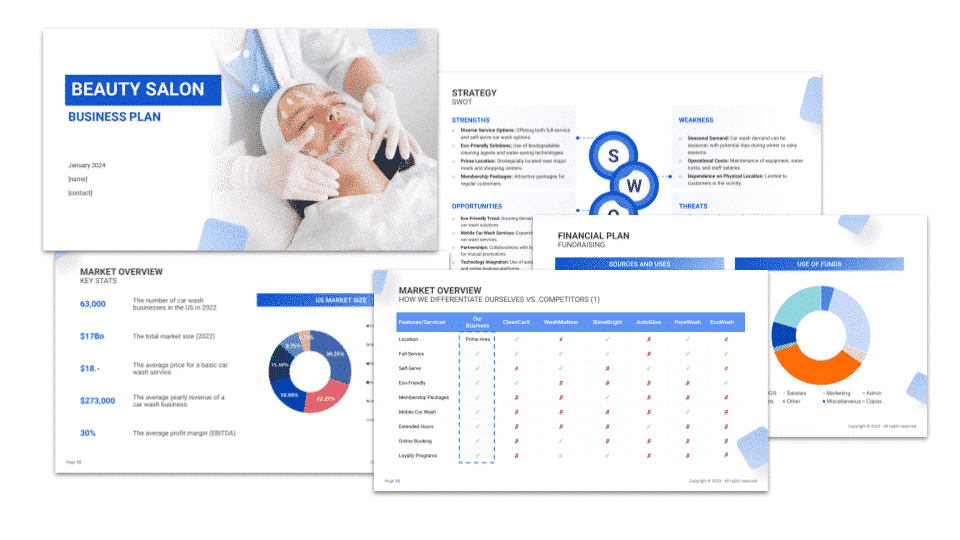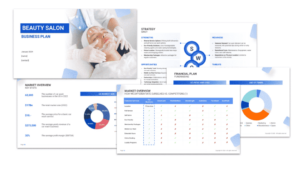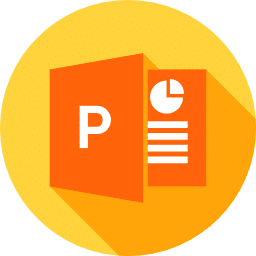 Beauty Salon Business Plan
Download an expert-built 30+ slides Powerpoint business plan template
Beauty Salon Business Plan
Download an expert-built 30+ slides Powerpoint business plan template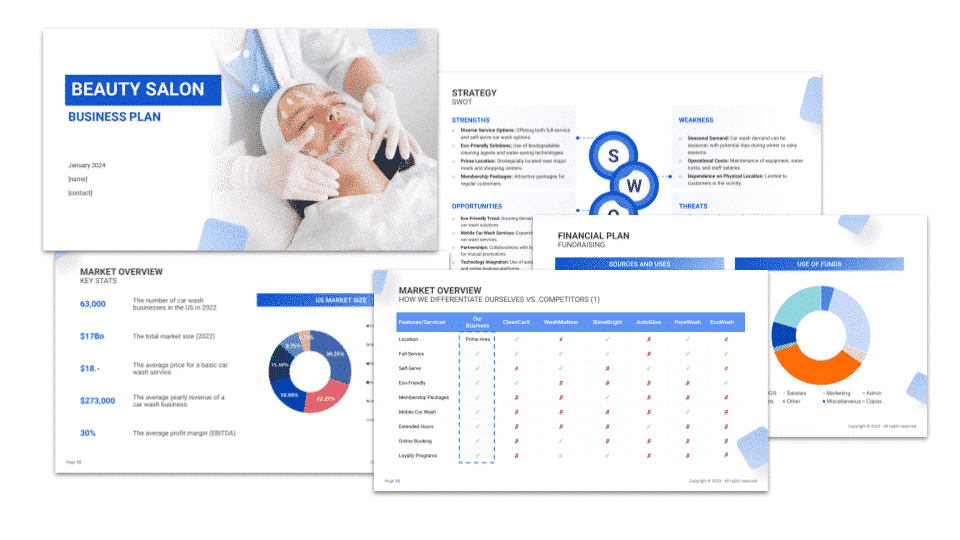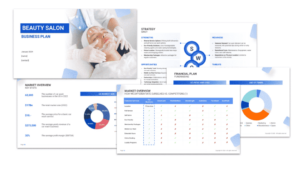 Market Analysis
Understanding the market landscape is crucial for making informed decisions about positioning your beauty salon in the competitive landscape.
Competitive Analysis
Identify Key competitors: Research other beauty salons in your vicinity. Analyze their services, pricing, customer reviews, and marketing tactics.
SWOT Analysis: Conduct a SWOT analysis (Strengths, Weaknesses, Opportunities, Threats) for your salon in comparison to competitors. Identify areas where your salon can outshine and differentiate.
Target Audience Profiling
Demographic and Psychographic Details: Define your ideal clientele based on age, gender, income level, lifestyle, and preferences. Understanding your customers will guide your marketing messaging and service offerings.
Customer Needs and Expectations: Determine what your target audience values most in a beauty salon experience: personalized services, trendy treatments, or a tranquil ambiance.
Branding and Positioning
Your beauty salon's brand is more than just a logo; it's the emotional connection you establish with your clients.
Brand Identity Development
Craft a Compelling Story: Create a brand story reflecting your salon's ethos. Highlight unique values that differentiate your salon in the beauty industry.
Visual Identity: Develop a consistent visual identity with a distinctive logo, color palette, and salon ambiance that resonates with your target audience.
Market Positioning Strategy
Define Your Unique Selling Proposition (USP): Articulate what sets your salon apart. Is it innovative treatments, sustainable products, exceptional service, or a luxurious salon experience?
Positioning Statement: Create a statement defining how you want your salon to be perceived. Let this guide your marketing and operational decisions for a consistent brand experience.
Marketing Channels
These channels are vital for building brand awareness and engaging potential clients.
Digital Marketing
Leverage Social Media: Showcase your expertise and salon ambiance on platforms like Instagram, Facebook, and Pinterest. Engage your audience through captivating content and live sessions.
Email Marketing: Regular newsletters featuring beauty tips, exclusive offers, and updates can keep your audience engaged and informed.
Website and SEO: Develop a professional website optimized for local SEO to rank high in search results.
Local Engagement
Print Media and Flyers: Design eye-catching flyers distributed in local hotspots. Collaborate with local businesses or influencers for joint promotions.
Community Events: Participate in or host local events to showcase your salon's services and connect with potential clients.
Partnerships: Collaborate with complementary local businesses like hair salons, spas, or bridal shops for joint promotions or package deals, amplifying brand visibility.
Promotional Activities
Membership Drives: Introduce loyalty clubs offering exclusive benefits to loyal clients, such as early access to new services or VIP appointments. Offer referral bonuses not only to clients but also to staff to encourage team participation.
Holiday Specials: Apart from holiday-themed packages, consider extending your holiday promotions beyond discounts. Organize charity events or initiatives, aligning your salon with a social cause to resonate with socially conscious customers.
Referral Bonuses: Incentivize existing clients by offering discounts or freebies for referring new customers to your salon.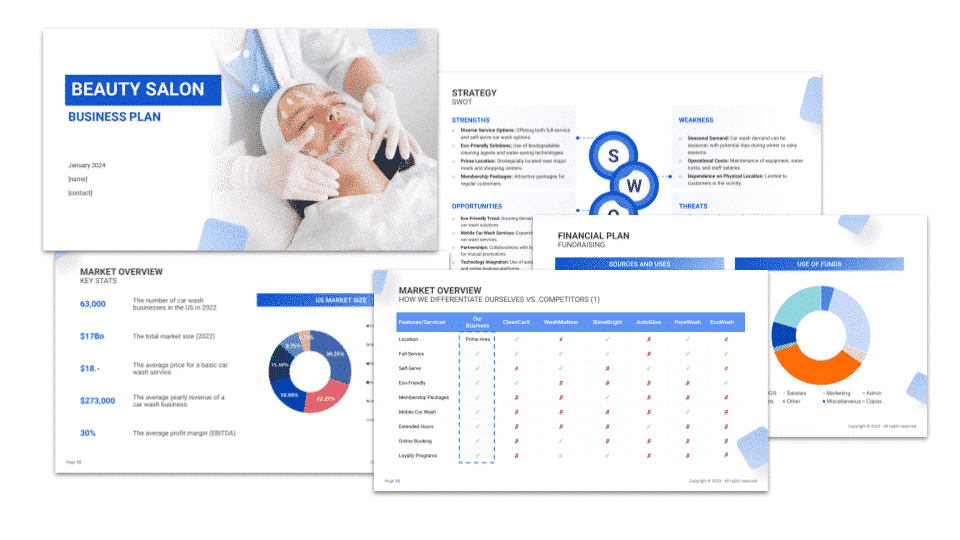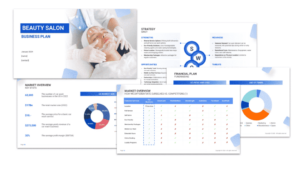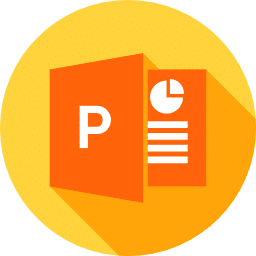 Beauty Salon Business Plan
Download an expert-built 30+ slides Powerpoint business plan template
Beauty Salon Business Plan
Download an expert-built 30+ slides Powerpoint business plan template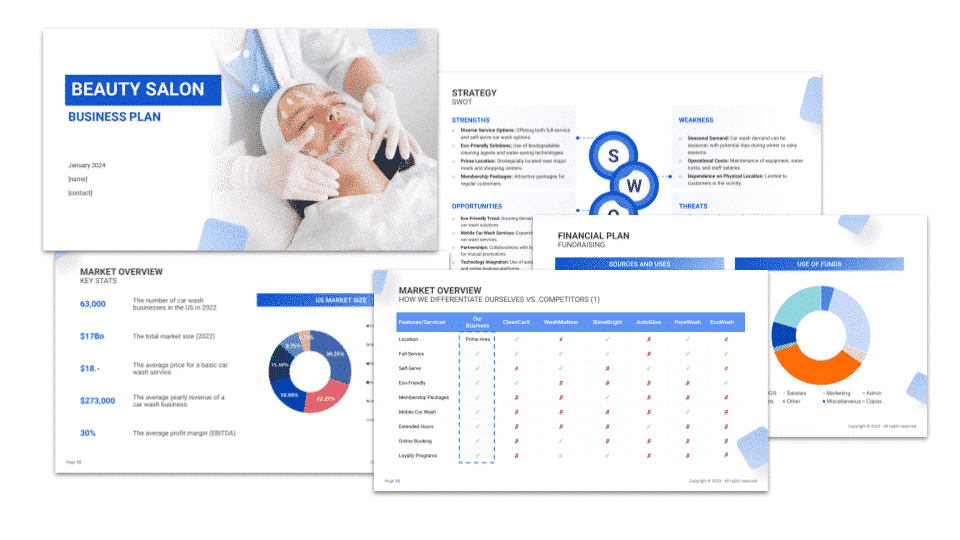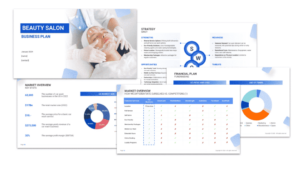 Sales Channels
In addition to marketing, various sales strategies can enhance customer satisfaction and maximize revenue for a beauty salon.
Upselling and Cross-Selling
Enhanced Services: Offer add-on treatments or specialized beauty packages for special occasions.
Retail Products: Retail beauty products within your salon and educate customers about the benefits of at-home beauty care products.
Package Deals: Provide bundled services at reduced prices.
Online Booking and Sales
Efficient Booking System: Implement a user-friendly online booking system on your website and social media platforms. Offer incentives for online bookings.
E-Commerce Integration: Sell beauty products, gift cards, or exclusive salon merchandise through your website.
Virtual Consultations: Offer online consultations for personalized beauty advice.
Membership and Loyalty Programs
Membership Options: Create membership plans offering a range of benefits, such as discounted monthly services or exclusive access to new treatments, encouraging clients to commit to regular visits.
Loyalty Rewards: Develop a digital loyalty program rewarding clients for every purchase and encouraging repeat business.