Starting and running a successful nail salon requires more than just excellent nail care skills; it also demands a smart approach to marketing and sales.
This guide is designed to help you create a sales and marketing plan that works for your nail salon. We'll begin by analyzing your market to understand who your competitors are and what your customers need.
Next, we'll focus on how to build your brand and position your salon in the market. After that, we'll explore various marketing channels to help you reach your customers, followed by a look at different sales strategies to increase your revenue.
By the end of this article, you'll have a clear roadmap for attracting more customers to your salon and keeping them coming back.
Market Analysis
Before diving into specific sales and marketing strategies, a thorough understanding of the market is essential. This analysis lays the groundwork for making informed decisions about how to position your salon in the competitive landscape.
Competitive Analysis
Identify Key Competitors: Research other nail salons in your area. Look at their service offerings, pricing, customer reviews, and marketing tactics.
SWOT Analysis: Conduct a SWOT analysis (Strengths, Weaknesses, Opportunities, Threats) for your salon in comparison to your competitors. This will help in identifying areas where you can outperform and differentiate from them.
Target Audience Profiling
Demographic and Psychographic Details: Define the age, gender, income level, lifestyle, and preferences of your ideal customers. Understanding who your customers are will guide your marketing messaging and service offerings.
Customer Needs and Expectations: Determine what your target audience values most in a nail salon experience – whether it's luxury and relaxation, affordability, unique nail art, or quick service.
Branding and Positioning
Your salon's brand is more than just a logo or color scheme; it's the emotional and psychological relationship you establish with your customers.
Brand Identity Development
Brand Story and Values: Craft a compelling brand story that reflects the ethos of your salon. What inspired you to start your salon? What unique perspectives or values do you bring to the beauty industry?
Visual Elements: Develop a consistent visual identity including logo, color palette, and interior design theme that resonates with your target audience and reflects your salon's personality.
Market Positioning Strategy
Define Your Unique Selling Proposition (USP): Clearly articulate what sets your salon apart. Is it your innovative nail art, organic and eco-friendly products, superior customer service, or luxurious salon ambiance?
Positioning Statement: Create a positioning statement that encapsulates how you want your salon to be perceived in the minds of your customers. This statement should guide all your marketing and operational decisions.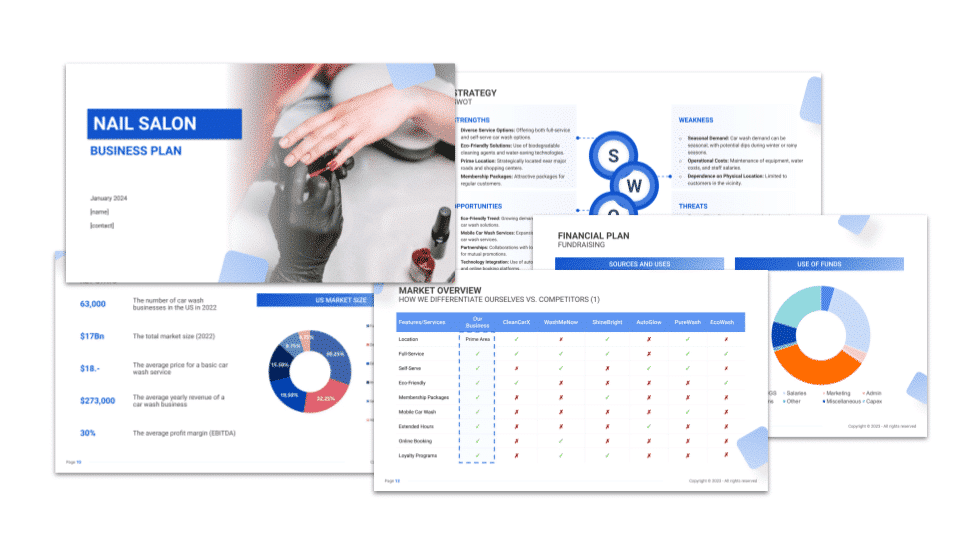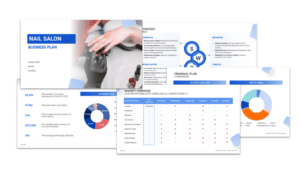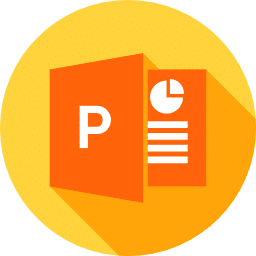 Nail Salon Business Plan
Download an expert-built 30+ slides Powerpoint business plan template
Nail Salon Business Plan
Download an expert-built 30+ slides Powerpoint business plan template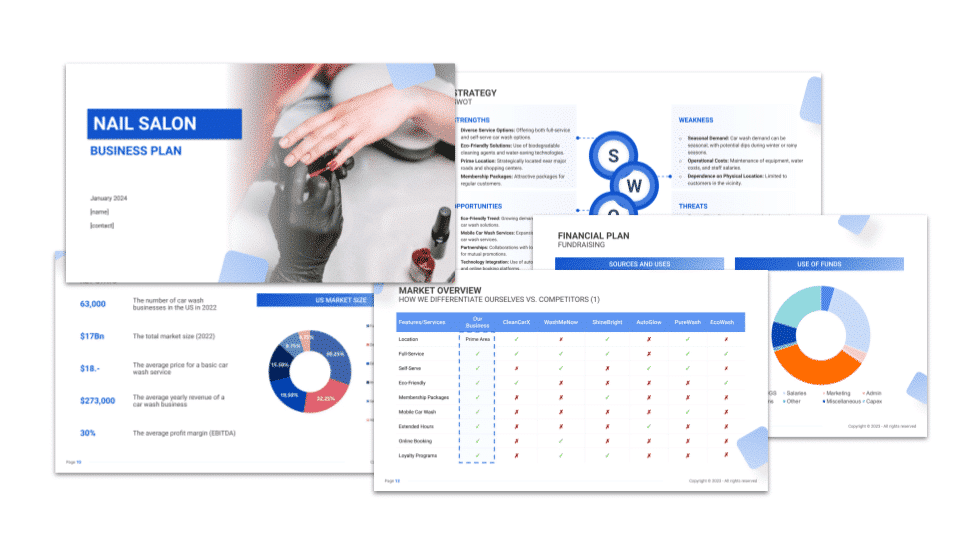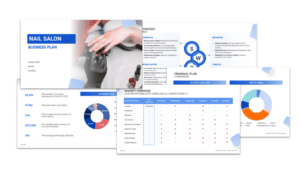 Marketing Channels
The marketing channels for a nail salon are avenues through which you can communicate your brand and services to potential and existing customers. These channels are essential for building brand awareness, engaging with customers, and driving foot traffic to your salon.
Digital Marketing
In today's digital age, having an online presence is crucial. This includes:
Social Media: Utilize Instagram to post high-quality images of your nail art, create engaging stories on Facebook to showcase behind-the-scenes content, and use Pinterest to pin trendy nail designs. Regularly engage with your audience through comments and direct messages.
Email Marketing: Build an email list by offering a discount for sign-ups. Send bi-weekly newsletters featuring nail care tips, exclusive offers, and updates about new services or products at your salon.
Website and SEO: Develop a professional website with a gallery of your work, customer testimonials, and a blog with nail care advice. Optimize your website for local SEO to ensure your salon ranks high in search results for nail services in your area.
Local Advertising
Connecting with your local community can be highly effective:
Flyers and Local Print: Distribute well-designed flyers in local cafes, boutiques, and community centers. Place ads in local lifestyle magazines and newspapers to reach a broader audience.
Community Events: Participate in local fairs and beauty expos, offering free nail consultations or mini-services. Sponsor local sports teams or charity events to increase brand visibility.
Partnerships: Collaborate with local businesses like hair salons, spas, and bridal shops to offer joint packages or cross-promotional deals.
Promotional Activities
Engage potential customers with attractive offers:
Special Deals: Launch seasonal promotions like 'Summer Beach Manicure Discounts' or 'Winter Nail Care Packages'. Offer special discounts for first-time visitors to encourage trial.
Loyalty Programs: Implement a loyalty card system where after ten services, the customer gets a free manicure or pedicure.
Referral Bonuses: Provide a discount or a free add-on service to clients who refer new customers to your salon.
Sales Channels
Sales channels are the methods through which you sell your services and products to customers. These channels are crucial for maximizing revenue and ensuring customer satisfaction.
In-Salon Upselling
Maximize revenue with each customer visit:
Service Add-Ons: While booking, suggest add-ons like a French polish or a gel upgrade. During a manicure, offer a hydrating hand mask or an extended massage.
Retail Products: Display nail care products prominently at the checkout. Train staff to educate customers on the benefits of at-home nail care products like cuticle oils and hand creams.
Package Deals: Offer bundled services, such as a 'Mani-Pedi Combo' at a reduced price, or a 'Bridal Package' for weddings.
Online Booking and Sales
Leverage technology to streamline sales:
Online Booking System: Implement a user-friendly booking system on your website and social media. Offer an incentive, like a small discount, for booking online.
E-Commerce: Sell branded nail care products, gift cards, and salon merchandise through your website.
Virtual Consultations: Offer online consultations for personalized nail care advice, leading to tailored service bookings and product recommendations.
Membership and Loyalty Programs
Encourage repeat business:
Membership Options: Create a membership program offering monthly services at a discounted rate, such as one manicure and one pedicure per month.
Loyalty Rewards: Develop a digital loyalty program where customers earn points for every dollar spent, redeemable for discounts on services or products.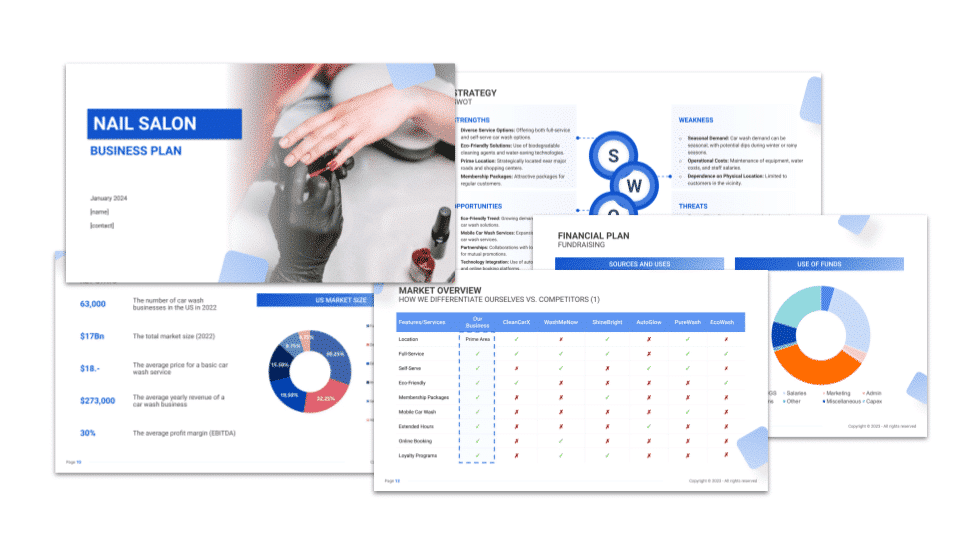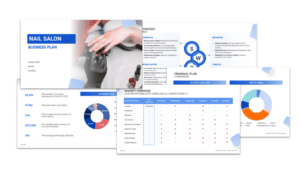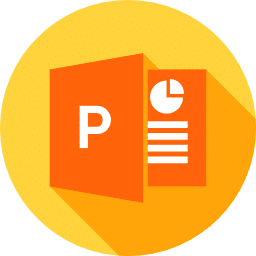 Nail Salon Business Plan
Download an expert-built 30+ slides Powerpoint business plan template
Nail Salon Business Plan
Download an expert-built 30+ slides Powerpoint business plan template