The coffee shop franchise industry is highly competitive. In this context, it's very important to choose the most solid franchise. And Biggby Coffee is definitely one of them.
With 300 stores across the US, Biggby Coffee already has a strong presence. In addition to the brand name and the franchisor's experience and training, Biggby Coffee is also a very profitable franchise.
Indeed, one store makes $648,352 turnover per year, and earns a 29% profit margin on average. This results in a very impressive payback period of 3.2 years.
In this article we'll dive into the financials of Biggby Coffee to see whether you should invest in this business, and how much profits you can really make.
Biggby Coffee franchises: key figures
| | |
| --- | --- |
| Franchise fee | $20,000 |
| Royalty fee | 6.0% |
| Marketing fee | 6.0% |
| Investment (mid-point) | $310,575 |
| Median annual sales | $648,352 |
| Sales to investment ratio | 2.1x |
| Investment payback* | 3.2 years (excellent) |
| Minimum net worth | $300,000 |
| Minimum liquid capital | $100,000 |
* using 15% net profit margin
What is Biggby Coffee?
Biggby Coffee is an American coffeehouse chain that mainly offers coffee, tea, herbal teas, made-to-order beverages, assorted foods, bottled beverages, and smoothies.
It was founded in 1994 by Bob Fish and Mary Roszel in East Lansing, Michigan, as Beaner's Coffee before changing to Biggby Coffee in 2007.
The brand began franchising in 1999 and now has over 300 stores in 13 US states.
Biggby Coffee franchises: pros and cons
Pros
Innovative franchise models: The brand has different franchise formats to help its franchisees utilize the available real estate opportunities in their locations. These are the lobby and drive-thru, lobby, drive-through only, and kiosk models.
Real estate and construction: With an in-house and experienced team of real estate experts, the brand helps franchisees establish and build their cafes at low costs. The real estate team helps franchisees identify a viable business location, negotiate the leases, and design and construct the restaurants.
Comprehensive training: The brand has an extensive training program to help franchisees learn the foundations of the brand and run a successful business.
Management support: The brand offers franchisees solid support to ensure they establish, build, and grow their businesses smoothly. Franchisees get advice on operational issues from experienced and knowledgeable top management. The brand also provides ongoing support, consultations from industry leaders, meetings and conventions, safety and security procedures, and field operations support.
Passive investment: The Biggby Coffee franchise offers franchisees a passive investment opportunity. They can operate the franchise alongside their jobs and other interests.
Cons
No exclusive territory protection: The franchisor does not grant the franchisees an exclusive territory to operate their business. Therefore, franchisees can face competition from franchises granted by the franchisor or other competitive channels and brands controlled by the parent company.
No franchise financing: The brand does not finance its franchisees directly or indirectly. Also, it does not guarantee any lease, note, or grant on behalf of the franchisees.
Not a part-time business: The franchise does not provide a part-time business opportunity. The franchisor requires the franchisees to open full-time as per the agreed hours of operation.
Competition: The brand faces tough competition from other coffee brands such as Dunkin' Donuts and Scooter's Coffee.
How much do you need to invest for a Biggby Coffee?
You may need to invest around $310,575 to open a Biggby Coffee restaurant.
The required investment is an average: it may vary depending on various factors like location, size of the restaurant, etc. For instance, different locations will incur different level of rental expenses, which in turn will have an impact on the lease deposit and so forth. Generally, the investment amount ranges between $202,450 to $418,700.
The initial investment covers all the startup costs a restaurant incurs in the beginning. In addition to the initial franchise fee of $20,000, you would also pay for:
Formation costs: leasehold improvements, equipment, furniture, decor, blueprints, plans and permits, signage, license permits, training expenses, etc.
Grand opening: initial advertising and grand opening promotions.
Operating costs: initial inventory, insurance, utility expense, organizational expenses, and an additional fund to cover the losses of the first 3 months.
| Type of cost | Low | High |
| --- | --- | --- |
| Initial Franchise Fee | $20,000 | $20,000 |
| Formation Costs | $152,400 | $304,600 |
| Grand Opening | $8,500 | $8,500 |
| Operating Costs | $21,550 | $85,600 |
| Total | $202,450 | $418,700 |
Source: Franchise Disclosure Document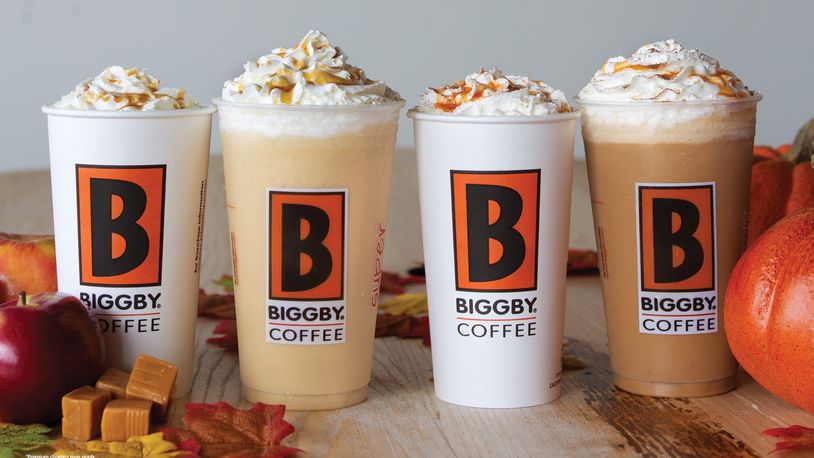 What is the turnover of a Biggby Coffee?
On average, a Biggby Coffee franchise makes $648,352 in sales per year.
The sales number is the annual median sales of 202 franchised restaurants operating in 2021.
The sales number is an average for both drive-thru and non-drive-thru restaurants. Indeed, the number will vary on your choice of restaurant type/location. For example, a drive-thru restaurant generates 2x more revenue than a non-drive-thru restaurant.
| Type of stores | Number of restaurants | Median sales |
| --- | --- | --- |
| Drive-thru | 143 | $745,069 |
| Non-drive-thru | 59 | $413,937 |
| Total | 202 | $648,352 |
Source: Franchise Disclosure Document
How profitable is a Biggby Coffee franchise?
On average, a Biggby Coffee franchise makes $186,995 in profits per year. This represents a 29% profit margin (adjusted EBITDA margin).
The 29% adjusted EBITDA margin is on the higher end compared to similar franchises as per our intelligence (~25-27% industry average).
The margin is higher because of the lower COGS (22% sales vs. 25% industry average). Indeed, labor and rent are in line with our restaurant franchise benchmark (29.6% vs. 29% and 7.6% vs. 8% respectively).
| Profit-and-loss | Amount ($) | % of sales |
| --- | --- | --- |
| Sales | $648,352 | 100% |
| COGS | $(142,508) | 22.0% |
| Labor | $(191,847) | 29.6% |
| Rent | $(49,200) | 7.6% |
| Royalty + marketing fees | $(77,802) | 12.0% |
| Adjusted EBITDA | $186,995 | 29% |
* industry average
Well, you need to know that this adjusted EBITDA margin is not the same as net profit margin. Then what does this margin mean? Meaning you will earn less than 29% of the total revenue as net profit. Indeed, you may need to deduct taxes, debt interest expenses, and other costs from this margin. Then the rest of the revenue goes into your pocket.
Should you invest in a Biggby Coffee franchise?
If you look at Biggby Coffee key figures above, it's no wonder that it's such a great investment.
Indeed, even though the franchise requires an initial investment of $310,575 on average, one Biggby Coffee restaurant usually has a turnover of $648,352 per year. That's what we refer to by the sales to investment ratio: any number above 1x is already good, and Biggby Coffee has 2.1x instead!
Same thing happens if we were to look at the payback period: it takes on average 3.2 years for a Biggby Coffee franchise to repay itself with the future profits (assuming 15% net profit margin).
So if you're considering investing in a Biggby Coffee, the financials shouldn't stop you. Instead, it's a great franchise opportunity for anyone who wants to get into the coffee shop business.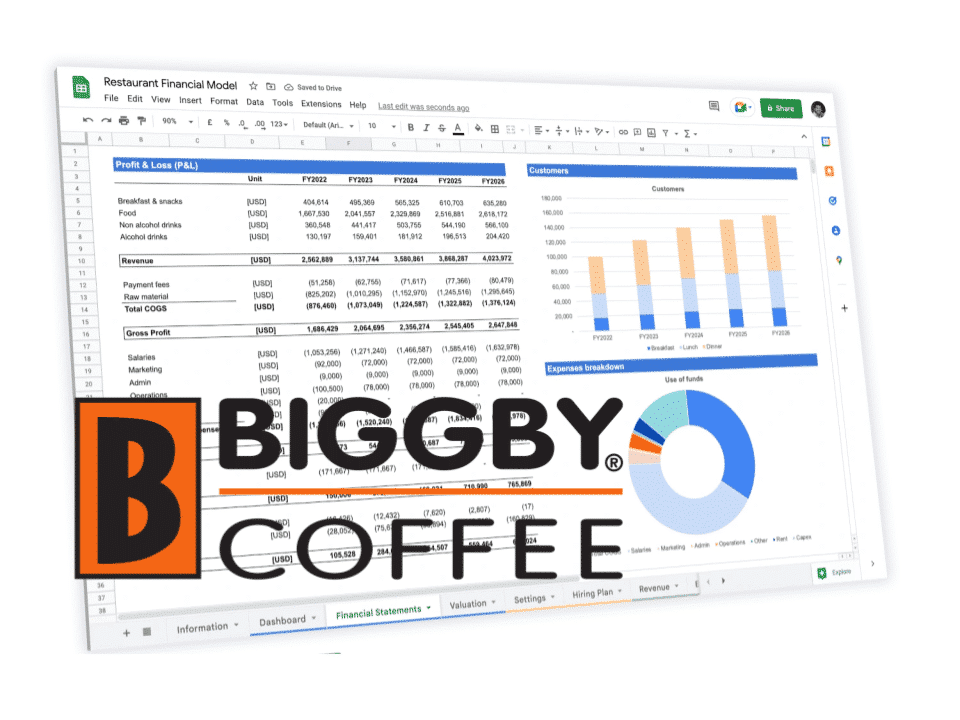 Download the Biggby Coffee franchise business plan and get your franchise funded
Including a 5-year financial plan built with the latest Franchise Disclosure Document numbers