Biggby Coffee Franchises Profits, Costs & Stats (2023)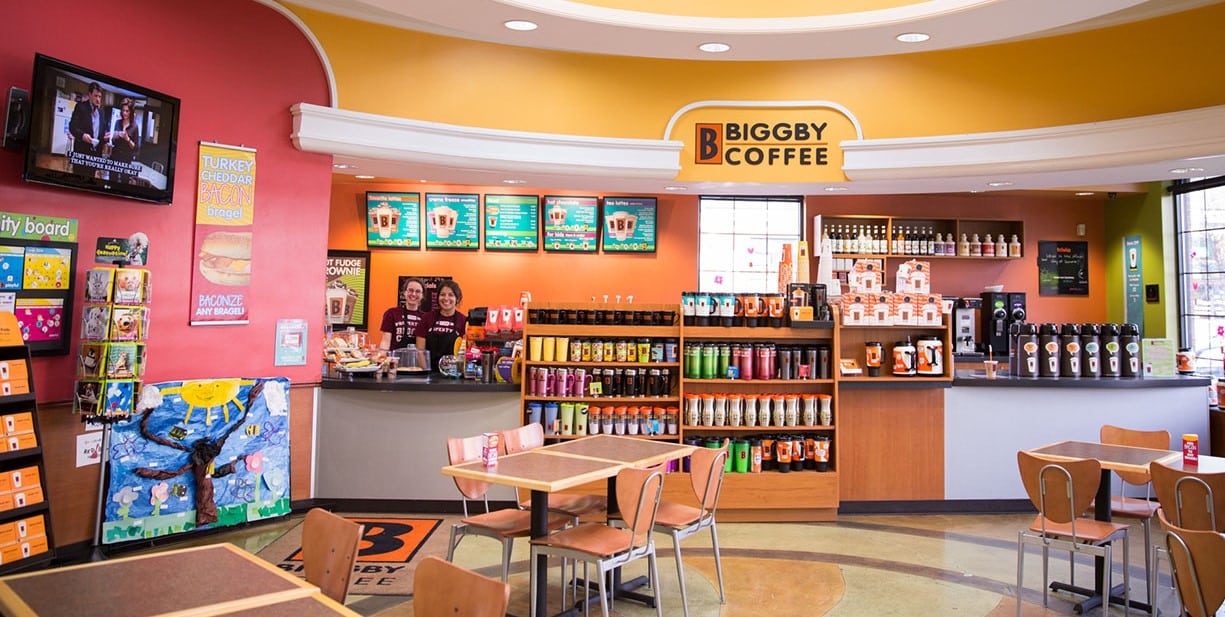 This article was updated with the 2023 Franchise Disclosure Document
The coffee shop franchise industry is highly competitive. In this context, it's very important to choose the most solid franchise. And Biggby Coffee is definitely one of them.
With 300 stores across the US, Biggby Coffee already has a strong presence. In addition to the brand name and the franchisor's experience and training, Biggby Coffee is also a very profitable franchise.
Indeed, one store makes $676,000 turnover per year, and earns a 10% profit margin on average.
In this article we'll dive into the financials of Biggby Coffee to see whether you should invest in this business, and how much profits you can really make.
Key stats
| | |
| --- | --- |
| Franchise fee | $20,000 |
| Royalty fee | 6.0% |
| Marketing fee | 6.0% |
| Investment (mid-point) | $464,000 |
| Average sales | $676,000 |
| Sales to investment ratio | 1.5x |
| Minimum net worth | $300,000 |
| Minimum liquid capital | $100,000 |
Source: Franchise Disclosure Document 2023
Find the best franchise
Compare Biggby Coffee vs. 1,000+ franchises on franchiseindx.com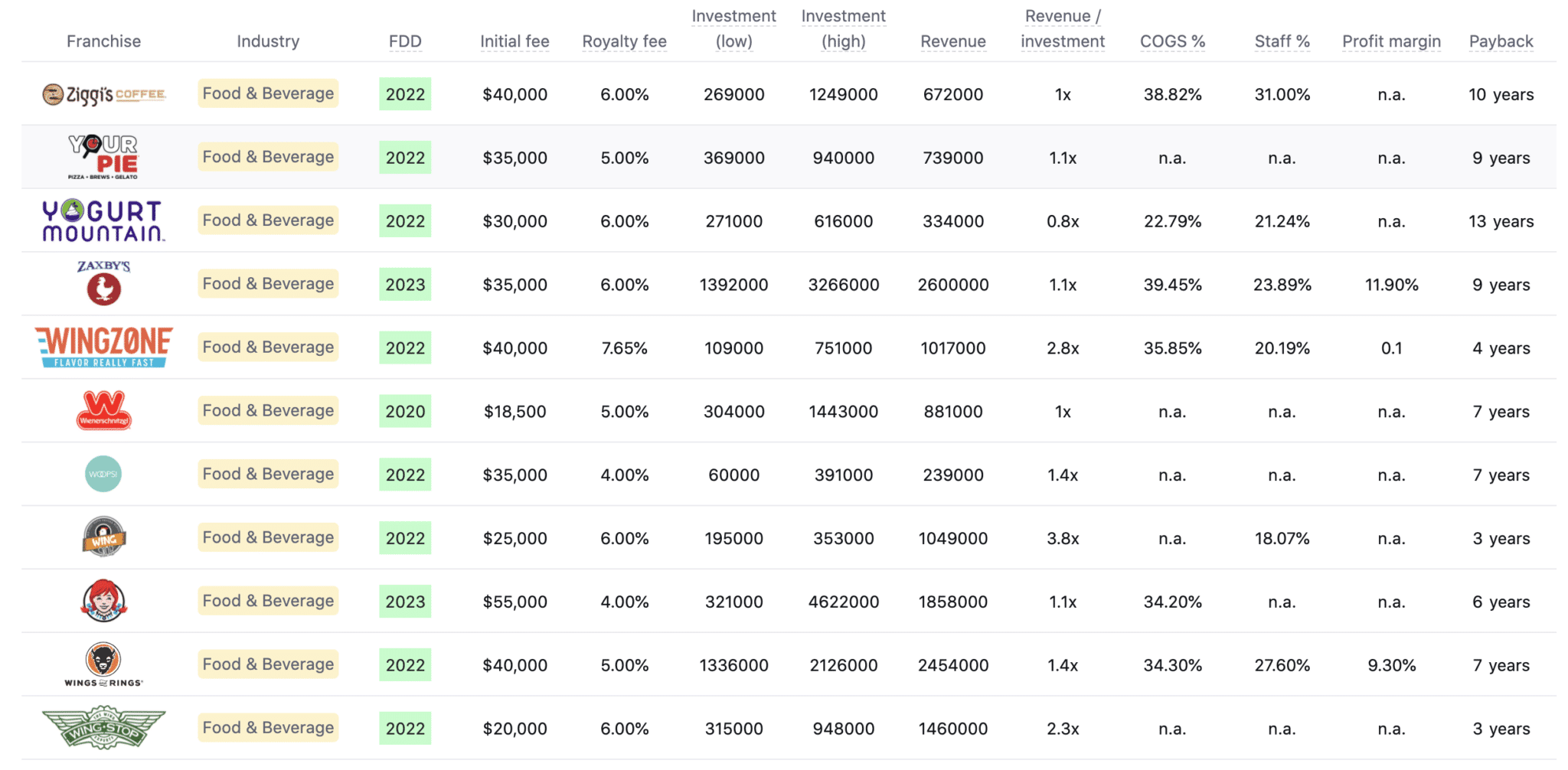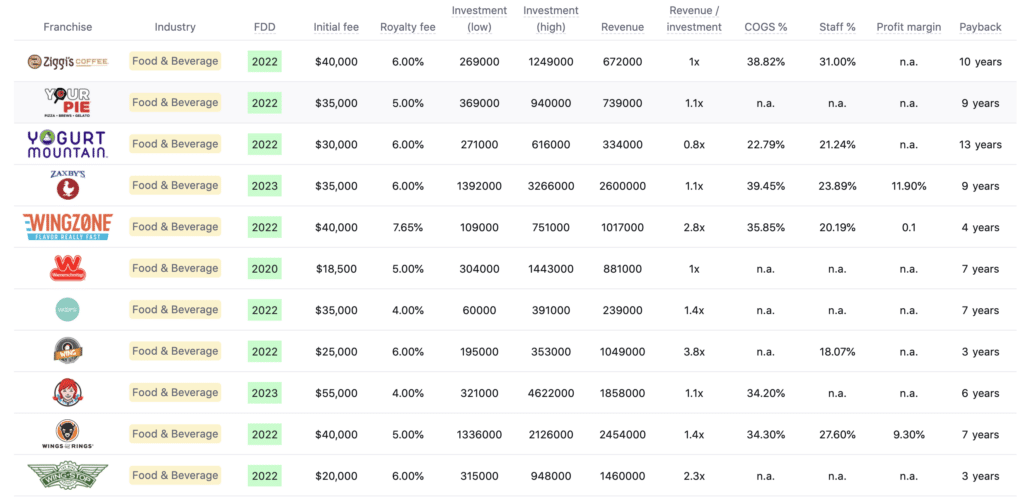 About Biggby Coffee
Biggby Coffee is an American coffeehouse chain that mainly offers coffee, tea, herbal teas, made-to-order beverages, assorted foods, bottled beverages, and smoothies.
It was founded in 1994 by Bob Fish and Mary Roszel in East Lansing, Michigan, as Beaner's Coffee before changing to Biggby Coffee in 2007.
The brand began franchising in 1999 and now has over 300 stores in 13 US states.
Biggby Coffee franchise pros and cons
Pros
Innovative franchise models: The brand has different franchise formats to help its franchisees utilize the available real estate opportunities in their locations. These are the lobby and drive-thru, lobby, drive-through only, and kiosk models.
Real estate and construction: With an in-house and experienced team of real estate experts, the brand helps franchisees establish and build their cafes at low costs. The real estate team helps franchisees identify a viable business location, negotiate the leases, and design and construct the restaurants.
Comprehensive training: The brand has an extensive training program to help franchisees learn the foundations of the brand and run a successful business.
Management support: The brand offers franchisees solid support to ensure they establish, build, and grow their businesses smoothly. Franchisees get advice on operational issues from experienced and knowledgeable top management. The brand also provides ongoing support, consultations from industry leaders, meetings and conventions, safety and security procedures, and field operations support.
Passive investment: The Biggby Coffee franchise offers franchisees a passive investment opportunity. They can operate the franchise alongside their jobs and other interests.
Cons
No exclusive territory protection: The franchisor does not grant the franchisees an exclusive territory to operate their business. Therefore, franchisees can face competition from franchises granted by the franchisor or other competitive channels and brands controlled by the parent company.
No franchise financing: The brand does not finance its franchisees directly or indirectly. Also, it does not guarantee any lease, note, or grant on behalf of the franchisees.
Not a part-time business: The franchise does not provide a part-time business opportunity. The franchisor requires the franchisees to open full-time as per the agreed hours of operation.
Competition: The brand faces tough competition from other coffee brands such as Dunkin' Donuts and Scooter's Coffee.
Biggby Coffee franchise costs
You may need to invest around $464,000 to open a Biggby Coffee restaurant.
The required investment is an average; it may vary depending on the type of franchise format you choose including other various factors like location, size of the restaurant, etc. For instance, you can choose from these 3 franchise formats:
Whitebox leased location: a Whitebox leased location is a location with a lobby only or lobby with a drive-thru.
Modular location: a Modular location includes a pre-fabricated building with a drive-thru only.
Site built drive-thru only location: a Site built drive-thru only is a building you construct with a drive-thru only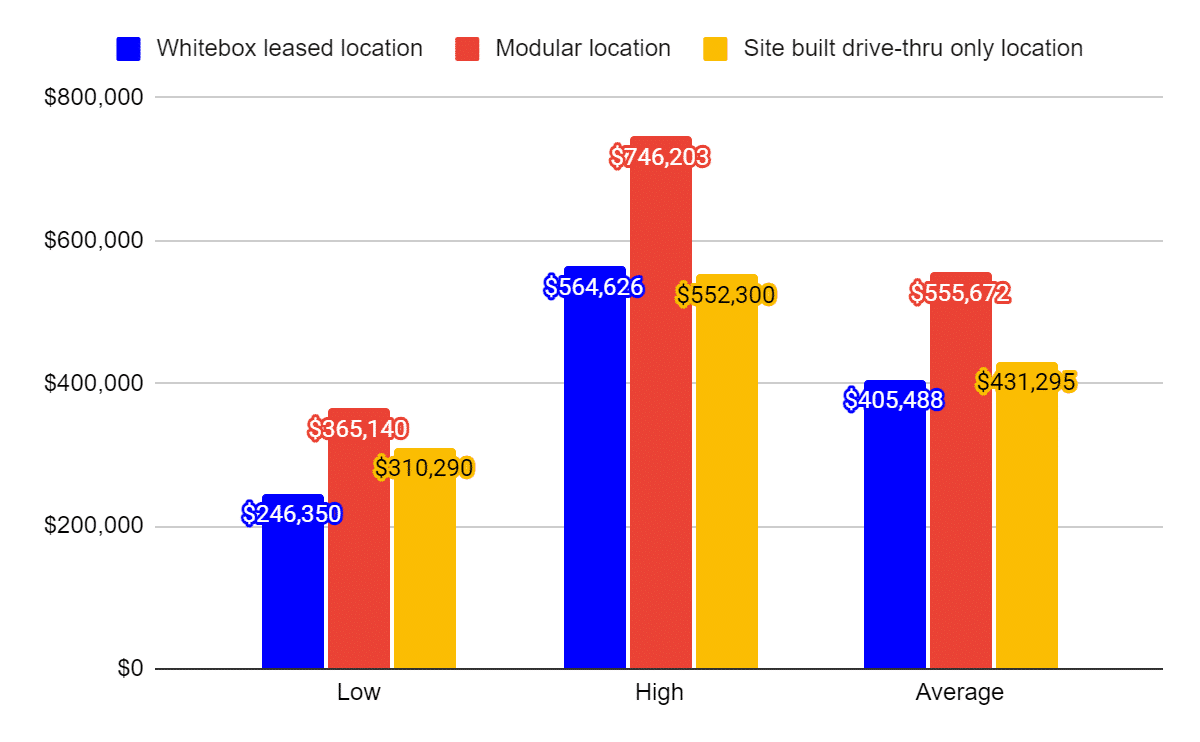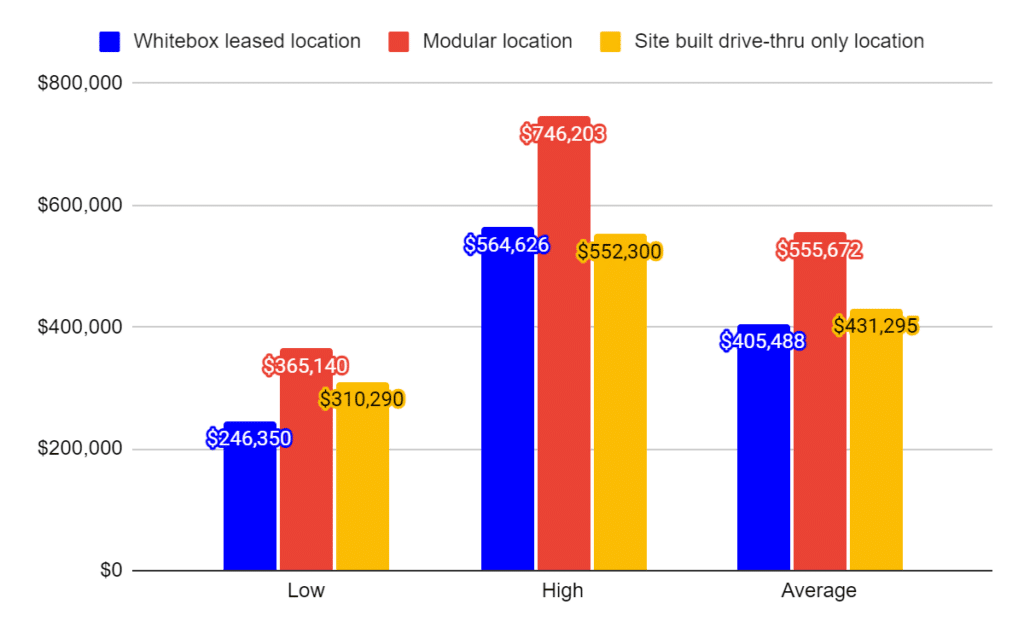 The initial investment covers all the startup costs a restaurant incurs in the beginning. In addition to the initial franchise fee of $20,000, you would also pay for:
Formation costs: leasehold improvements, equipment, furniture, decor, blueprints, plans and permits, signage, license permits, training expenses, etc.
Grand opening: initial advertising and grand opening promotions.
Operating costs: initial inventory, insurance, utility expense, organizational expenses, and an additional fund to cover the losses of the first 3 months.
| Type of cost | Low | High |
| --- | --- | --- |
| Initial Franchise Fee | $20,000 | $20,000 |
| Formation Costs | $196,545 | $451,300 |
| Grand Opening | $9,500 | $9,500 |
| Operating Costs | $20,305 | $83,826 |
| Total | $246,350 | $564,626 |
Source: Franchise Disclosure Document 2023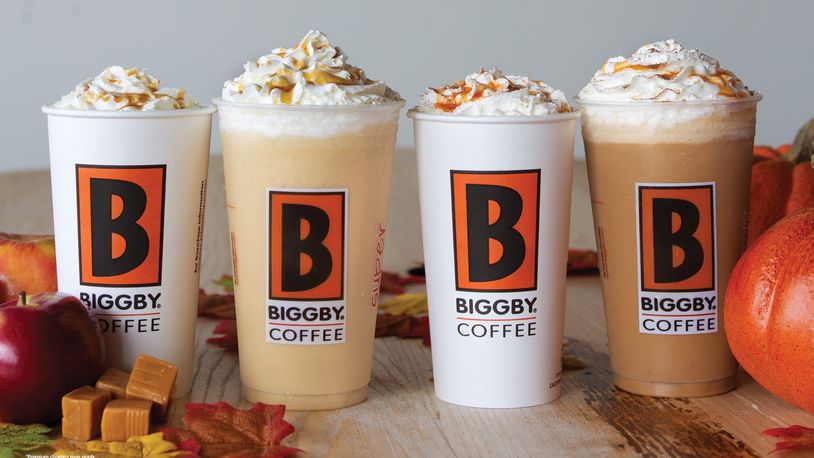 Find the best franchise
Compare Biggby Coffee vs. 1,000+ franchises on franchiseindx.com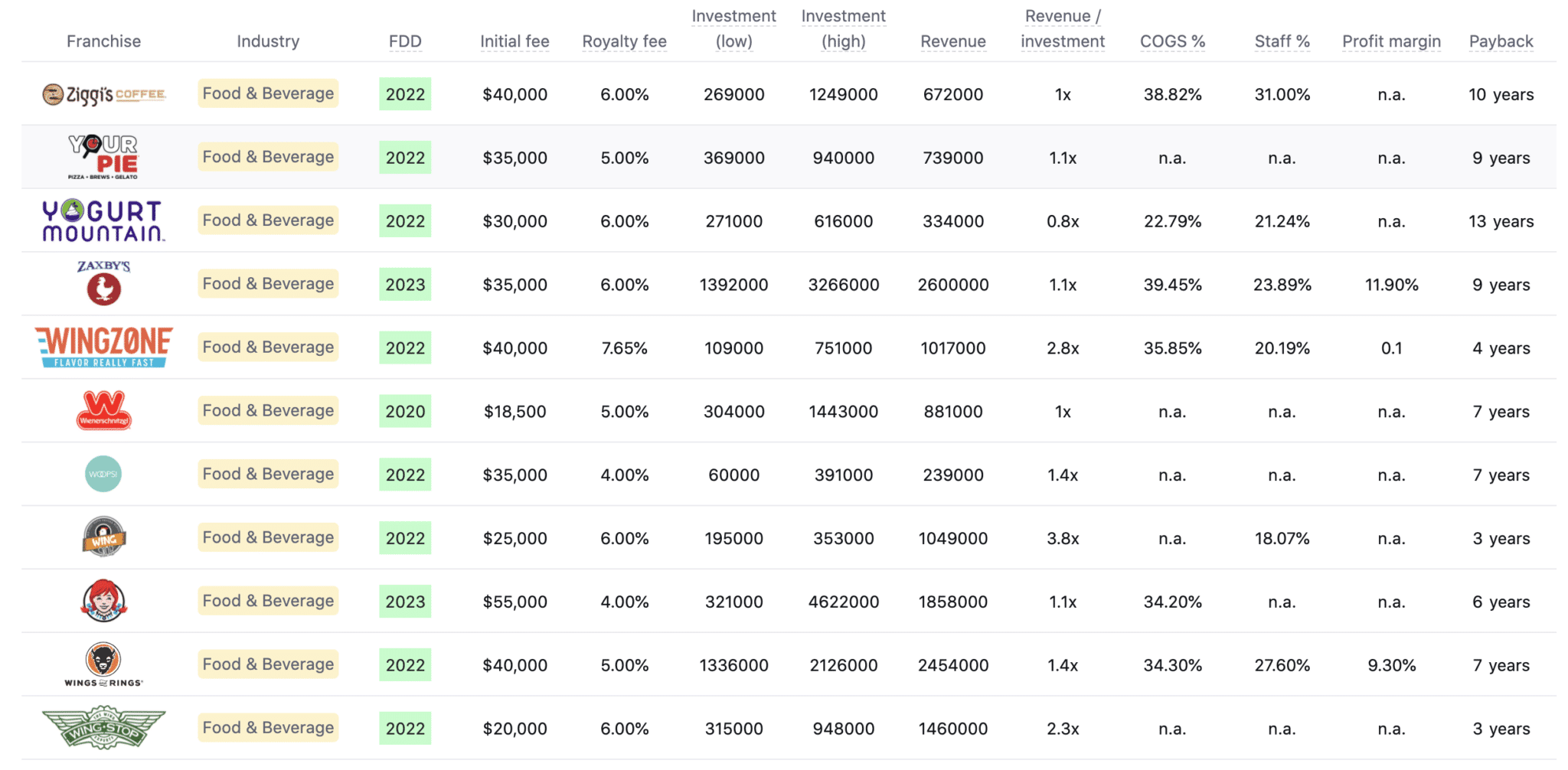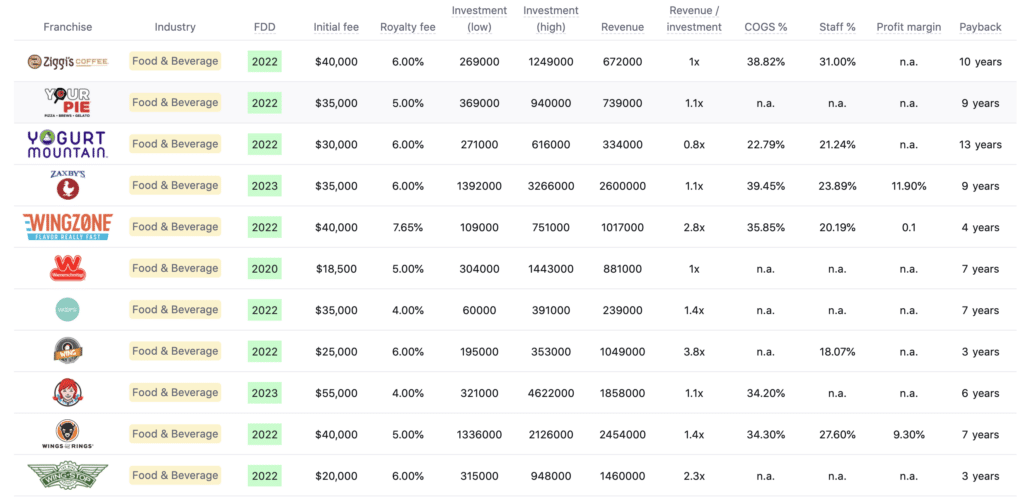 Biggby Coffee franchise fees
The initial franchise fee for a Biggby Coffee franchise is $20,000. In addition to the initial franchise fee, you must pay to the franchisor a royalty fee of 6.0% of revenues.
Biggby Coffee franchise revenue
On average, a Biggby Coffee franchise makes $676,000 in sales per year.
The sales number is the annual median sales of 262 franchised restaurants operating in 2022.
The sales number is an average for both drive-thru and non-drive-thru restaurants. Indeed, the number will vary on your choice of restaurant type/location. For example, a drive-thru restaurant generates 1.5 times more revenue than a non-drive-thru restaurant.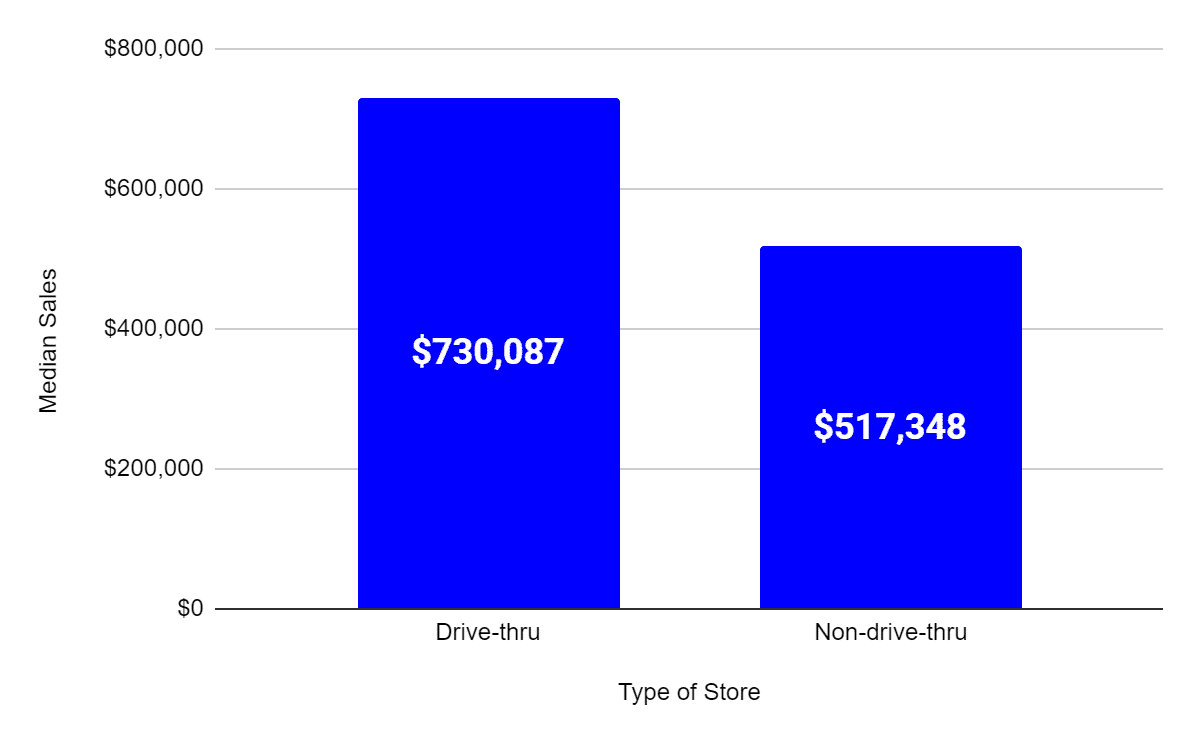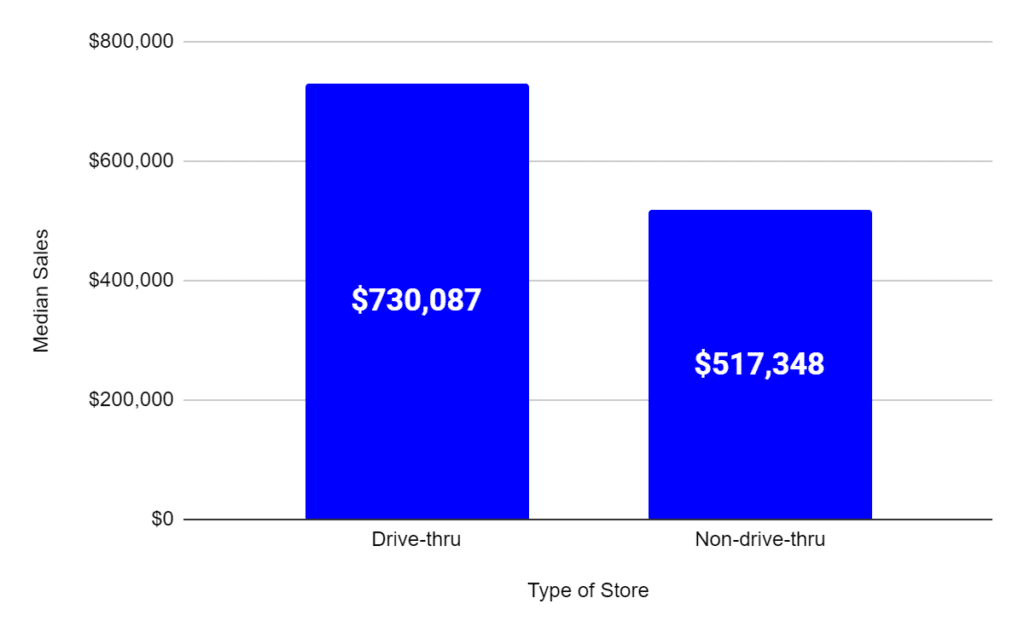 | Type of stores | Number of restaurants | Median sales |
| --- | --- | --- |
| Drive-thru | 195 | $730,087 |
| Non-drive-thru | 67 | $517,348 |
| Total | 262 | $675,684 |
Source: Franchise Disclosure Document 2023
Biggby Coffee franchise profits
On average, a Biggby Coffee franchise makes $77,514 in profits per year (or $25,598 for non-drive-thru). This represents a 10.3% (or 4.9% for non-drive-thru) profit margin (adjusted EBITDA margin).
The adjusted EBITDA margin is on the lower end compared to similar franchises as per our intelligence (~25-27% industry average).
The margin is lower because of the higher COGS and labor costs.
Profit-and-loss
Drive-thru
Non-drive-thru
Sales
$751,348
100%
$527,513
70%
COGS
$(236,094)
31.4%
$(170,674)
32.4%
Gross Profit
$515,254
68.6%
$356,839
67.6%
Labor
$(235,540)
31.3%
$(175,006)
33.2%
Marketing
$(82,696)
11.0%
$(57,393)
10.9%
Other OpEx
$(119,504)
15.9%
$(98,842)
18.7%
EBITDA
$77,514
10.3%
$25,598
4.9%
Source: Franchise Disclosure Document 2023
Find the best franchise
Compare Biggby Coffee vs. 1,000+ franchises on franchiseindx.com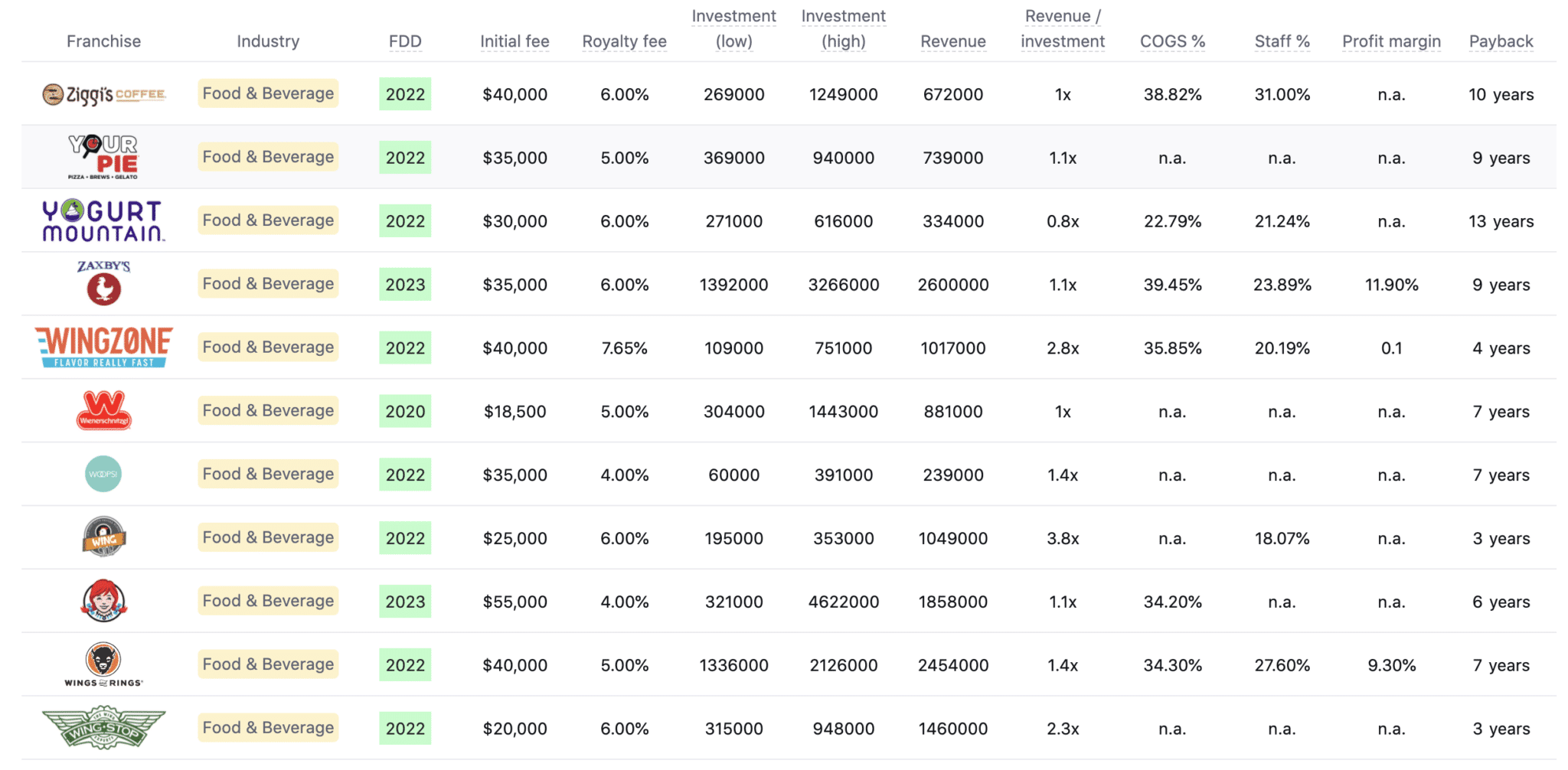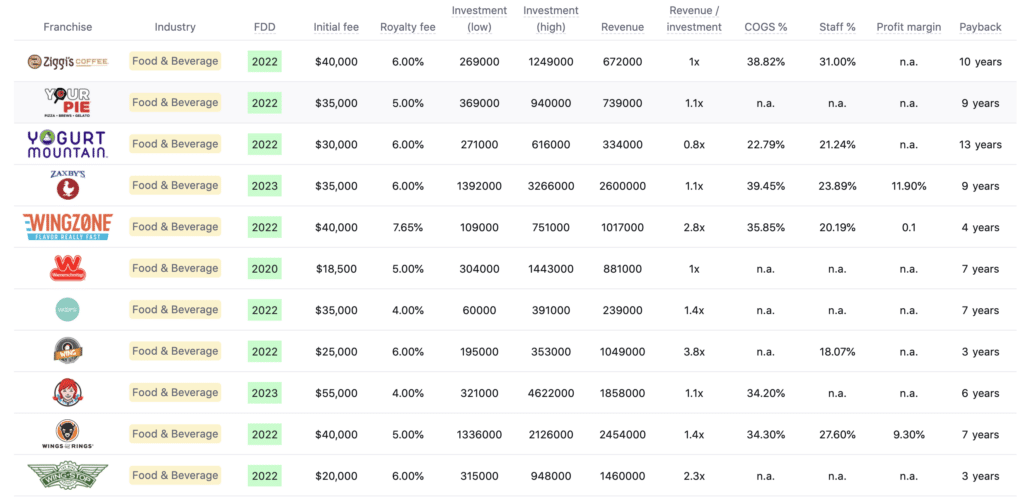 Disclaimer
Disclaimer: This content has been made for informational and educational purposes only. We do not make any representation or warranties with respect to the accuracy, applicability, fitness, or completeness of the information presented in the article. You should not construe any such information or other material as legal, tax, investment, financial, or other professional advice. Nothing contained in this article constitutes a solicitation, recommendation, endorsement, advertisement, or offer to buy or sell any franchises, securities, or other financial instruments in this or in any other jurisdiction in which such solicitation or offer would be unlawful under the franchise and/or securities laws of such jurisdiction.
All content in this article is information of a general nature and does not address the detailed circumstances of any particular individual or entity. Nothing in the article constitutes professional and/or financial and/or legal advice, nor does any information in the article constitute a comprehensive or complete statement of the matters discussed or the law relating thereto. You alone assume the sole responsibility of evaluating the merits and risks associated with the use of any information or other content in this article before making any decisions based on such information or other content.