How To Build a Financial Model For a Brewery?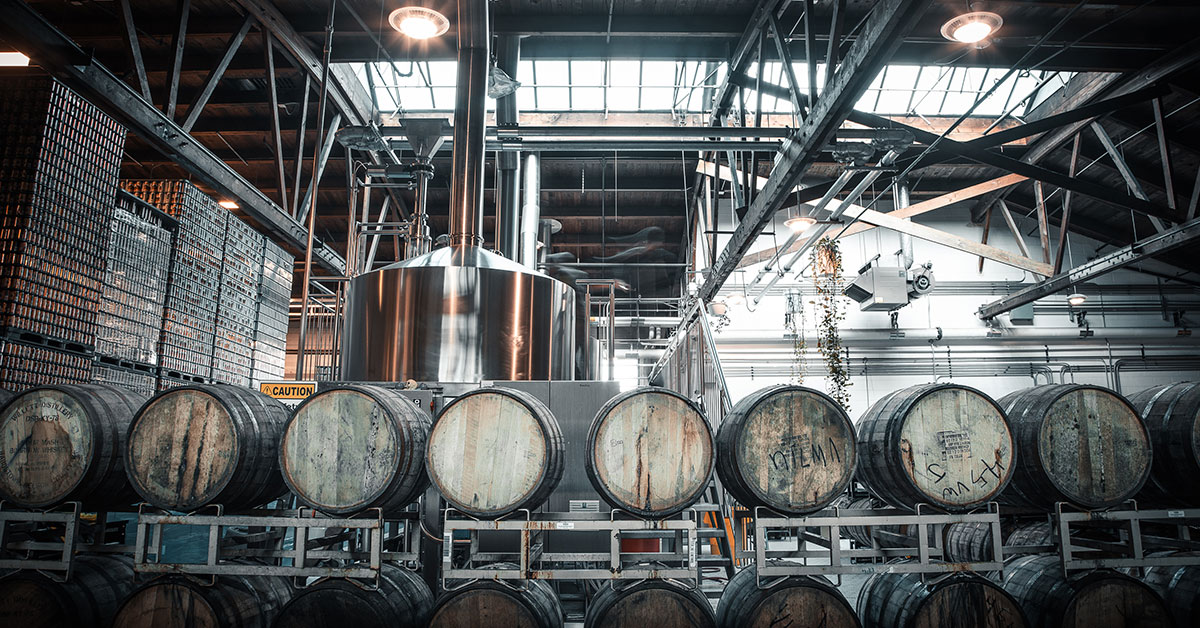 Every business needs a financial model. Whether you want to understand what's your breakeven, your valuation or create a financial model for the business plan of your brewery, you've come the right way.
In this article we'll explain you how to create powerful and accurate financial projections for a typical brewery with 2,000 barrels sold per year.
For more information on breweries, make sure to read our guides below:
How to Start a Brewery in 9 Steps: Complete Guide
How Much Does It Cost To Start A Brewery?
10 Strategies To Increase Your Brewery Sales & Profits
How to Write a Brewery Business Plan: Complete Guide
1. Forecast Production
The first thing you must do to create a financial model for your brewery is to forecast the number of barrels you produce and sell over time.
This is, of course, a function of your production capacity and equipment. It can be done as easily as setting the average number of barrels you expect to produce per month.
Tip: the number of barrels produced over time can vary over time. We recommend starting low to be conservative, and progressively increase output as you gain more customers and recognition.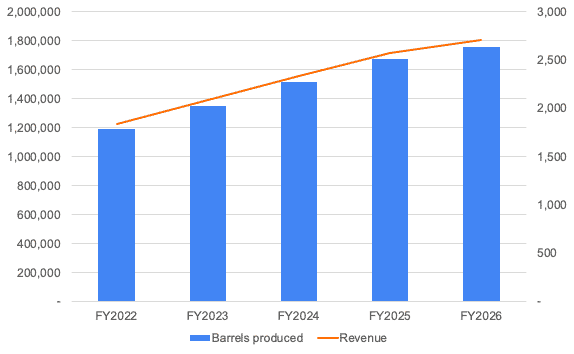 2. Forecast Revenue
Now that we have estimated the number of barrels you expect to produce over time, the second step of your brewery financial model is to calculate revenue.
Before we think about prices, we need to think of packaging first. Indeed, breweries can either sell:
Wholesale in the form of a barrel; or
To large customers (restaurants, bars) with kegs; or
As a pack of canned or bottled beers
It's very important to break it down right. Indeed, as you know all these products have very different unit economics (profit margins) which you will see in the next section (COGS).
First, break down the total production (in barrels) into the different outputs you sell. For example:
50% of your sales are carton of beer bottles of 2.0 gallons
another 25% are sold as barrels that each contain 31 gallons
another 25% are kegs (15 gallons)
Now, assuming you sell at an average price of $3.0 a pint, this represents approximately $685.0 per barrel and $22.0 per gallon (assuming 8% waste).
Now, simply multiply the products per output by their selling price to obtain revenue.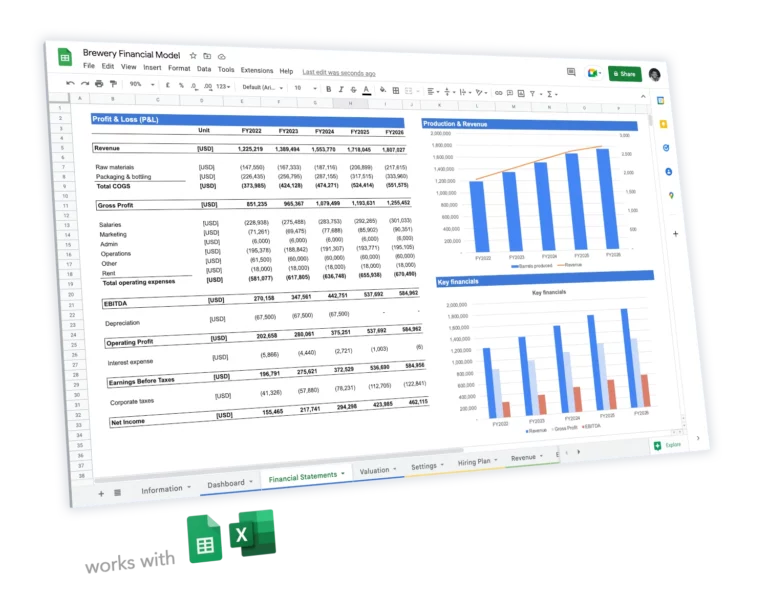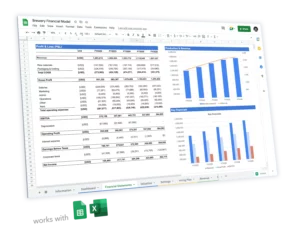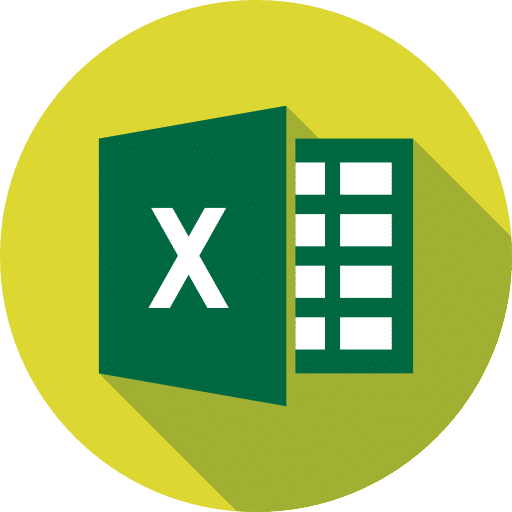 Brewery Financial Model
Download an expert-built 5-year Excel financial model for your business plan
3. Calculate COGS
The third step of our brewery financial model is calculating COGS (Cost of Goods Sold) ie. all the variable costs (raw materials) used to produce the beer. This includes malt, hops and adjuncts.
As a rule of thumb, you should expect to pay on average 30 to 35% of your sales in raw materials. Typically, craft breweries can spend more, closer to 35%. Logically, the smaller the brewery, the higher the cost per barrel (or pound) unlike large regional breweries that can save on large orders.
Now, for our microbrewery example, let's assume you operate a microbrewery with 10,000 gallons capacity per year. Assuming a selling price of $3.50 per pint, so $800 per barrel more or less (taking into account 8-10% waste), you should generate around $135,000 in revenue each month.
Tip: for maximum accuracy, make sure to calculate the total cost per gallon of beer (or per barrel) by segmenting all the raw materials as shown in the example below.


Also, make sure to include packaging and bottling as part of COGS as shown below. This is an easy step as we already calculated the different products (bottles, barrels and kegs) in the previous section.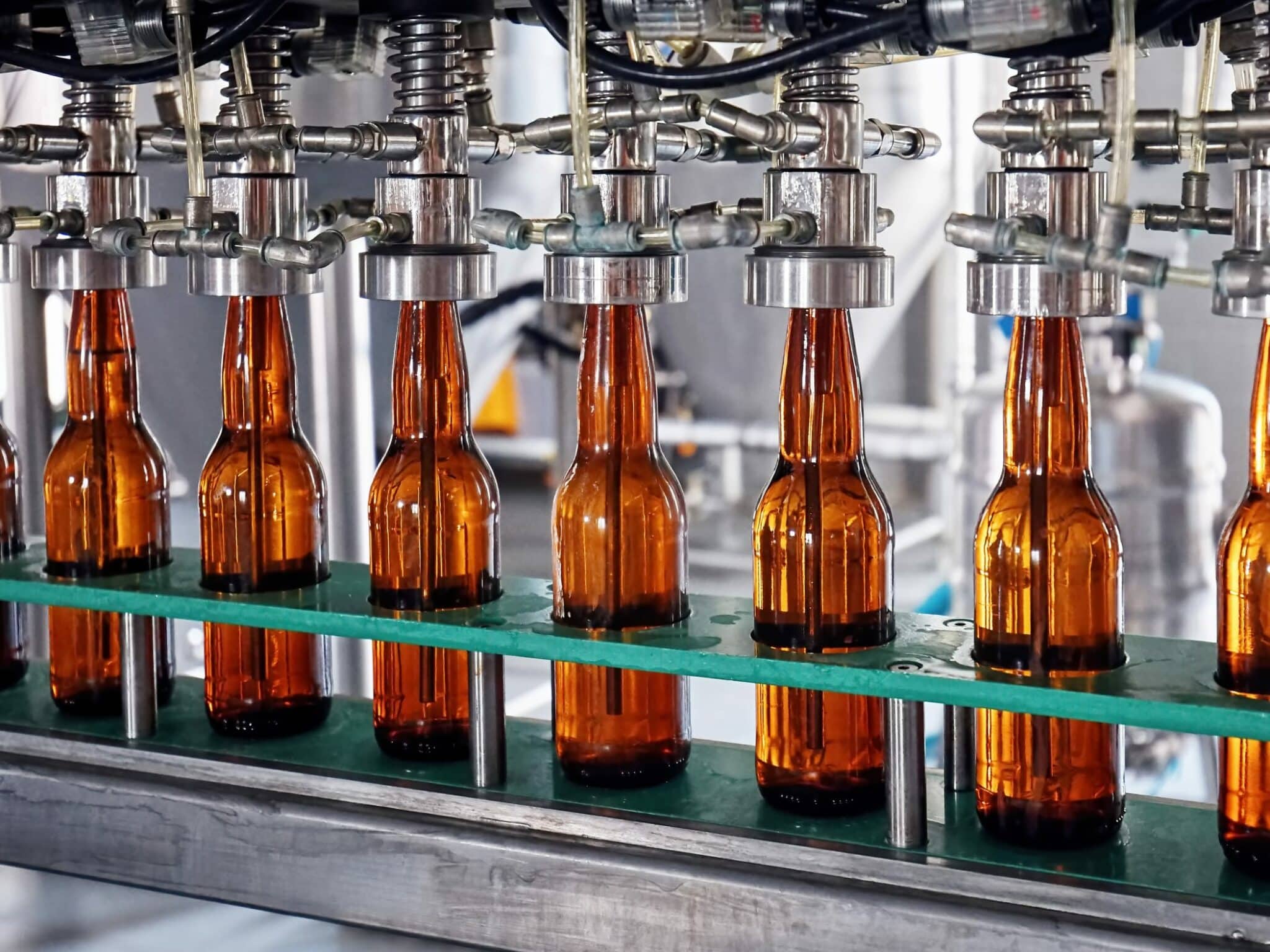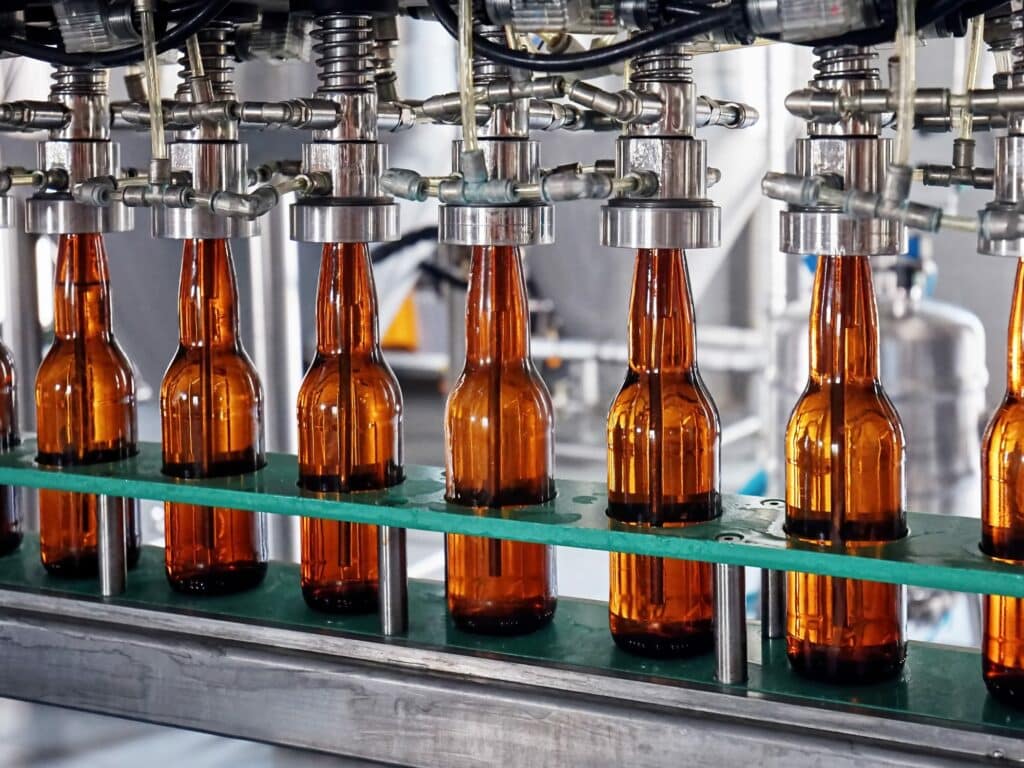 4. Forecast Expenses
In addition to the one-off startup costs discussed here, you must also budget for all the operating costs of running a brewery.
We have laid out below a clear overview of all the key expenses you can expect to operate a standard microbrewery with 2,000 barrels produced per year. These are key costs that any brewery financial model should include. Yet, note that the amounts are purely for illustrative purposes and depend on a number of factors which may not fully apply to you.
| Operating cost | Amount (per month) |
| --- | --- |
| Raw materials* | $40,500 – $47,750 |
| Packaging* | $12,500 |
| Staff costs | $25,000 – $35,000 |
| Rent and bills | $2,250 |
| Marketing | $10,000 – $15,000 |
| Insurance | $250 – $1,000 |
| Bookkeeping, maintenance, other | $3,000 – $5,000 |
| Total | $93,500 – $118,500 |
* discussed in the previous section
Rent Or Mortgage Costs
If you are to operate your brewery from an industrial space, consider the rental price or the mortgage repayments price.
The minimum space to open a microbrewery is 700 to 800 square feet. Locations nearby corporates are an excellent choice for microbreweries as they attract the working population to relax after a long week.
The approximate cost to rent an industrial space varies based on location. Calculating the industrial lease requires four variables:
The square footage of the lease
Base rental rate
Estimated operating expense
Electrical and janitorial expenses
For a leased industrial warehouse, expect to pay on average $0.85 per square foot per month.
So assuming you're operating a microbrewery with 1,500 square feet, expect to pay around $1,250 in rent each month. Adding bills ($6 per barrel on average) the total cost per month is around $2,250.
Staff Salaries and Benefits
The average annual pay for a brewery worker in the United States is $30,874 per year, equivalent to $15/hr.
A brewery will require a manager and a number of brewers, including a team lead of which the number will logically depend on the size of your brewery. Whilst the manager / owner typically oversees the supply and sales of the output to resellers, the brewers are responsible for the operations.
As rule of thumb, Microbrewr recommends having anywhere from 0.75 to 1.76 staff for every 1,000 barrels you produce per year.
Assuming our 2,000 barrel p.a. microbrewery, you would need around 3 brewery workers plus a manager and yourself. In total you should expect to pay each month anywhere from $25,000 (average salaries) to $35,000 (75th percentile) alone in staff costs (including taxes and benefits).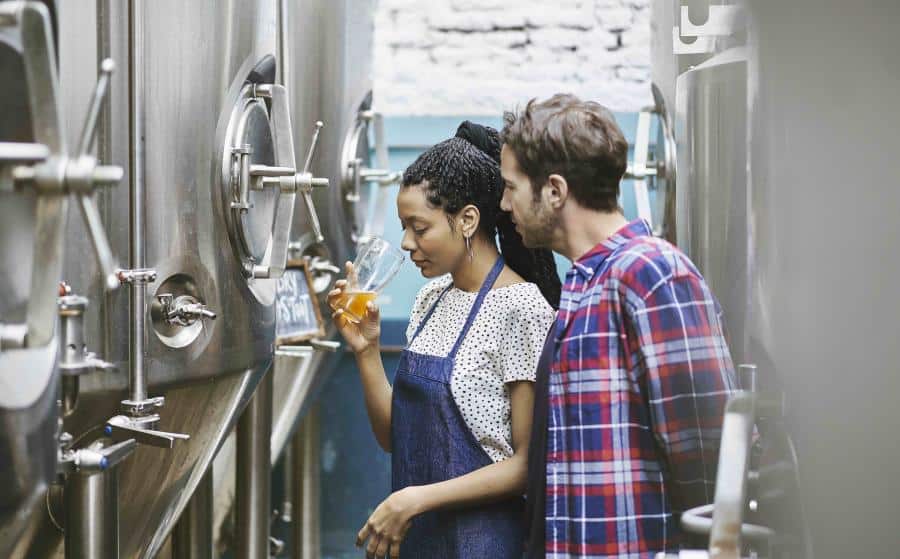 Brewery and Equipment Insurance
The cost of a mandatory general liability insurance for a small brewery is around $77-$109 per month and comes with a standard $1M to $2M general liability.
To this you should add additional policies such as Products Liability, Equipment Breakdown, Tank Collapse and Leakage, Contamination and Spoilage and others.
So the total cost depend on various factors that can easily go up to $1,000 a month. Make sure to contact specialised insurance brokers for an accurate quote for your business.
Marketing
In order to promote your brewery and build trust with resellers and consumers, you will need to spend money in marketing and ads. This can either be online (social media, paid ads) and/or offline marketing (billboards, flyers, etc.).
If you plan sell directly to consumers and/or to target consumers specifically, you should expect to spend more in marketing as you will need to reach a larger audience.
As a rule of thumb, you should spend around 8% to 10% of your revenue in marketing each month.
Segmenting your expenses, either as a fixed value over time or a percentage of revenue, will allow you to accurately estimate their amount over time as shown in the chart below.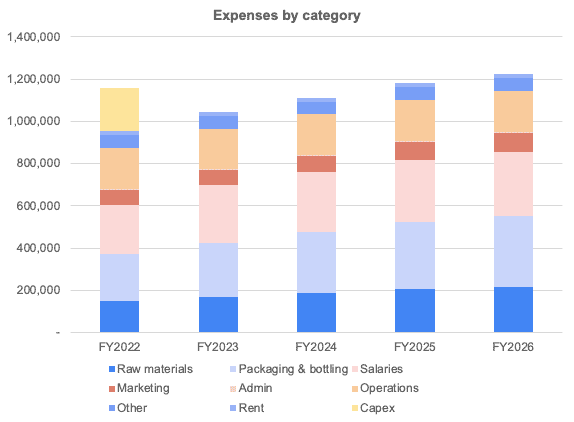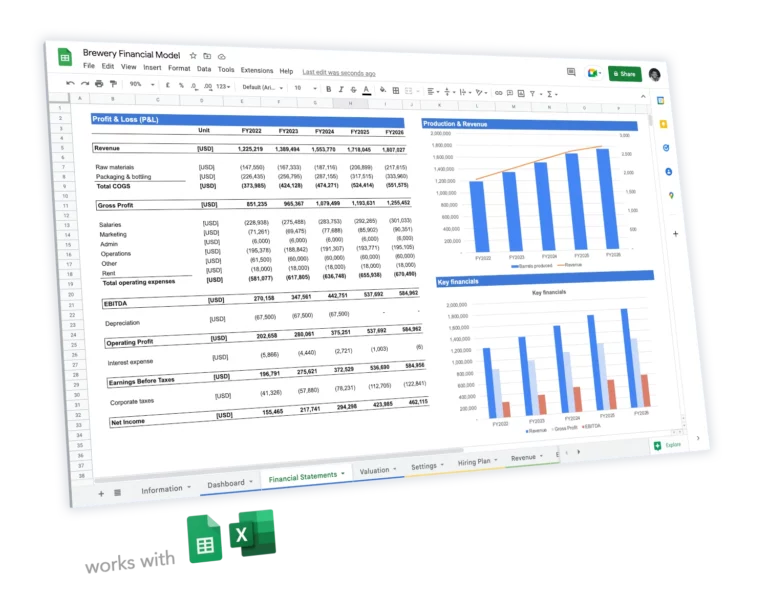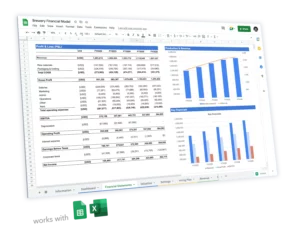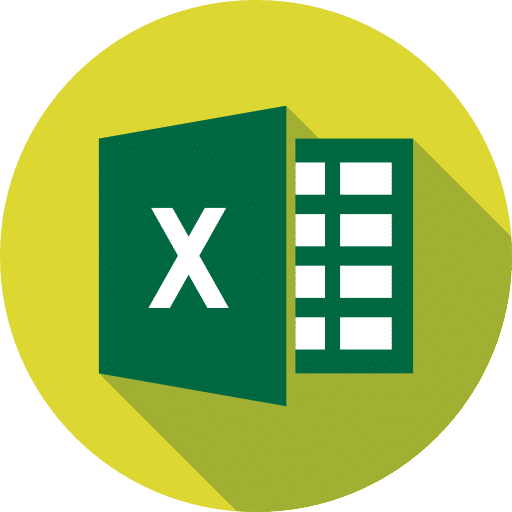 Brewery Financial Model
Download an expert-built 5-year Excel financial model for your business plan
4. Build your P&L And Cash flow
Once we have forecasted revenues and expenses, the last step to complete your brewery financial model is to build the profit-and-loss (P&L) from revenues down to net profit. This will help you to visualise key financial metrics such as Gross Profit or EBITDA margin as shown below: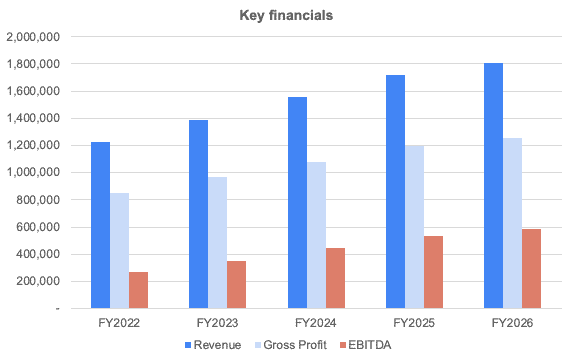 The cash flow statement, in comparison, needs to include all cash items from the P&L and other cash movements such as capital investments (also referred as "Capex"), fundraising, debt, etc.
Cash flow is vital as it will help you understand how much funding you should get, either from investors or the bank (SBA loan for example) to start and run your own brewery.
In this chart below, we're showing you an example of a typical cost structure a 2,000 barrels p.a. microbrewery would incur. Unsurprisingly, salaries, initial capex investment and COGS represent ~70% of total expenses.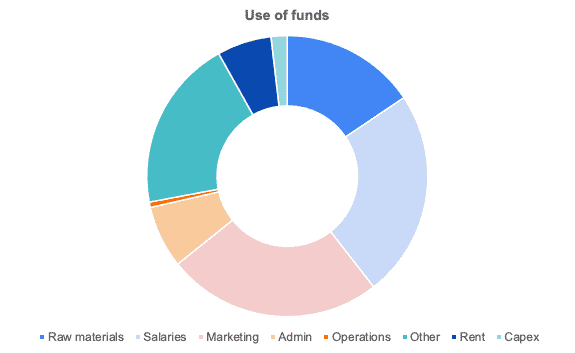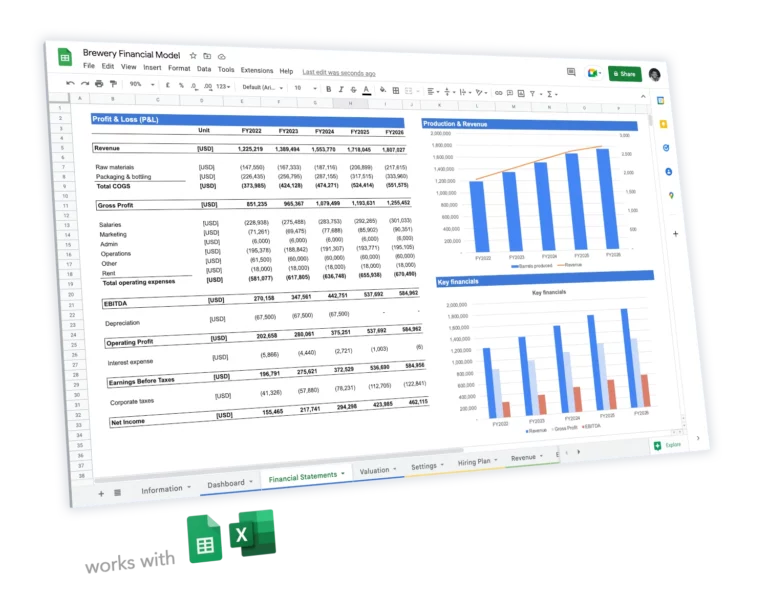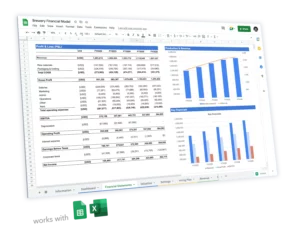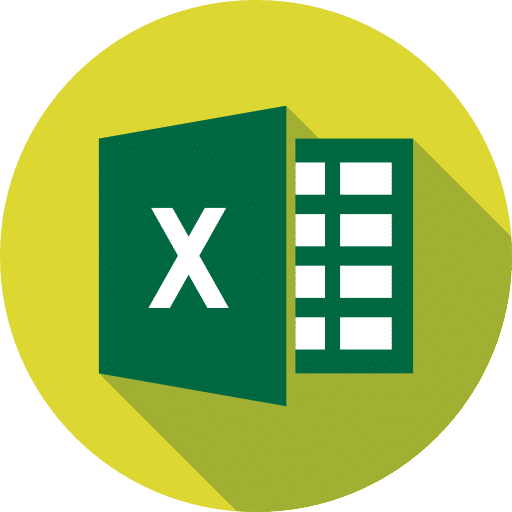 Brewery Financial Model
Download an expert-built 5-year Excel financial model for your business plan