Pizza Factory: a Profitable Franchise Earning $815K AUV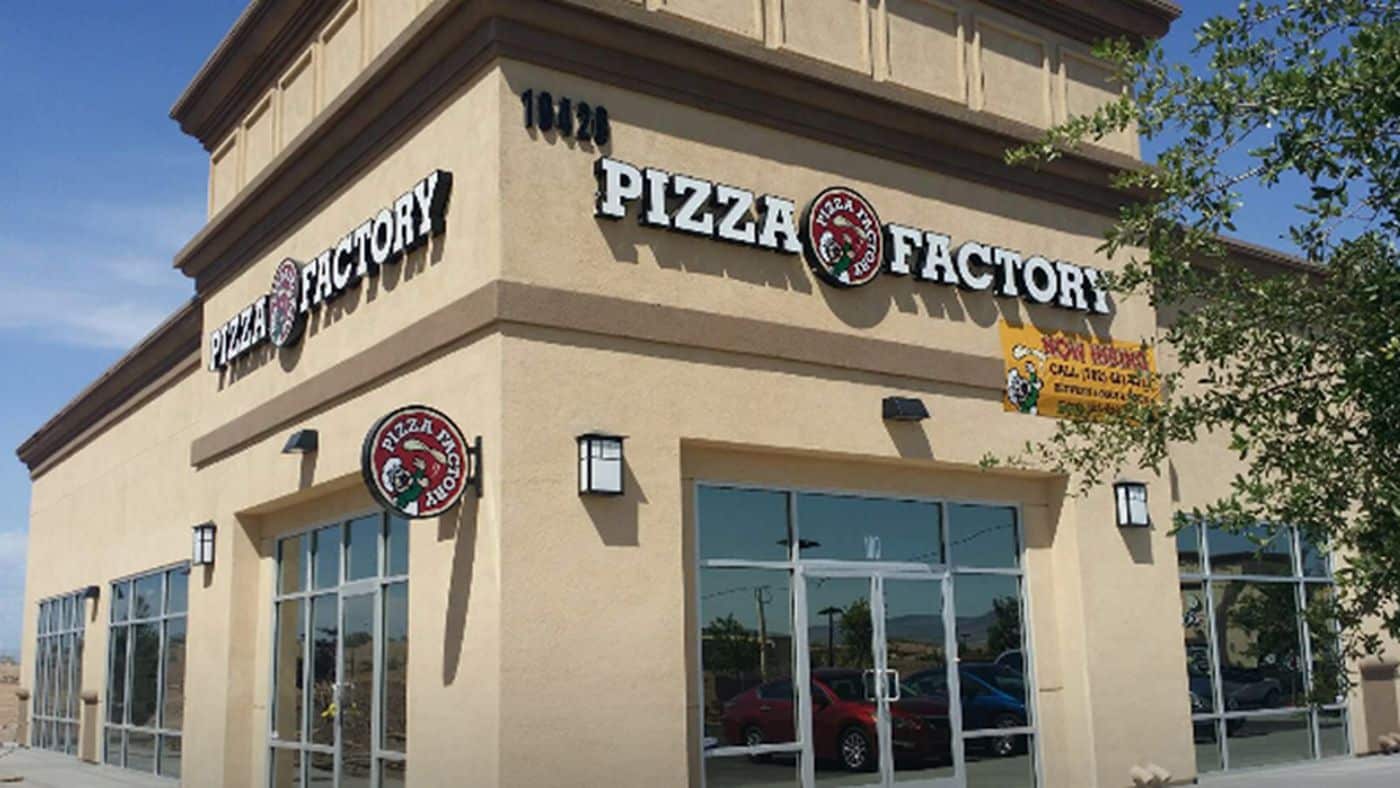 If you're considering opening a pizza franchise, there are lots of options to consider. Among all of them, a few stand out, and Pizza Factory is one of them. And for a good reason: Pizza Factory is a very profitable franchise.
Indeed, you would need to invest (only) $408,000 (with loans or investors) and you would be able to repay (on average), within 3-4 years, which is excellent.
Do you want to know how much profits you can make with a Pizza Factory? In this article we'll look at everything you should know about Pizza Factory and its financials from the angle of its Franchise Disclosure Document. Let's dive in!
Key stats
Source: Franchise Disclosure Document 2022
Find the best franchise
Compare Pizza Factory vs. 1,000+ franchises on franchiseindx.com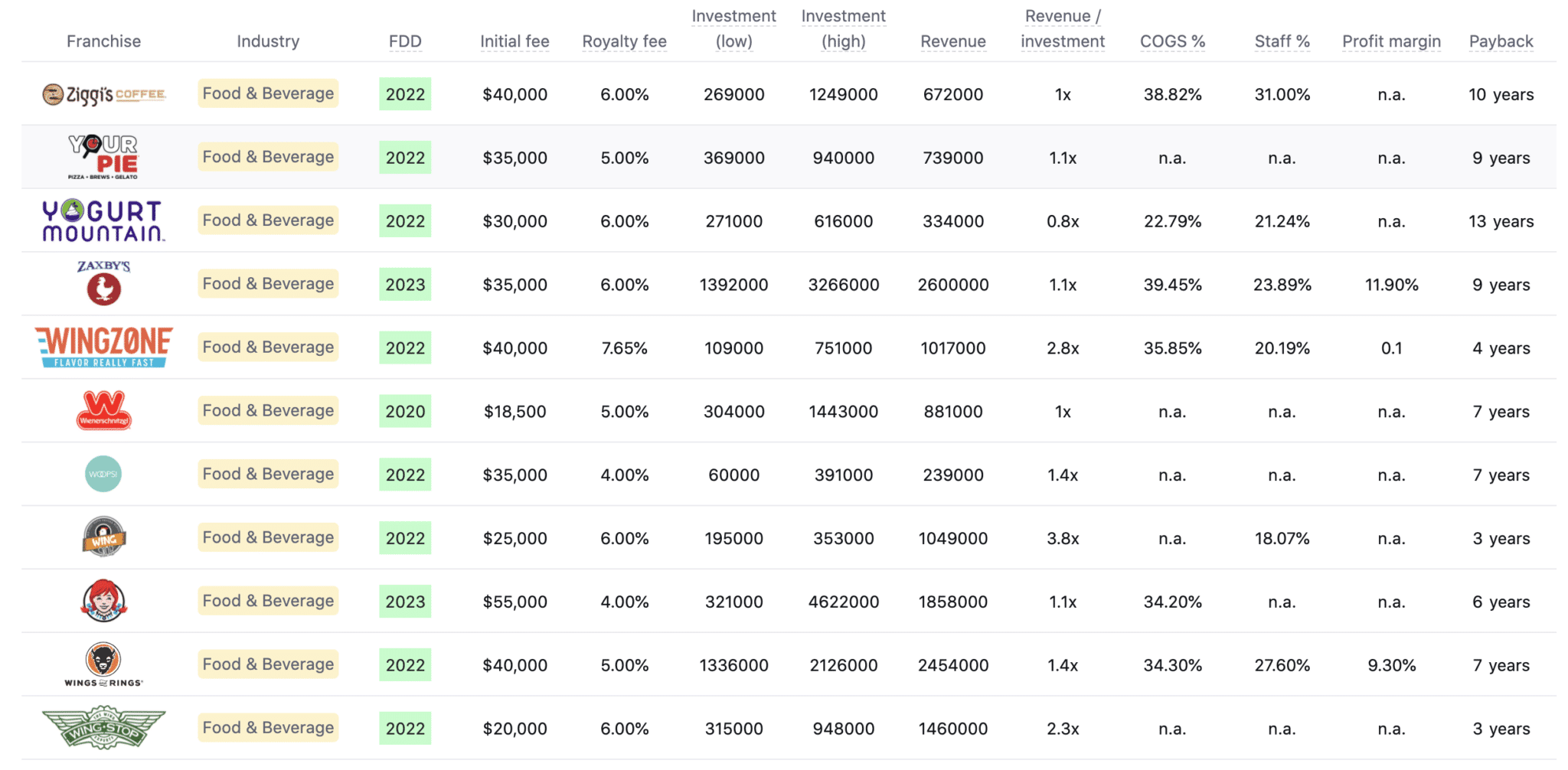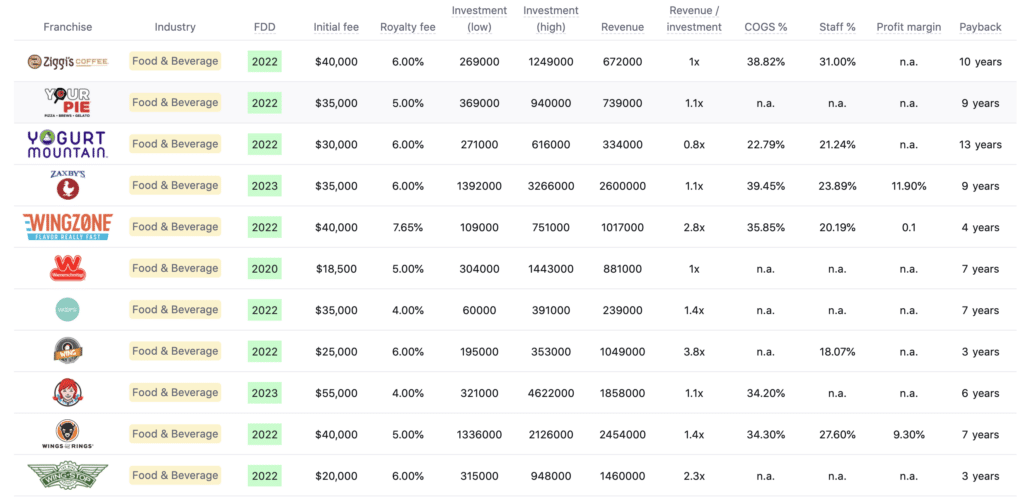 About Pizza Factory
Pizza Factory is an American pizza restaurant chain based in Oakhurst, California.
It was founded by Danny Wheeler and his wife Carol in 1978 in Oakhurst as Danny's Red Devil Pizza before Ron Willey and his wife Joyce opened a second restaurant and named it Pizza Factory in 1981.
In addition to pizza, the chain offers appetizers, side sauces, wings, salads, sandwiches, and pasta.Pizza Factory began franchising in 1985 and today has more than 100 restaurants in the US.
Pizza Factory franchises pros and cons
Pros
Pre-opening training: The brand offers its franchisees comprehensive initial classroom and on-site training. It trains franchisees about the business concept, customer service, restaurant management, and operational procedures necessary to carry out a successful grand opening and succeed in the business.
Flexible formats: The brand utilizes different franchise formats to help franchisees operate a restaurant that fits into the available real estate opportunities. Franchisees can choose between quick-serve and fast-casual options. In addition, the brand has introduced the Express model to enhance the carryout and delivery system, making use of a sleek design to save on operations, staff, and FF&E expenses.
In-house financing: Pizza Factory provides in-house financing to franchisees to fund payroll costs. It also offers third-party financing for the franchise fee, startup costs, equipment, inventory, and accounts receivable.
Absentee ownership: The brand provides a passive business ownership opportunity. Franchisees can operate the franchise as they pursue other obligations.
Exclusive territory protection: The brand grants the franchisees the right to operate their restaurants in a fixed-size area defined in the franchise agreement. The brand may not license any other franchise or operate a competing restaurant within the protected area.
Cons
Not a part-time business: The franchise does not present a part-time business opportunity. Franchisees need to be open as per the franchisor's stated hours.
Competition: A Pizza Factory franchise faces competition from brands such as Pizza Hut, Domino's, Little Caesar's, Papa Murphy's, Blaze Pizza, etc.
Not a mobile business: Pizza Factory is not a home-based business. Franchisees are required to have office facilities for running their restaurants.
How much do Pizza Factory franchises cost?
You have to invest around $408,000 to open a Pizza Factory franchise restaurant.
This is an average; indeed, it varies based on many factors, such as the location of your restaurant, its size, age, and type of construction of the building.
In addition to the initial franchise fee that you must pay to the franchisor, you would also pay for the furniture and fixtures, signage, equipment, etc.
Startup costs
Here's the full breakdown of costs:
| Expenses | Amount |
| --- | --- |
| Initial franchise fees | $15,000-$20,000 |
| Real estate and improvements | $91,000-$250,000 |
| Equipment and fixtures | $97,000-$155,000 |
| Signage | $10,000-$15,000 |
| Additional funds -3 months | $35,000-$60,000 |
| Other | $26,000-$42,000 |
| Total | $274,000-$542,000 |
Source: Franchise Disclosure Document (2022)
Find the best franchise
Compare Pizza Factory vs. 1,000+ franchises on franchiseindx.com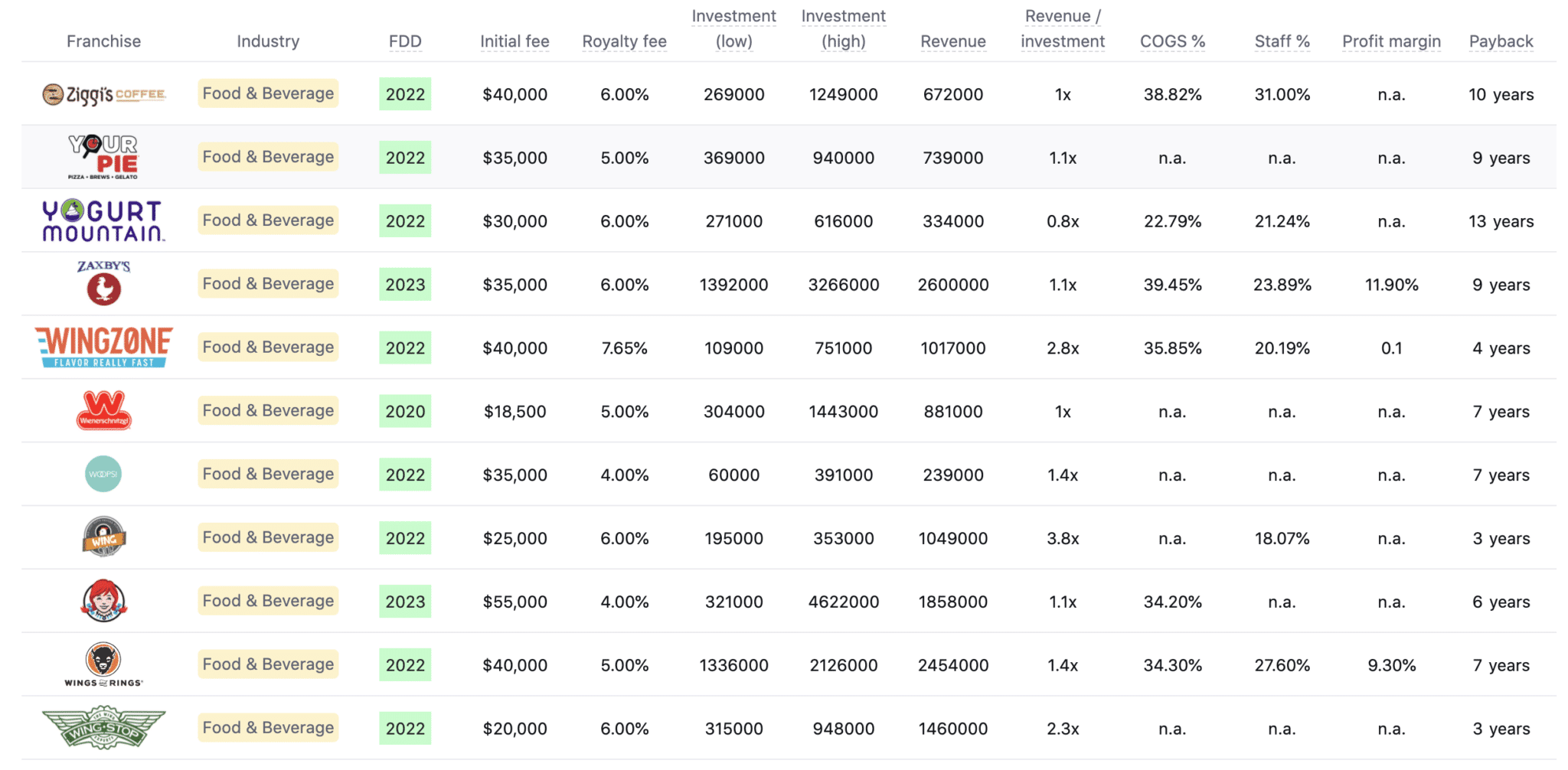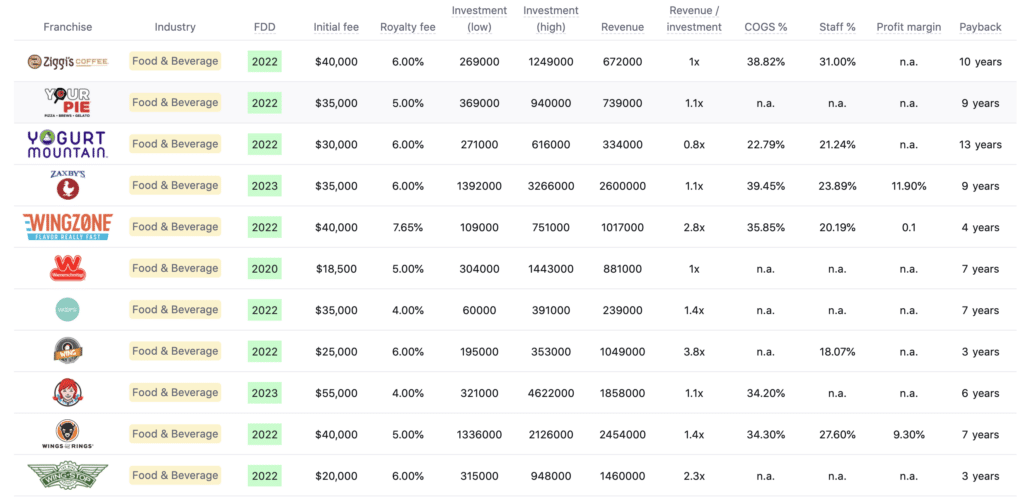 What's the turnover of a Pizza Factory franchise?
On average, a Pizza Factory franchise makes $815,000 in sales per year.
This is the average sales per restaurant for the 97 of the 100 franchised restaurants operating in all of 2021. This is a huge increase of 16.5% year-on-year vs. 2020 ($686,000, 95 units).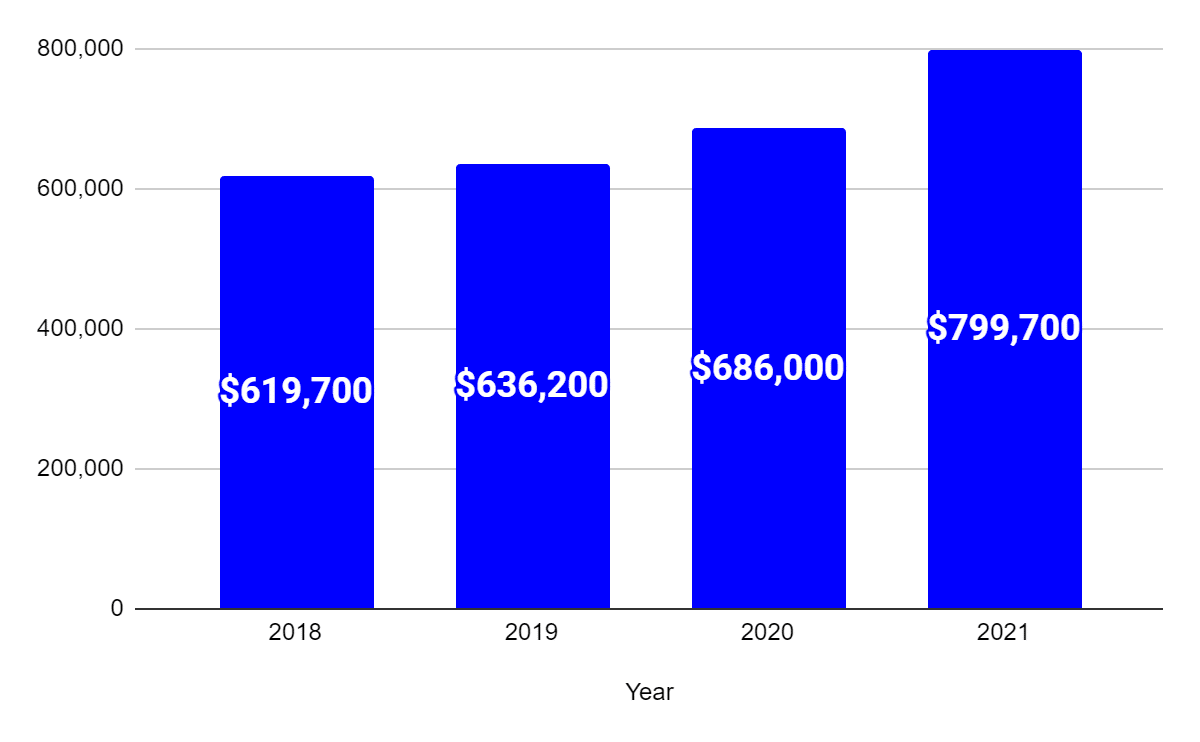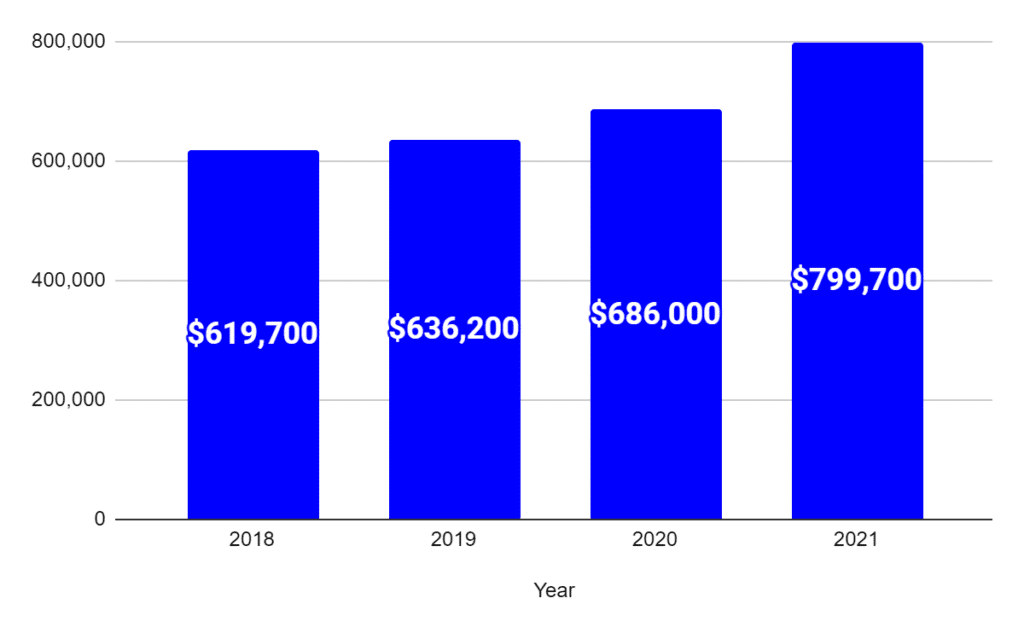 How profitable is a Pizza Factory franchise?
On average, a Pizza Factory franchise makes $140,610 in profits per year. This corresponds to a 17.3% EBITDA margin.
Fortunately, Pizza Factory provides a lot of detailed information on the cost structure of its restaurants in the latest FDD, which we are summarizing below.
| Profit and loss | Amount | % Sales |
| --- | --- | --- |
| Sales | $814,707 | 100% |
| COGS | (211,296) | 25.9% |
| Payroll expenses | (289,323) | 35.5% |
| Royalty expenses | (41,452) | 5.1% |
| Advertising expenses | (17,871) | 2.2% |
| Rent expenses | (35,077) | 4.3% |
| Other opex | (79,079) | 9.7% |
| EBITDA | $140,610 | 17.3% |
Source: Franchise Disclosure Document (2022)
Should you invest in a Pizza Factory franchise?
So should you invest in a Pizza Factory franchise? Are the profits worth the upfront cost?
Well it does seem so. Indeed, we estimate that Pizza Factory franchises have a 3 to 4 years payback. This is an excellent payback: any payback below 5 years is very good for restaurant franchises.
In other words, you would wait only 4 years to repay creditors (loans) and potential external investors as well as your own investment. After that, you can reap the profits of your franchise!
Find the best franchise
Compare Pizza Factory vs. 1,000+ franchises on franchiseindx.com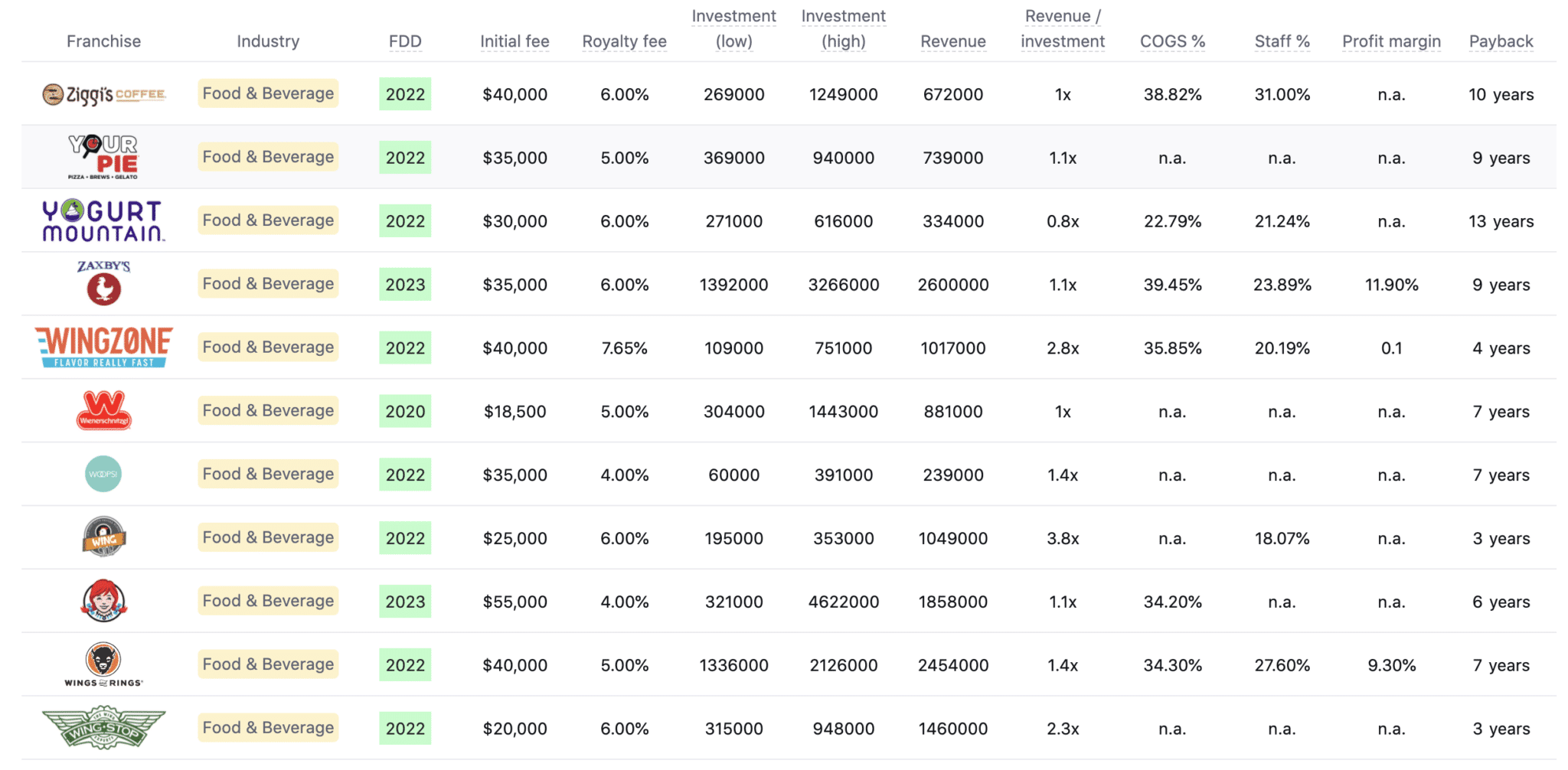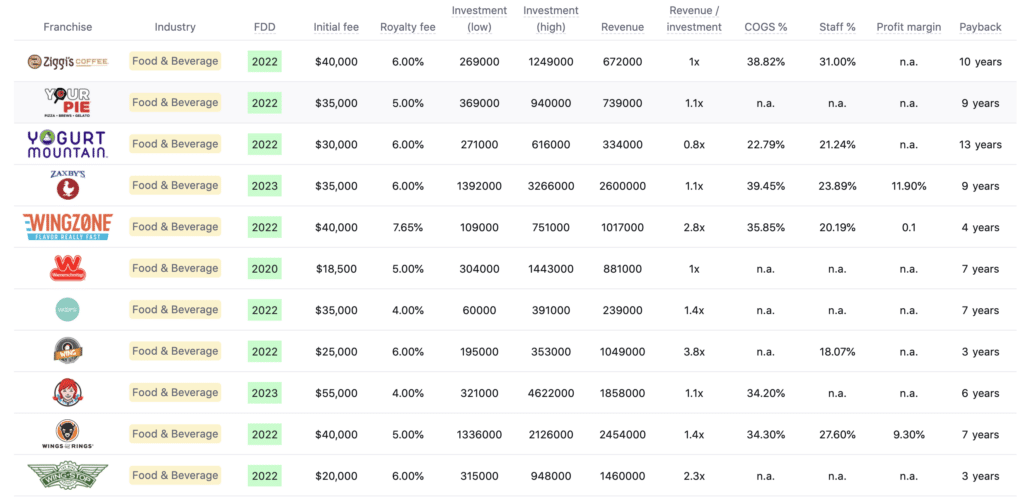 Disclaimer
Disclaimer: This content has been made for informational and educational purposes only. We do not make any representation or warranties with respect to the accuracy, applicability, fitness, or completeness of the information presented in the article. You should not construe any such information or other material as legal, tax, investment, financial, or other professional advice. Nothing contained in this article constitutes a solicitation, recommendation, endorsement, advertisement, or offer to buy or sell any franchises, securities, or other financial instruments in this or in any other jurisdiction in which such solicitation or offer would be unlawful under the franchise and/or securities laws of such jurisdiction.
All content in this article is information of a general nature and does not address the detailed circumstances of any particular individual or entity. Nothing in the article constitutes professional and/or financial and/or legal advice, nor does any information in the article constitute a comprehensive or complete statement of the matters discussed or the law relating thereto. You alone assume the sole responsibility of evaluating the merits and risks associated with the use of any information or other content in this article before making any decisions based on such information or other content.