How to Write a Pharmacy Business Plan: Complete Guide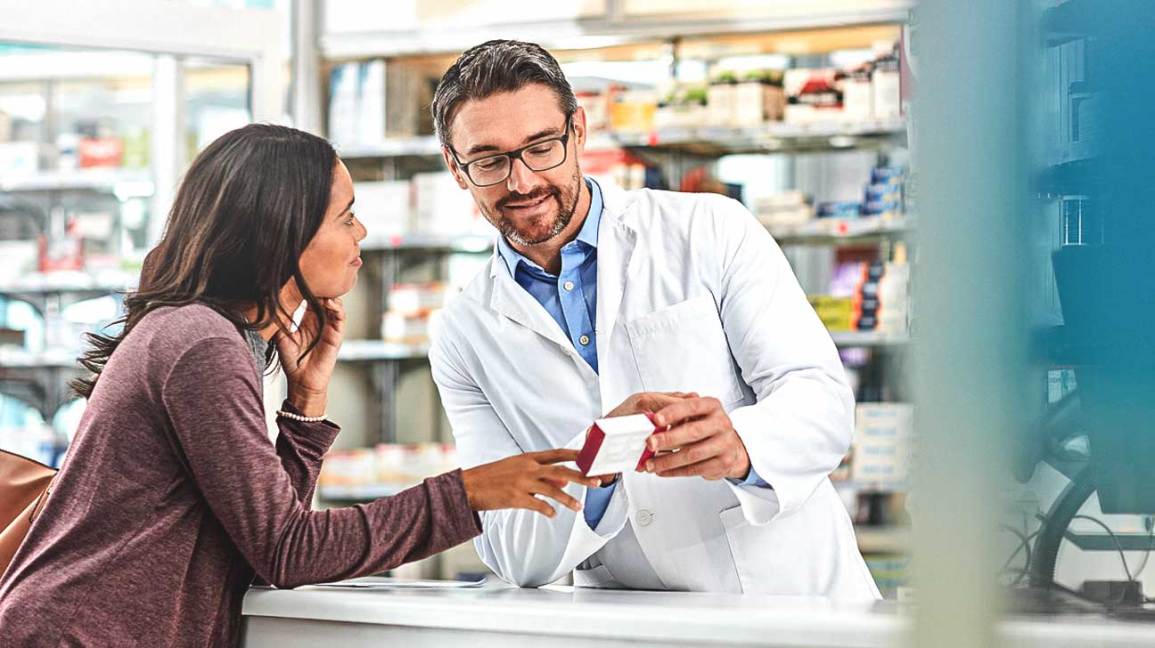 Whether you're looking to raise funding from private investors or to get a loan from a bank (like a SBA loan) for your pharmacy, you will need to prepare a solid business plan.
In this article we go through, step-by-step, all the different sections you need in your business plan for a pharmacy. Use this template to create a complete, clear and solid business plan that get you funded.
For more information on pharmacies, make sure to read our guides below:
How Much Does It Cost To Open a Pharmacy?
How To Open a Pharmacy In 12 Steps
7 Strategies To Increase Your Pharmacy Sales & Profits
How to Build a Financial Model for a Pharmacy: Complete Guide
1. Executive Summary
The executive summary of a business plan gives a sneak peek of the information about your business plan to lenders and/or investors.
If the information you provide here is not concise, informative, and scannable, potential lenders and investors will lose interest.
Though the executive summary is the first and the most important section, it should normally be the last section you write because it will have the summary of different sections included in the entire plan.
Why do you need a business plan?
The purpose of a business plan is to secure funding through one of the following channels:
Obtain bank financing or secure a loan from other lenders (such as a SBA loan)
Obtain private investments from investment funds, angel investors, etc.
Obtain a public or a private grant
How to write your pharmacy's executive summary?
The business plan will be a succinct 1-2 page summary of the pharmacy that will round up its objectives and purpose along with professional and financial target goals.
The executive summary usually consists of the five major sub-sections that include:
Business overview: introduce your company and describe its present status and future direction. Describe the rationale and the principle behind the business model. If the model has succeeded in the past, mention that, too. Also, provide a brief idea of what problem you are trying to solve.
Market analysis: provide a deep market analysis that backs your decision to open a pharmacy. The market analysis will include information like who your competitors are, your strengths and weaknesses, your target audience and their health needs, etc.
People: mention your key partners and why you have selected them along with their relevant industry experience. Also, speak about your staff requirements and the management hierarchy.
Financial plan: how much profit and revenue do you expect in the next 5 years? When will you reach the break-even point and start making profits? It is ideal to include a chart depicting your key financials such as revenue, gross profits, and net profit
Financial ask: what loan/investment/grant are you seeking? How much do you need? How long will this last?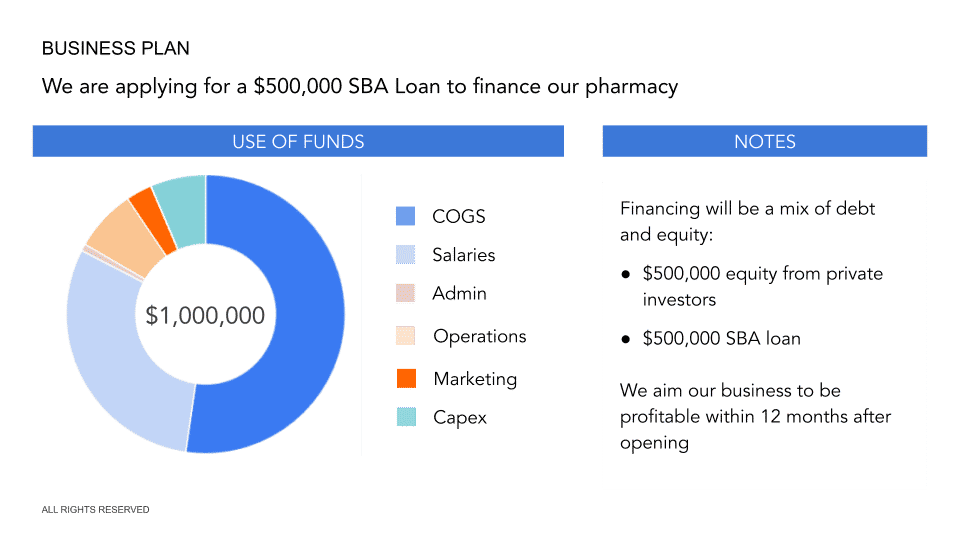 2. Pharmacy Business Overview
This is where you will describe your pharmacy. Be precise and provide relevant information. Here are some questions you must answer in this segment:
What is the rationale and inspiration behind opening a pharmacy?
Where will the pharmacy be located?
What will be the physical layout of the pharmacy?
What will be the operating hours?
How many and what type of employees do you intend to hire?
How many prescriptions will you fill each day on average?
How will you describe the human resources of the pharmacy such as staff training, commitment, work ethics, etc.
Who is your target audience? What health problems do your target audience face?
Are there unmet health requirements that your pharmacy intends to cover?
Will you sell non-prescription (over-the-counter) drugs and supplements?
What is the demand for such non-prescription products?
Provide all the necessary information to make the section robust so that the potential investors get excited about the potential benefits and rewards of investing.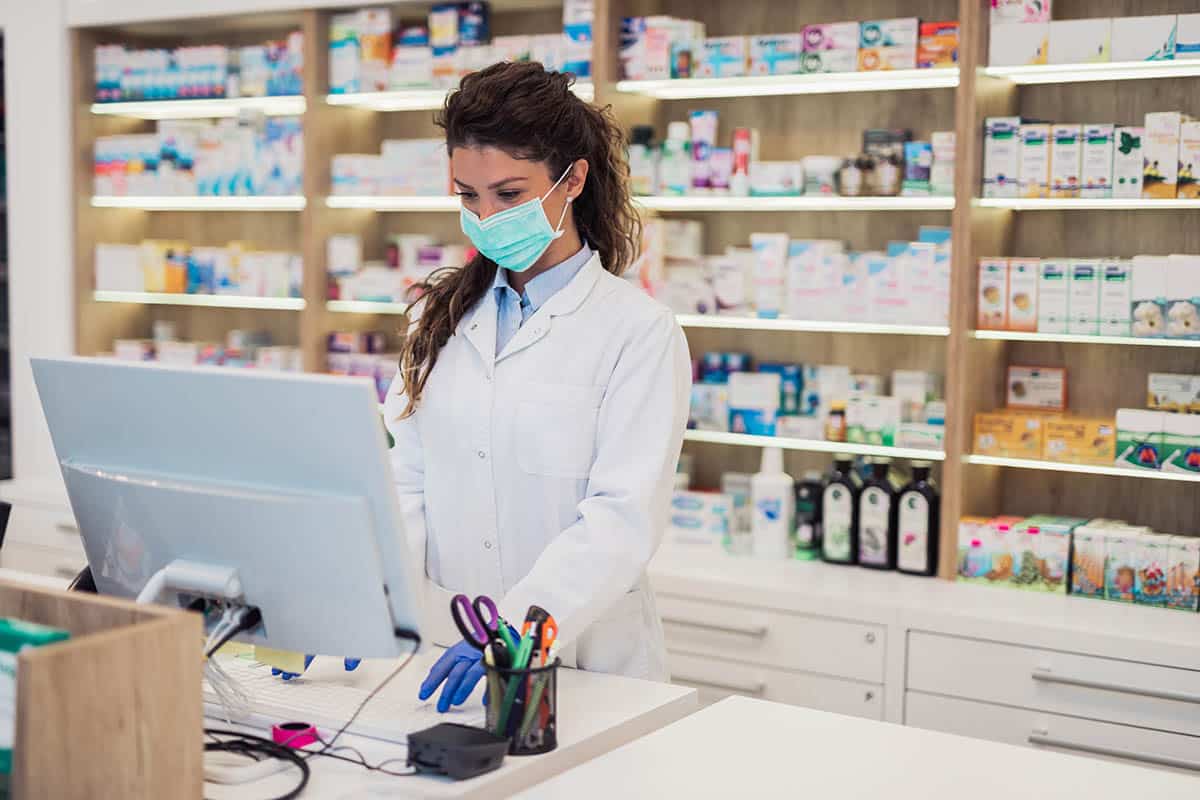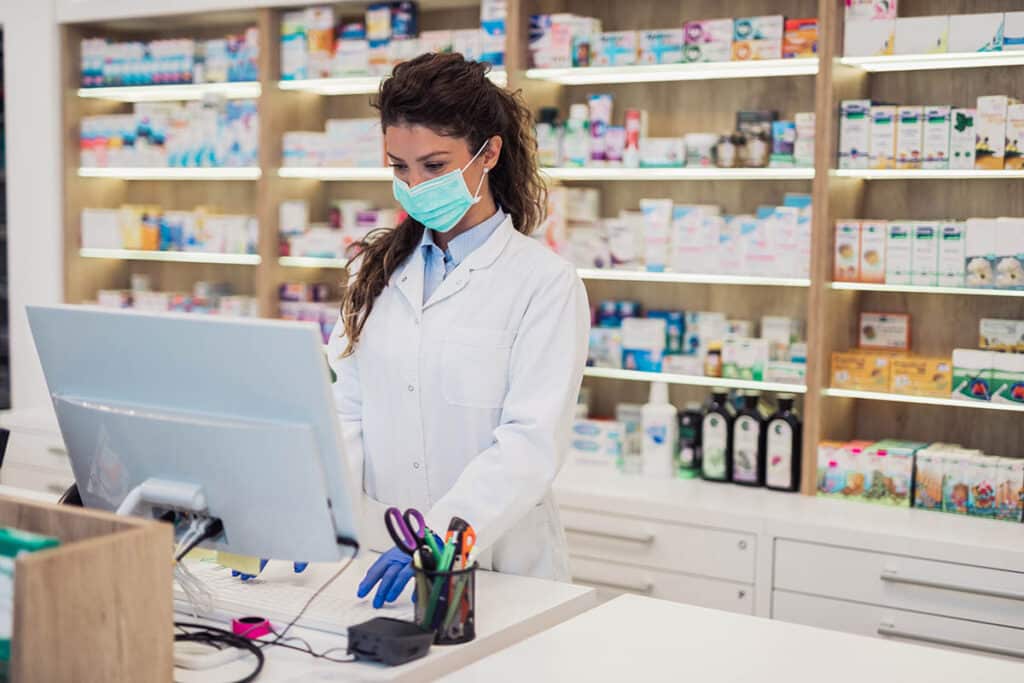 Let's look at different subsections that you must include:
History of the Project
Every business has a passion or a rationale behind it. Explain why you want to open a pharmacy and if there is a specific set of problems that the existing pharmacies fail to address, explain how you intend to resolve those problems.
You must be able to demonstrate your passion, experience, and business feasibility. If you already have significant experience in the industry, outline your expertise and explain how you will use that knowledge to make your pharmacy business a success.
Why Now?
Explaining the feasibility of the business is also important. You must cover various aspects such as:
How many pharmacies will you be competing with in your area?
What is the overall market size?
What percentage of the population in the area has recurring medical needs?
Is it possible to include online ordering of both prescription and non-prescription drugs?
For example, if you are trying to open a pharmacy in a small town of no more than 5,000 residents and 3-4 pharmacies already there, it might not be a very profitable business.
Similarly, if residents of the town are health conscious and eat organic homemade food and exercise regularly, the medical needs may not be very high. A new pharmacy there will most likely absorb losses.
Business Model
Try to answer the following questions:
Will you open a new pharmacy or buy an existing one?
Will you operate a franchise or an independent pharmacy?
Will you sell in-store, or will you introduce online ordering and home delivery?
Will you sell non-prescription drugs & supplements?
How do you intend to promote your non-prescription items?
Add as much information as possible to ensure that you give a clear idea of your business model to your potential investors and lenders.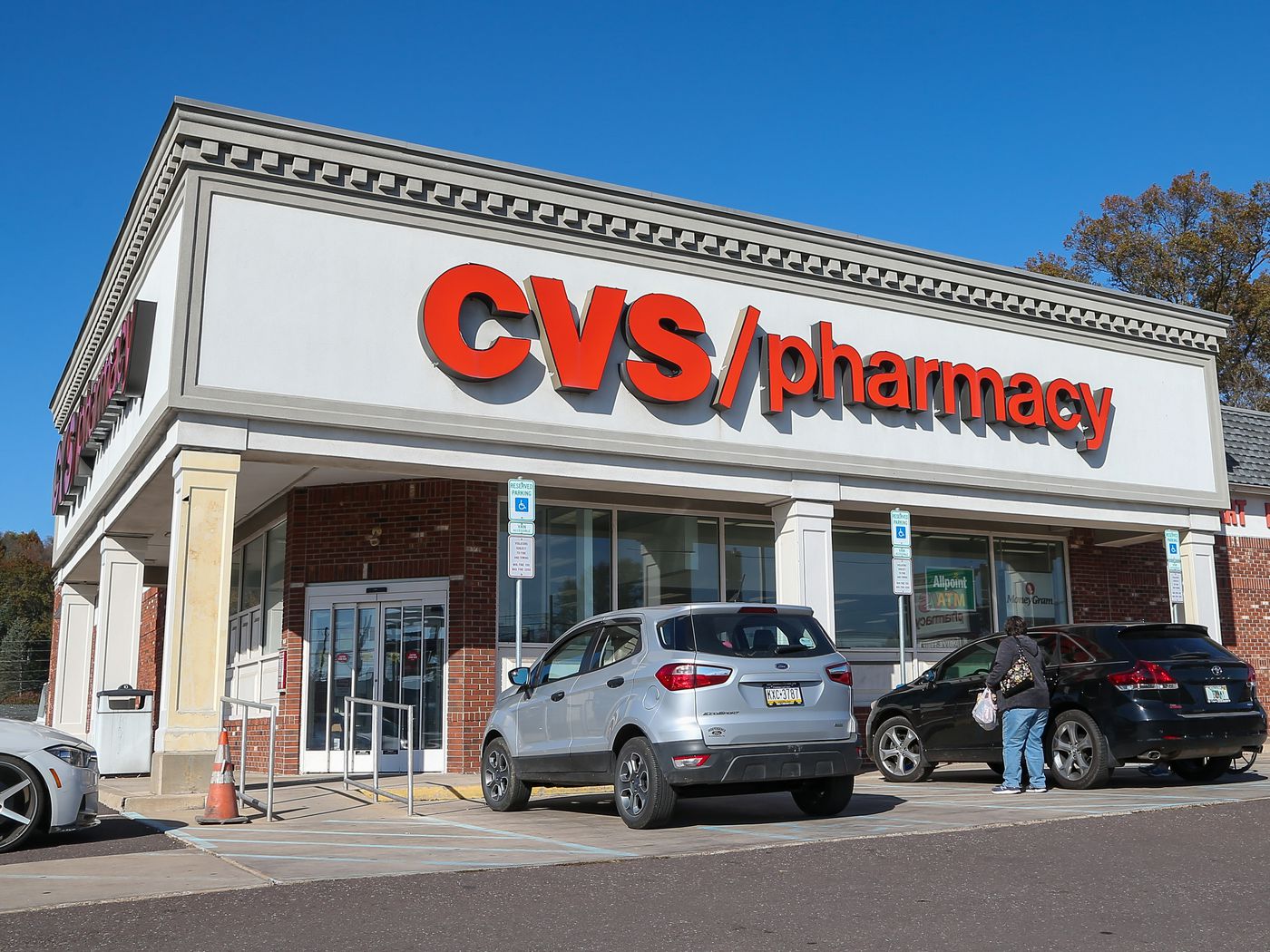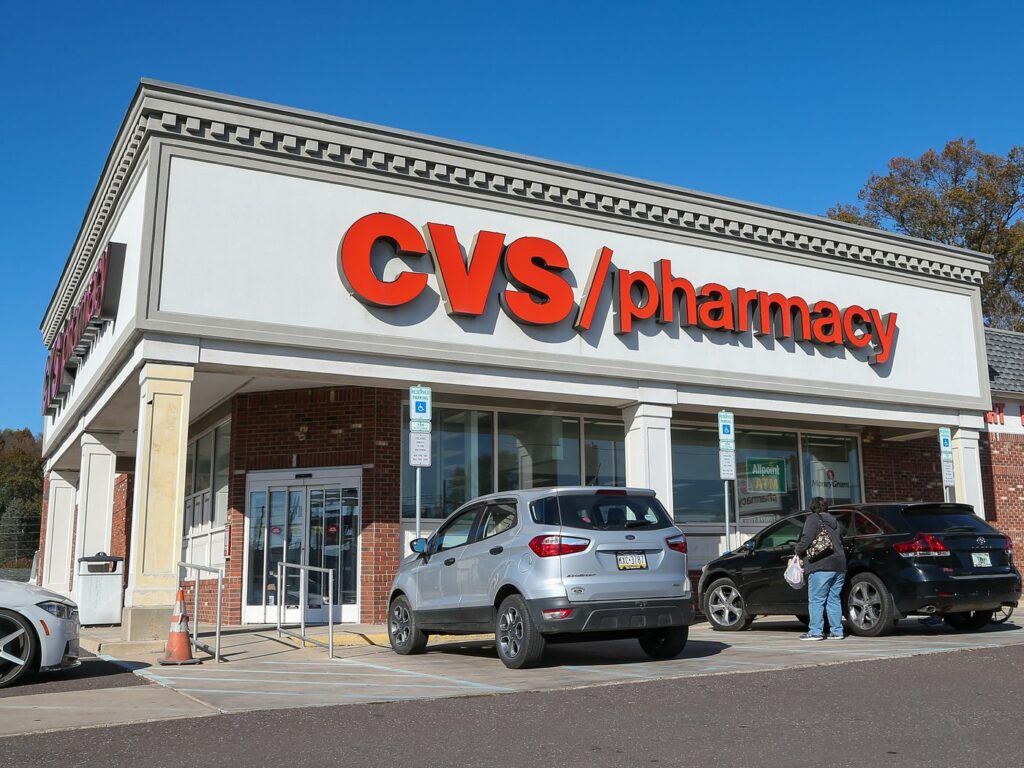 Products & Services
This segment is quite self-explanatory. You must try to outline the drugs that you intend to sell. You don't have to provide the name and composition of each drug. A quick list like this will be enough:
Heart medicines
Diabetes medicines
Arthritis management medicines
Alzheimer's Disease medicines
Gastro-intestinal care medicines, etc.
Apart from prescription drugs, if you are planning on selling OTC drugs and supplements (which may include non-pharmacologic products like self-care products, monitoring devices, etc.), providing an outline will also help. For example:
Supplements & gummies
CBD gummies, ointment, and oils
Smoking cessation products
Weight loss products
Hair care products like shampoos and conditioners, etc.
The list you provide must be comprehensive enough. If you intend to introduce certain products later, mention them too!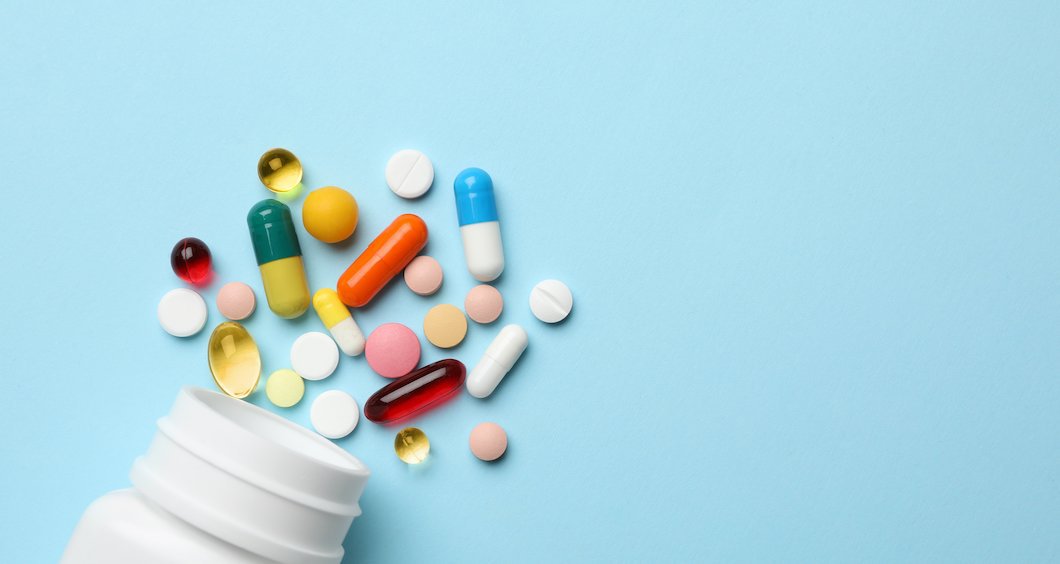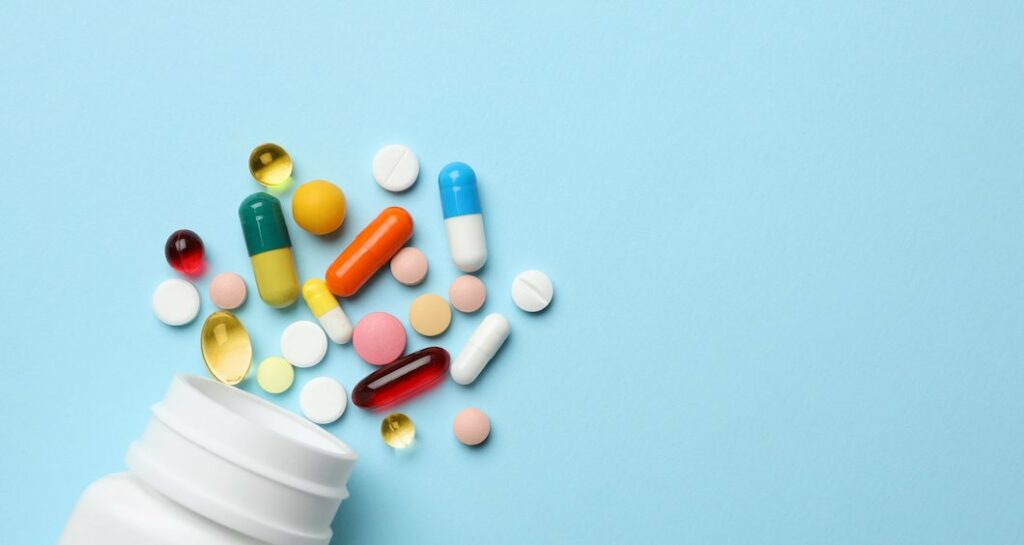 Pricing Strategy
This is the next logical extension of the Business Overview segment. Explain the pricing strategy that you are going to adopt. Usually, there won't be significant variations in prescription drugs, but there can be variations in supplements, personal/self-care products, and services (such as weight loss, smoking cessation sessions, etc.).
Remember that supplements, self-care products, services, monitoring devices, etc. can be highly profitable, and hence, coming up with a proper pricing strategy is important to attract customers and even beat your competitors offering similar products and services.
A pricing chart for all major products you are offering can help the investors or lenders to tie your pricing strategy with your financial projections.
Target Audience
Give a quick overview of your target audience. For instance, if you are planning to open a pharmacy in an area with a higher percentage of the aged population, you may be more inclined towards selling products and services for age-related health problems.
For younger people, you may be more focused on selling personal care and beauty products along with services like weight management, smoking cessation, etc.
A clear understanding of your target audience is crucial for success. If you don't understand your target customers and their needs, potential lenders and investors will not be confident about investing in your business.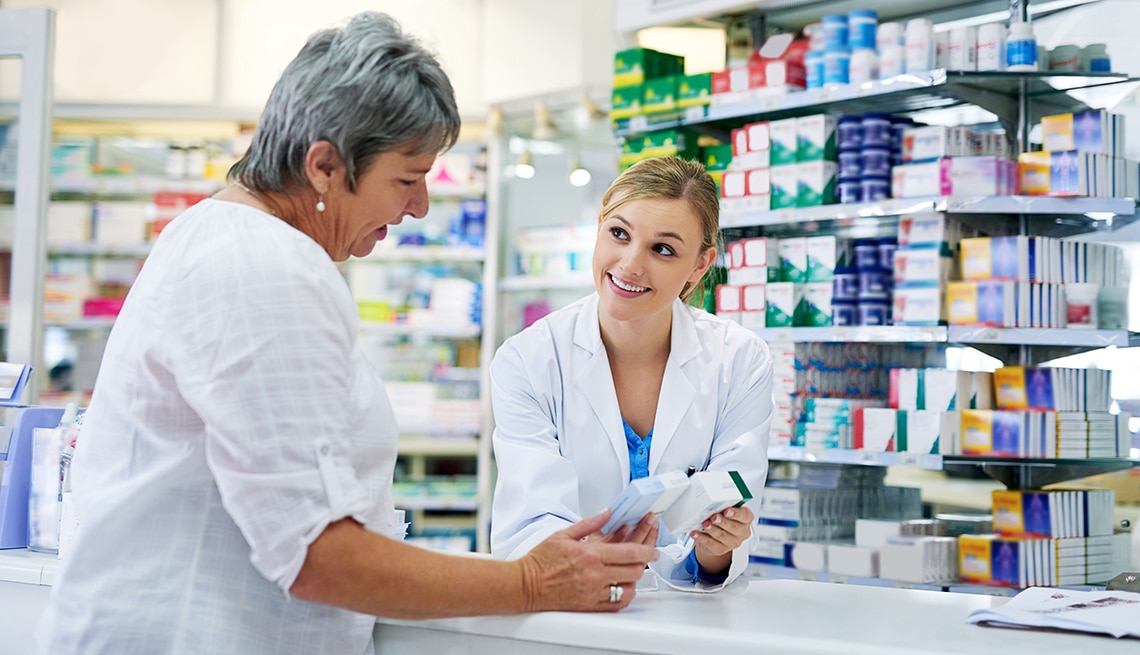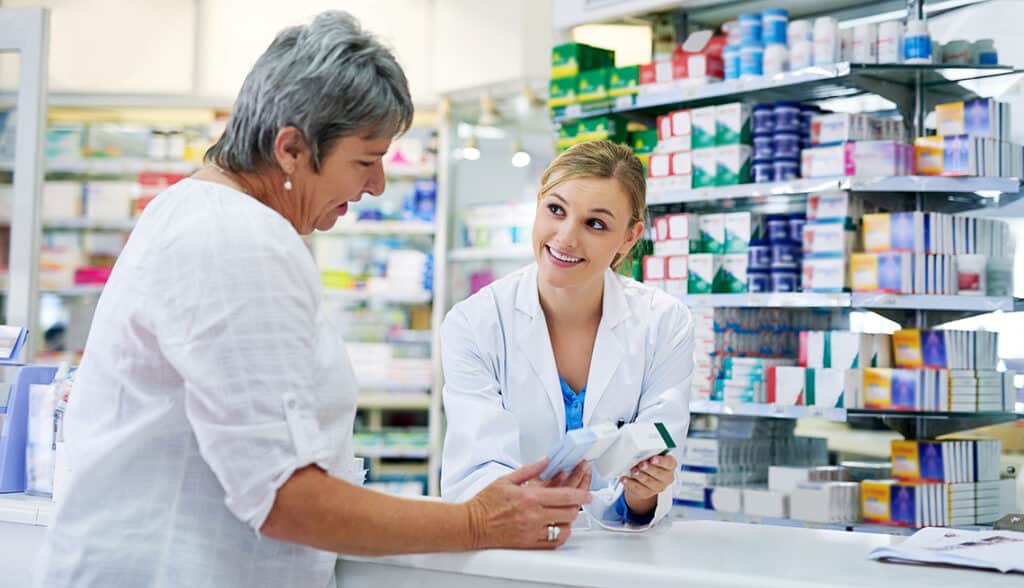 Legal Structure
Finally, your business overview section should specify what type of business structure you want. Is this a corporation or a partnership (LLC)? Who are the investors? How much equity percentage do they own? Is there a Board of Directors? If so, whom? Do they have experience in the industry?
3. Pharmacy Market Analysis
Understanding your market is absolutely necessary for the success of your business. Demonstrating in-depth market knowledge in your business plan is important to attract investments for your pharmacy.
For example, if you try to sell beauty and haircare products to the high percentage of the aged population in the area suffering from problems like arthritis, Alzheimer's, diabetes, etc., it depicts a lack of market knowledge.
Pharmacy Market Trends
Analyzing the market trends will be vital for the success of your pharmacy business. This will help you to identify growth opportunities and come up with a marketing strategy that can sell your products and services.
For example, if there is a rise in the number of diabetes cases in your area, you can fine-tune your services. For instance, aside from the prescription medicines, you may offer things like:
Diabetes management educator
Diet management for diabetics
Yoga and other exercises for diabetes management, etc.
One of the best ways to understand market trends is to speak to your potential customer base directly and ask them what they need (and want). You can also analyze pharmacy records such as electronic dispensing data to understand trends.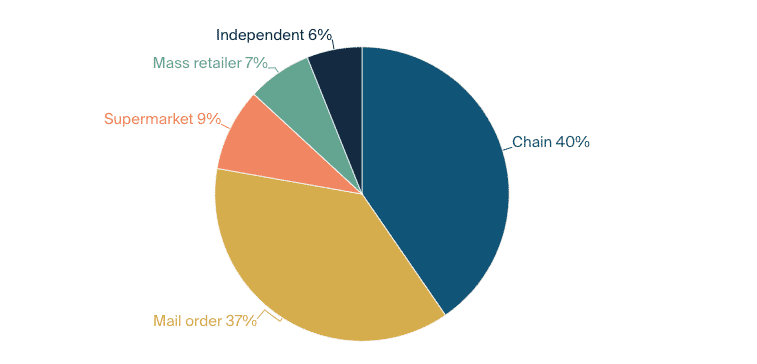 Competition & SWOT Analysis
Competition analysis is yet another important aspect the market analysis within the business plan of your pharmacy. You must understand what your competitors are offering and explain how your services will be different and stand out from the competition.
It is also important to point out the similar services that your competitors are offering and how they are being compensated for those services.
If there are multiple competitors in the same area, it is essential to create a comparative table to give a clear picture of your competitors. Here is a sample table you can create: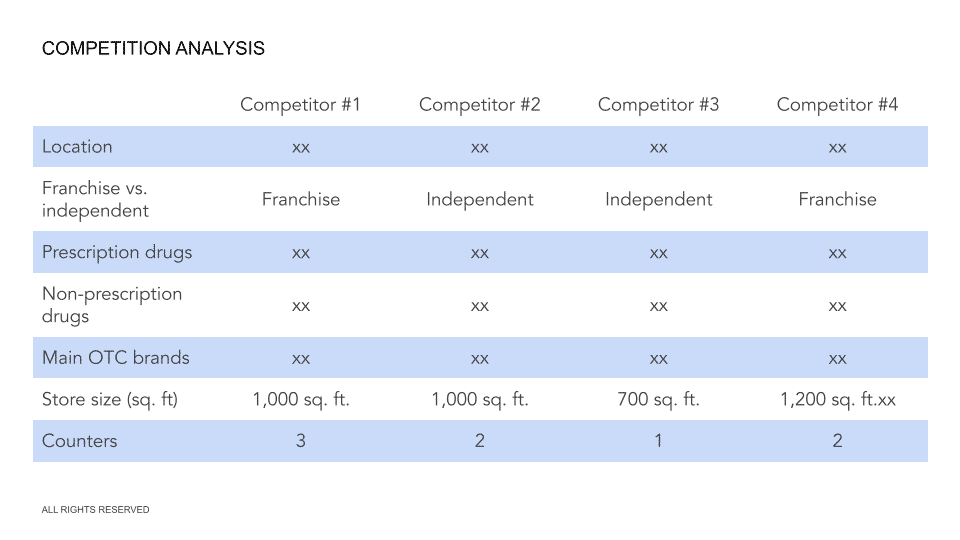 SWOT Analysis for a Pharmacy
With the SWOT analysis, you will analyze your pharmacy's strengths and weaknesses with respect to opportunities and threats you will encounter in the real world.
You may have several strengths such as:
A high-volume location
A large percentage of patients with third-party coverage for the products and services you are offering
Certified pharmacotherapy specialists, certified diabetes educators, etc.
Strong relationship with physicians in the locality, etc.
Similarly, you may have several weaknesses like:
A dearth of third-party payers
Pharmacy design/layout and workflow issues
Lack of specialists and educators, etc.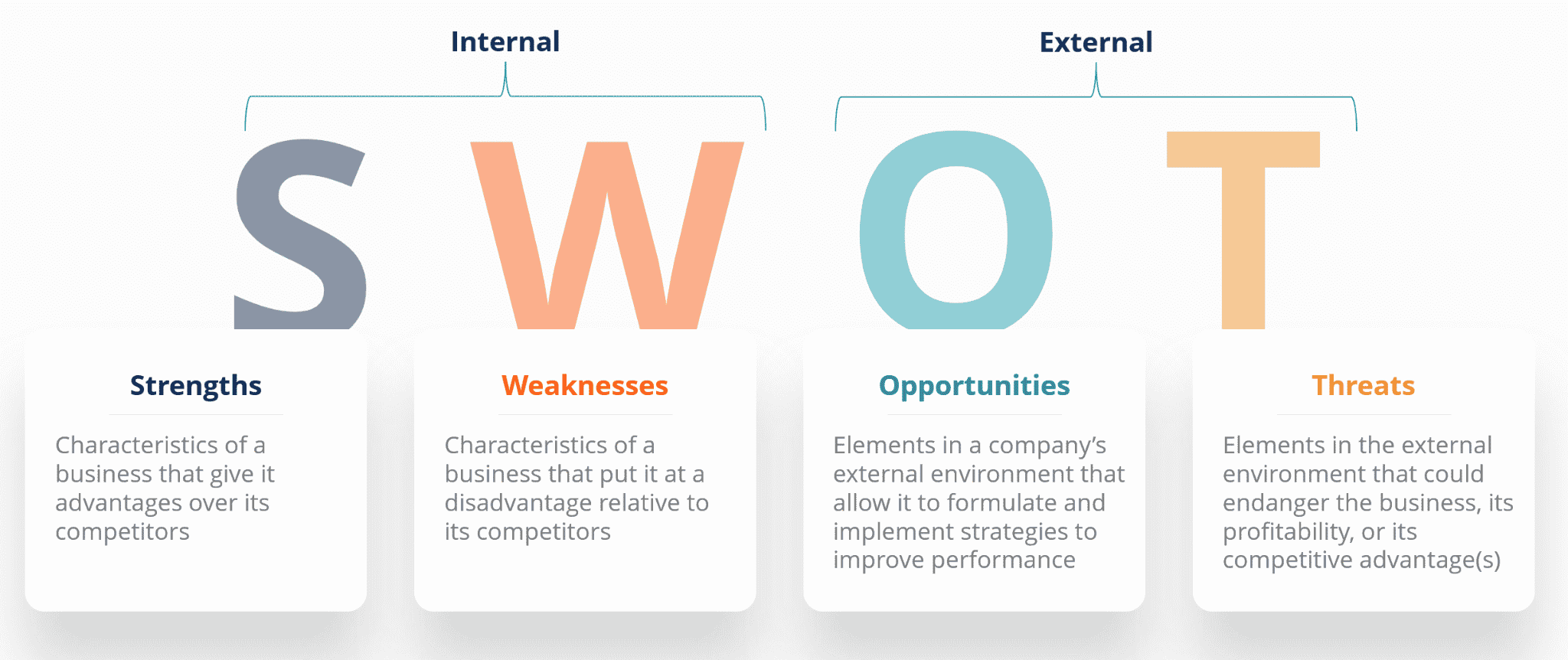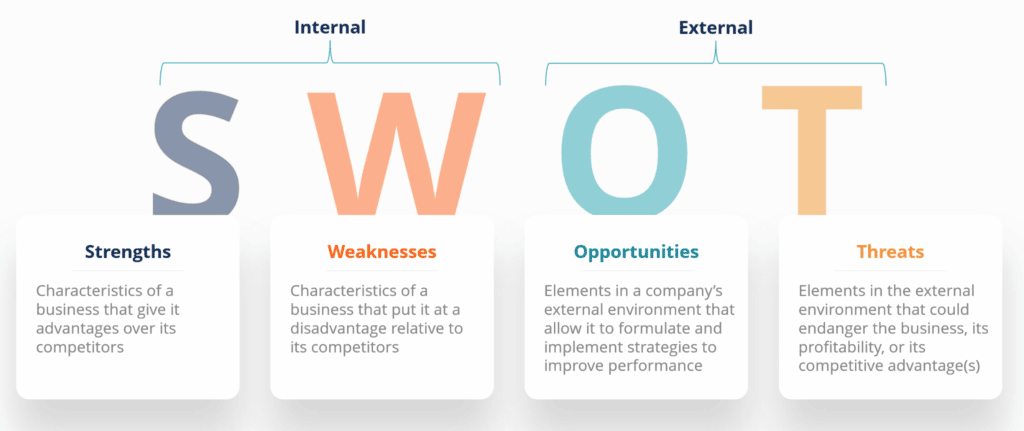 Customers
This is the segment where you provide a detailed analysis of your target audience. The analysis must include things like:
Age and gender distribution (you can get local demographic data from census.gov)
Common disease types
The frequency of their pharmacy visits
Spending pattern on non-prescription products
Special preference towards certain pharmacies, etc.
Direct surveys are often the best way to find out the necessary information. Try to include as much customer information as you can.
If your potential customers have some unmet medical requirements and you intend to fill the gap, mention that.
4. Sales & Marketing
This is the segment where you outline your customer acquisition strategy. Try to answer the following questions:
What are your Unique Selling Points (USPs)?
What are the different marketing strategies you will use?
How do you intend to track the success of your marketing strategy?
What is your CAC or customer acquisition cost?
What is your marketing budget?
What introductory promos and offers do you intend to provide for attracting new customers?
Let's expand a bit on a few questions below:
What marketing channels do pharmacies use?
A few marketing channels that pharmacies typically use are:
Search (e.g. Google my Business profile with positive reviews)
Direct mail campaigns to potential customers
In-pharmacy presentations or special events
Community event (like health fairs) participation
Newspaper, television, and radio ads
Relationship marketing that uses your personal selling skills
Trained employees to improve customer experience and word-of-mouth, etc.
You must have a fair and nearly accurate estimate of your marketing budget. Failure to display a well-planned and adequate cash flow for advertising and marketing can lead to investors losing confidence. That's because investors are fully aware that if adequate funds are not allocated for marketing, the business will be derailed before becoming a success.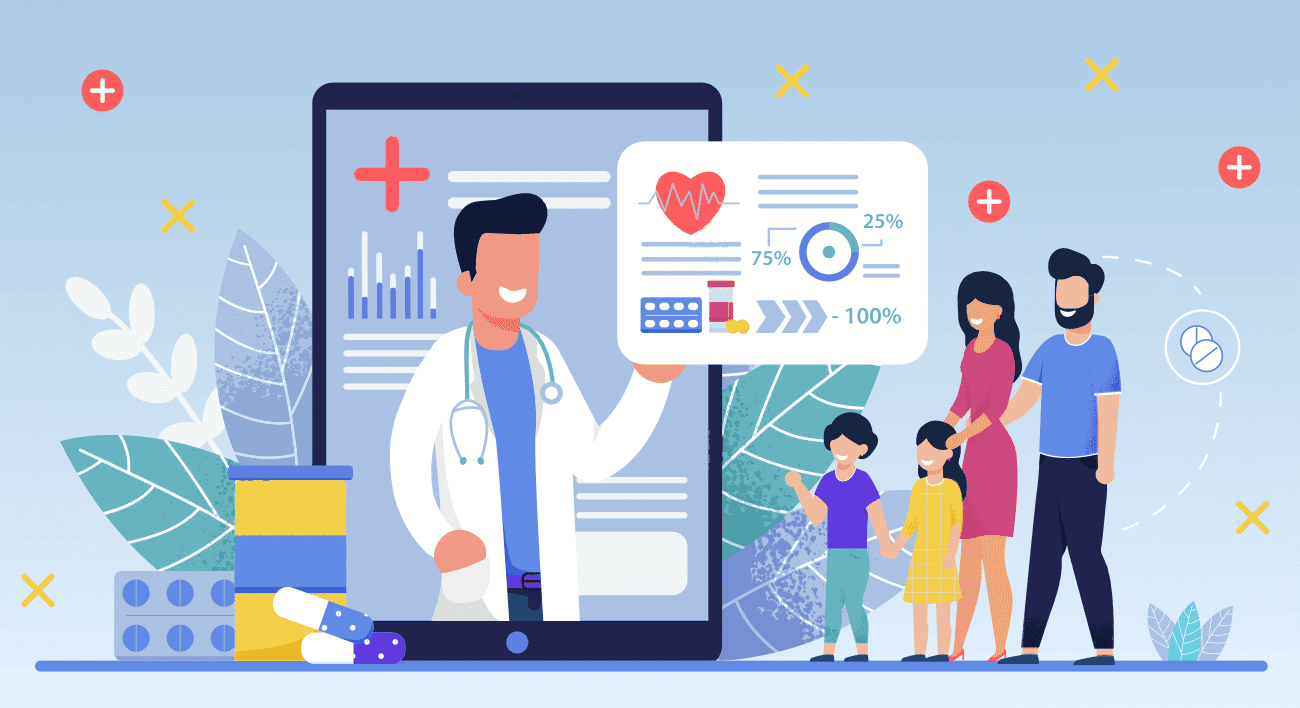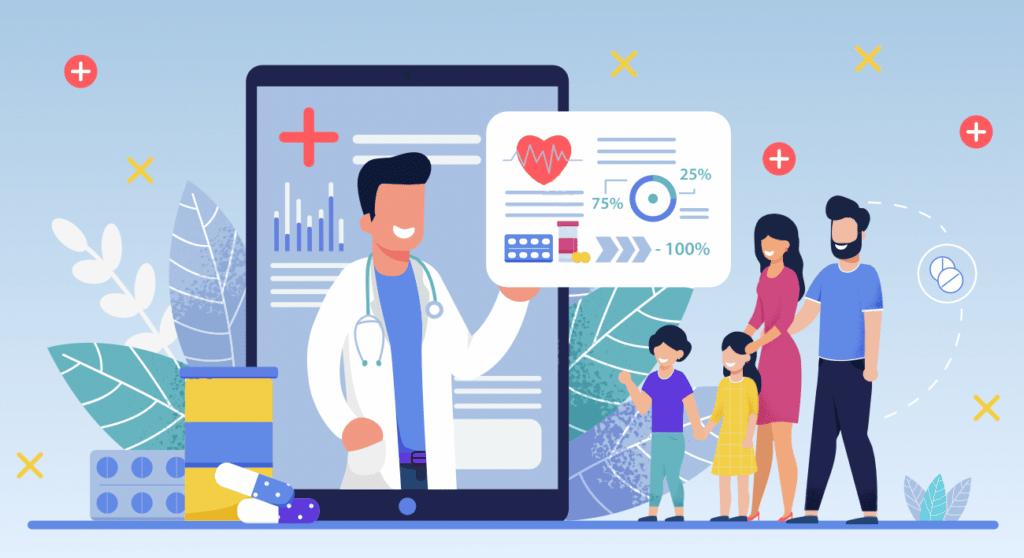 What are your Unique Selling Propositions (USPs)?
In other words, how do you differentiate yourself vs. competitors? This is very important as you might need to win customers from competitors.
A few examples of USPs are:
You offer a 3-month or 6-month weight loss service in partnership with a physical trainer and a physician
A more logical layout for improved workflow and provisions for elderly, sick, etc., to sit and rest
A holistic healthcare training package for health-conscious youth in collaborations with certified Yoga teachers, dieticians, etc.
Your USP will significantly depend on your competitors and their offerings. It will also depend on your target audience.
5. Management & Organizational Structure
You must address two things here:
The management team and their experience/track record
The organizational structure: what are the different teams and who reports to whom?
Management
Small businesses often fail because of managerial weaknesses. Thus, having a strong management team is vital. Highlight the experience and education of senior managers that you intend to hire to oversee your pharmacy services.
Describe their duties, responsibilities, and roles. Also, highlight their previous experience and explain how they succeed in their previous roles.
It is also important that you explain how their experiences and qualifications help you in implementing the pharmacy services you are proposing. If they have specialized training and education (weight loss management, diabetes education, etc.), add that information.
Organization Structure
Even if you haven't already hired senior managers, sales executives, marketing professionals, billing personnel, pharmacists, technicians, and other relevant staff members, it is important that you provide a flowchart of the organizational structure defining the hierarchy of reporting.
Such a flowchart will demonstrate your management skills and plans to the interested investors or lenders. If necessary, they may even suggest changes to improve the management structure.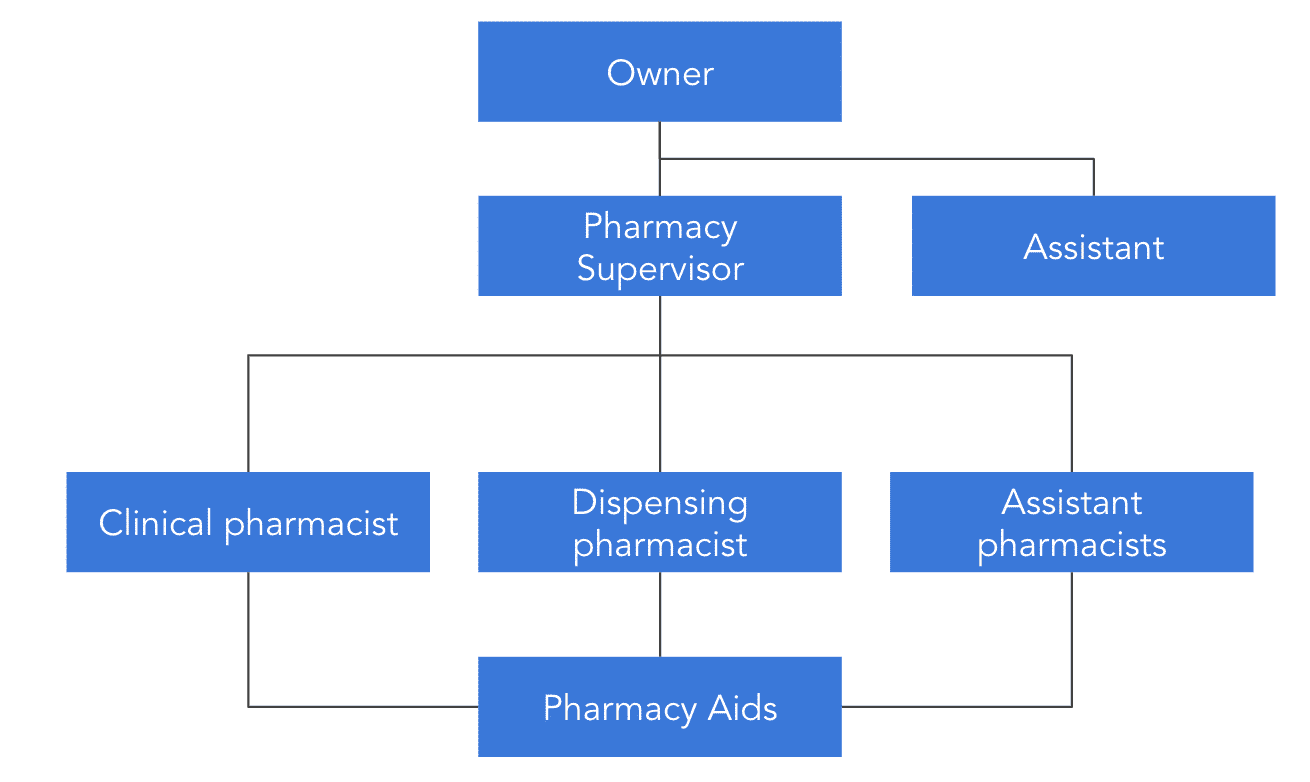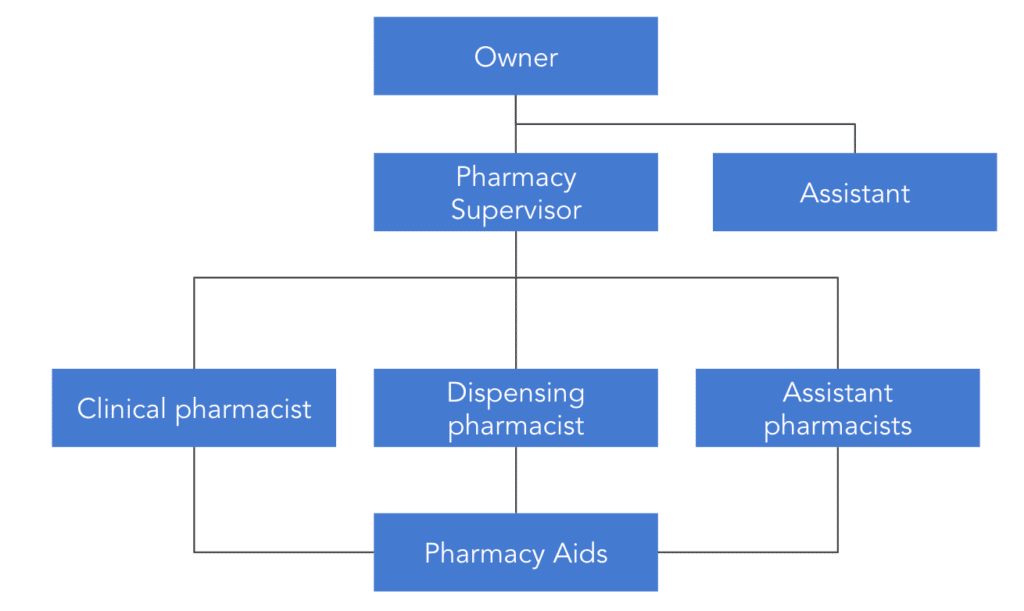 6. Pharmacy Financial Plan
The financial plan is perhaps, with the executive summary, the most important section of any business plan.
Indeed, a solid financial plan tells lenders that your business is viable and can repay the loan you need from them. If you're looking to raise equity from private investors, a solid financial plan will prove them your pharmacy is an attractive investment.
There should be 3 sections to your financial plan section:
Your historical financials (only if you already operate the business and have financial accounts to show)
The startup costs of your project (if you plan to open a new pharmacy, renovate your facilities, etc.)
The 5-year financial projections
Historical Financials (if any)
In the scenario where you already have some historical financials (a few quarters or a few years), include them. A summary of your financial statements in the form of charts e.g. revenue, gross profit and net profit is enough, save the rest for the appendix.
If you don't have any, don't worry, most new businesses don't have any historical financials and that's ok. If so, jump to Startup Costs instead.
Startup Costs
Before we expand on 5-year financial projections in the following section, it's always best practice to start with listing the startup costs of your project. For a pharmacy, startup costs are all the expenses you incur before you open the space to your customers.
These expenses typically are:
The lease deposit for the space you rent (if your decide to rent)
The loan downpayment for the purchase price of the building (if you decide to buy with a mortgage)
The design and renovation of the existing facilities (plastering the walls, water-proofing, etc.)
The equipment & furniture (security-tight safes, racks, shelves, cash register, POS, counter area, chairs, CCTVs, etc.)
The total startup costs depend on a number of factors, such as the size and location of your store, the type of products you sell, the quality of the building (whether there is a lot or remodeling to do or not), the quality of furniture and equipment, etc.
As an example, it costs on average $177,000 to $229,000 to start a small independent pharmacy with 6 employees. For more information on how much it costs to open and run a pharmacy, read our complete guide here.
| Startup cost | Amount |
| --- | --- |
| Lease deposit | $11,500 – $23,000 |
| Licenses | $6,000 |
| Store renovation | $80,000 – $100,000 |
| Equipment | $30,000 – $50,000 |
| Starting inventory | $50,000 |
| Total | $177,500 – $229,000 |
Pharmacy 5-Year Financial Projections
In addition to startup costs, you will now need to build a solid 5-year financial model as part of your business plan for your pharmacy.
Your financial projections should be built using a spreadsheet (e.g. Excel or Google Sheets) and presented in the form of tables and charts in your business plan.
As usual, keep it concise here and save details (for example detailed financial statements, financial metrics, key assumptions used for the projections) for the appendix instead.
Your financial projections should answer at least the following questions:
How much revenue do you expect to generate over the next 5 years?
When do you expect to break even?
How much cash will you burn until you get there?
What's the impact of a change in pricing (say 10%) on your margins?
What is your average customer acquisition cost?
You should include here your 3 financial statements (income statement, balance sheet and cash flow statement). This means you must forecast:
The number of customers over time ;
Your expected revenue ;
Operating costs to run the business ;
Any other cash flow items (e.g. capex, debt repayment, etc.).
When projecting your revenue, make sure to sensitize pricing and the number of customers as a small change in these assumptions will have a big impact on your revenues.
When it comes to the costs, consider both startup and operating costs. For more information, read our complete guide here.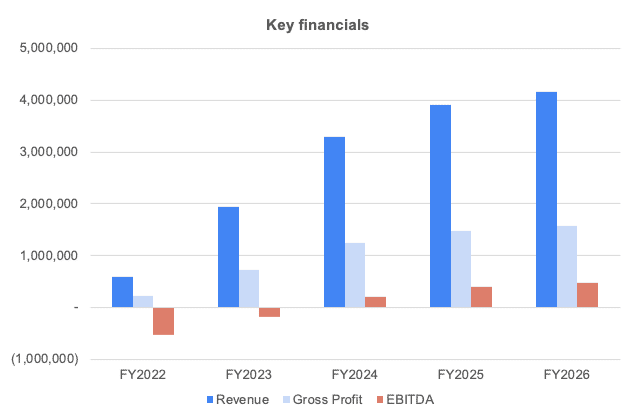 7. Funding Ask
This is the last section of the business plan of your pharmacy. Now that we have explained what your pharmacy is about, what's your strategy, where you go and how you get there, this section must answer the following questions:
How much funding do you need?
What financial instrument(s) do you need: is this equity or debt, or even a free-money public grant?
How long will this funding last?
Where else does the money come from? If you apply for a SBA loan for example, where does the other part of the investment come from (your own capital, private investors?)
If you raise debt:
If you raise equity
What percentage ownership are you selling as part of this funding round?
What is the corresponding valuation of your business?
Use of Funds
Any business plan should include a clear use of funds section. This is where you explain how the money will be spent.
Will you spend most of the loan / investment in buying the real estate? Or will it cover mostly the cost for the acquisition of the inventory?
Those are very important questions you should be able to answer in the blink of an eye. Don't worry, this should come straight from your financial projections. If you've built solid projections like in our pharmacy financial model template, you won't have any issues answering these questions.
For the use of funds, we recommend using a pie chart like the one we have in our financial model template where we outline the main expenses categories as shown below.