A leader pretzels franchise along with Auntie Anne's, Wetzel's Pretzels has grown steadily since it started franchising in 1944 and now has over 340 stores across the globe.
If you're interested to buy a Wetzel's Pretzels, you may want to know how much profits you can make with this business. This is what we're looking at in this article.
With an average turnover of $748,857 per year and a total investment cost of $377,571, Wetzel's Pretzels does seem like a great franchise opportunity. How profitable is it really? Let's find out!
Wetzel's Pretzels Franchise: key figures
| | |
| --- | --- |
| Franchise fee | $40,000 |
| Royalty fee | 7.0% |
| Marketing fee | 6.0% |
| Investment (mid-point) | $377,571 |
| Median annual sales | $748,857 |
| Investment to sales ratio | 2.0x |
| Investment payback* | 3.4 years (excellent) |
| Minimum net worth | $300,000 |
| Minimum liquid capital | $50,000 |
* using 15% net profit margin
What is Wetzel's Pretzels?
Wetzel's Pretzels is an American fast-food chain that specializes in pretzels and hotdogs and lemonades.
Headquartered in Pasadena, California, the brand was founded in 1994 by Rick Wetzel and Bill Phelps. Its first location was in the South Bay Galleria.
Its franchising journey began in 1996, and now the brand has over 340 stores in the US, Canada, Central America, and around the world.
Wetzel's Pretzels franchises: pros and cons
Pros
Comprehensive training: The franchisor provides the franchisees with a simple and fun training program. The franchisees receive 40 hours of classroom or virtual training plus 40 hours of on-the-job training on the operations of running a successful restaurant. Also, it trains franchisees about grand opening marketing, staffing, and management.
Easy operations: The brand operates on a simplified basic menu. It also requires a smaller employee headcount and convenient hours. This allows franchisees to concentrate on perfecting their customer service and the quality of their menu to attract customers and upsell to improve their profitability.
Flexible location formats: The franchisor has a variety of franchise formats that offer franchisees flexibility on where to operate their restaurants. Franchisees can operate in strategic locations such as shopping malls, airports, theme parks, stadiums, and food trucks.
Quality and innovative menu: Wetzel's Pretzels offers premium pretzels made from scratch and freshly baked every 30 minutes using quality ingredients. Franchisees can stand out from their competitors by offering unique products. They also continue to introduce new flavors to offer customers diverse, healthy eating options.
Exclusive territory protection: Wetzel's Pretzels grants its franchisees the right to operate in an exclusive market location. As such, it does not allow other franchises to operate in the agreed-upon location.
Absentee ownership: The Wetzel's Pretzels franchise is a good option for investors looking for a passive investment opportunity. The brand does not require franchisees to be fully involved in the management of their restaurants.
Accessible and skilled leadership: The brand's leadership connects with their franchisees by mentoring and guiding them to compete with brands such as Applebee's, IHOP, and Papa Murphy's. Franchisees benefit from individualized support from top leadership at any time.
Cons
Not a part-time business: The franchise does not provide a part-time business opportunity. The franchisees must be open full-time according to the parent company's schedule.
No financing: The brand does not offer franchise financing for trade fixtures, franchise fees, or ongoing costs.
Competition: The brand faces stiff competition from other pretzel brands such as Auntie Anne's and Pretzel Maker.
How much does a Wetzel's Pretzels franchise cost?
On average, you would need to invest around $377,571 to open a Wetzel's Pretzels restaurant. This includes an initial franchise fee of $40,000.
As the investment amount is an average, it may change depending on some factors like location, type of bakery store you choose, the market price of certain pieces of equipment at the time, etc.
For instance, you would invest 2.5x times more if you choose a Twisted by Wetzel's bakery over a Concession truck or trailer. According to the latest Franchise Disclosure Document, the investment required ranges from $162,600 to $659,150 depending on the type of bakery you choose.
Indeed, whilst Wetzel's has 3 different format of bakeries you can choose from as a franchisee:
Wetzel's Pretzels is the most common type of store
Twisted by Wetzel's is the same as Wetzels Pretzels yet with an expanded menu offering (such as frozen delicacies), usually located in a larger store
Concession truck or trailer is simply a food truck operating under the Wetzel's Pretzels brand as a concession. It has a limited set of menu options instead due to its limited size
The investment amount you would pay mainly covers costs like formation costs, grand opening advertising, and operating costs. 
Formation costs mean the expenses that are essential to open a business; namely: utility deposits, licenses, permits lease review fees, business premises, leasehold improvements, digital display boards, signs & menu boards, training expenses, architect engineers & construction manager fees, etc.
Operating costs mean the expenses to operate the business after beginning; namely: insurance, initial inventory & small wares, office equipment & supplies, 90 days of working capital, etc.
| Type of cost | Low | High |
| --- | --- | --- |
| Initial franchise fee | $30,000 | $40,000 |
| Formation costs | $326,700 | $551,650 |
| Grand opening | $3,000 | $7,500 |
| Operating costs | $28,500 | $60,000 |
| Total | $388,200 | $659,150 |
Source: 2022 Franchise Disclosure Document


What is the turnover of a Wetzel's Pretzels?
On average, a Wetzel's Pretzels franchise makes 748,857 in sales per year.
The sales number is an average; thus it can vary depending on the location, market competition, and such factors. For example, a restaurant located in a mall generates 4 times more revenue than a Concession truck/trailer.
How profitable is a Wetzel's Pretzels franchise?
On average, a Wetzel's Pretzels franchise makes $250,118 in profits per year. This number represents a 25% profit margin (adjusted EBITDA margin).
The 25% adjusted EBITDA margin is in line compared to similar franchises as per our intelligence (~25-27% industry average). Despite the very low COGS (20.4% sales vs. 25% industry average) and labor costs (25.2% vs 29%), the profit margin is comparatively lower vs. other similar franchises. This is mainly due to high rent (16% vs. 8%).
Note that Wetzel's Pretzels doesn't provide any financial information regarding costs except for the standard Wetzel's Pretzels bakery format (eg. Twisted by Wetzel's and the Concession truck/trailer formats data is not provided in the FDD).
| Profit-and-loss | Amount ($) | As % of sales |
| --- | --- | --- |
| Sales | $748,857 | 100% |
| COGS | $(152,767) | 20.4% |
| Labor | $(188,712) | 25.2% |
| Rent | $(119,817) | 16.0% |
| Royalty + marketing fees | $(97,351) | 13.0% |
| Adjusted EBITDA | $190,210 | ~25% |
Source: 2022 Franchise Disclosure Document
Okay, now what does the adjusted EBITDA means? Does this mean you will earn 25% net profit from the business? Actually no, you will keep less than 25% of the total revenue in your pocket. Indeed, you may need to deduct taxes, debt interest expenses, and other costs from this margin. This is what we're looking at in the next paragraph.
Is a Wetzel's Pretzels franchise a good investment?
We found that it takes on average 3.4 years to repay your initial investment if you were to invest in a Wetzel's Pretzels franchise. This is an excellent payback period, much better than most other restaurant, coffee shop and bakery franchises we had to analyse.
To calculate this payback period, we estimated net profits at 15% of sales, which makes sense given adjusted EBITDA is 25% (see above). Indeed, it's from net profits that as a franchisee (or an investor) you will be able to pay yourself dividends and reimburse your original investment.
Therefore, whether you invest from your own funds, from other investors' money or from a SBA loan for example, the investment would be paid back quite fast. After only 3.4 years you can start reaping the profits.
Interested? If you're considering buying a Wetzel's Pretzels franchise you will need to prepare a business plan, download our pre-built business plan template below and get your franchise funded.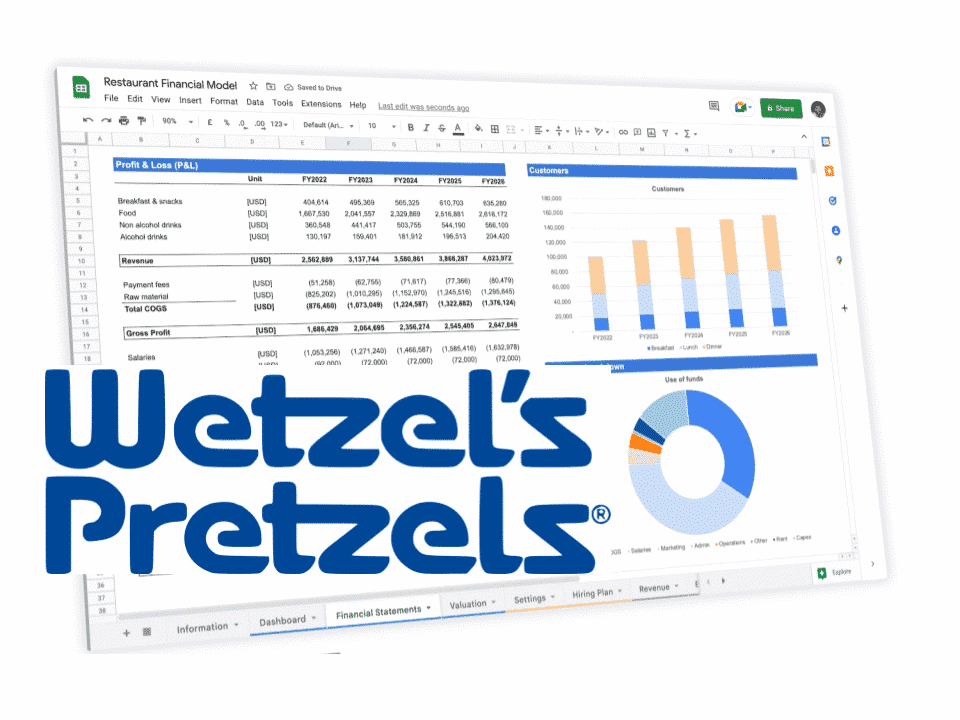 Download the Wetzel's Pretzels franchise business plan and get your franchise funded
Including a 5-year financial plan built with the latest Franchise Disclosure Document numbers