How To Build a Financial Model For a Salon?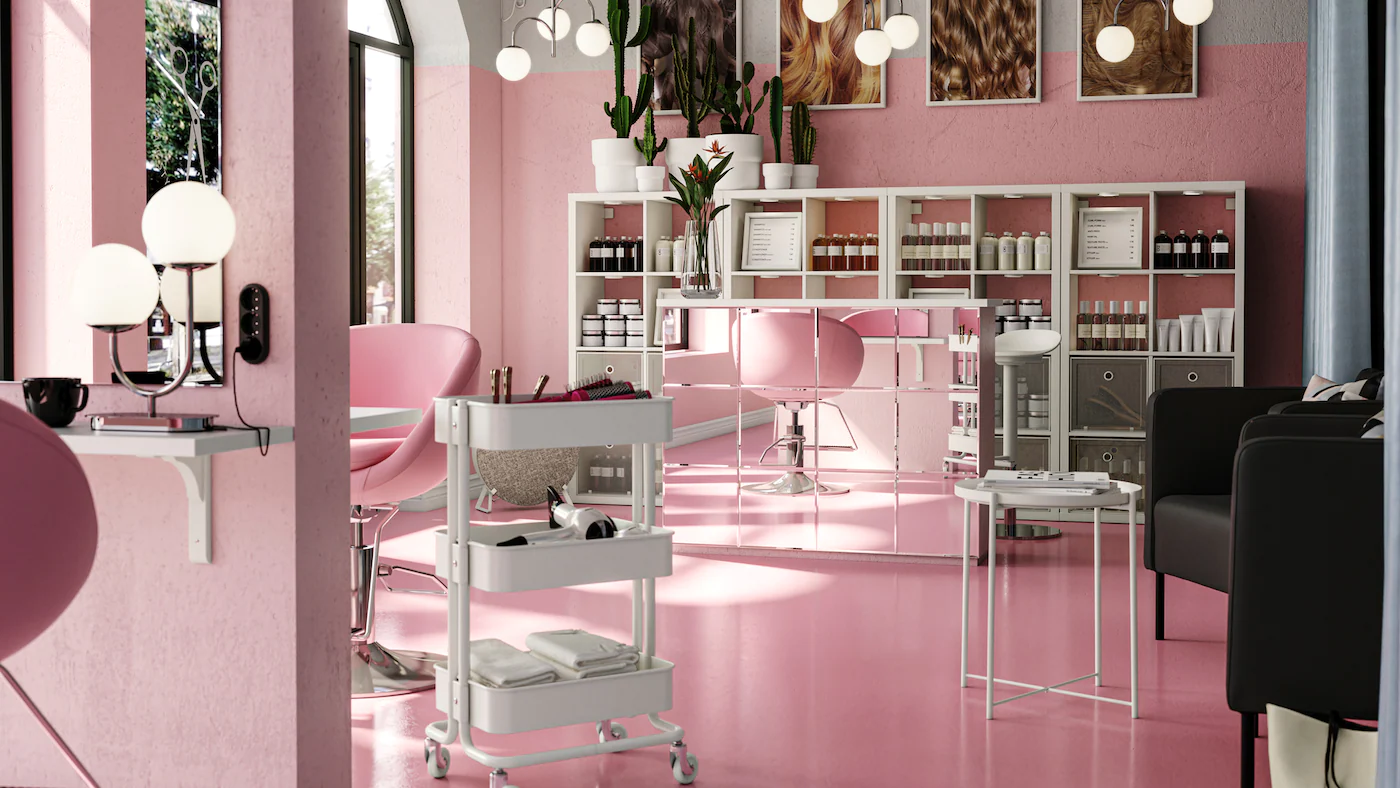 Every business needs a financial model. Whether you want to understand what's your breakeven, your valuation or create a financial model for the business plan of your salon, you've come the right way.
In this article we'll explain you how to create powerful and accurate financial projections for a typical beauty or hair salon with 5 employees.
For more information on hair & beauty salons, make sure to read our guides below:
How to Write a Hair Salon Business Plan: Complete Guide
How to Write a Beauty Salon Business Plan: Complete Guide
How Much Does it Cost to Start a Hair Salon / Barbershop?
7 Strategies To Increase Revenues For Your Hair Salon
1. Forecast Customers
The first thing you must do to create a financial model for your salon is to forecast the number of customers you will receive over time. You can do it the easy way or make it more complex based on your requirements. The guidelines below are our recommendations to create accurate and flexible customer projections for any salon:
Set the number of customers you receive per day on average
Set the number of opening days per week
Both values can change over time of course. Indeed, as you get more customers, you will likely benefit from organic growth (word-of-mouth) which will get you even more customers over time.
That's why it's good practice to start low (conservative) for the first few months and progressively increase the number of customers per day for the following months/years.


That way, you will be able to forecast accurately the number of customers you can serve over time, as well as the revenues which we will now see in the next section.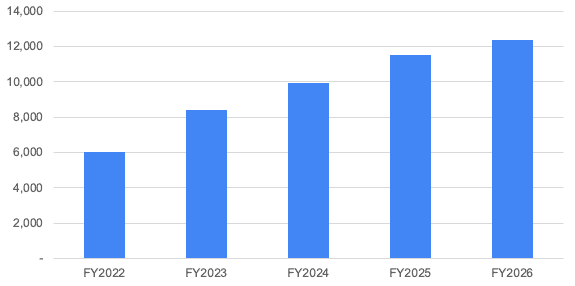 2. Calculate Revenue
Now that we have estimated the number of customers over time, the second step of your salon financial model is to calculate revenue.
Yet, before we do so, we must break down the number of customers into the different treatments they may choose. Indeed, most of you customers may get a haircut at an average price of $55.00, yet some may also buy other products such as hair coloring for $75.00, manicure for $50.00, etc.
It's very important to break it down right. Indeed, as you know all these products have very different unit economics (prices and profit margins) you need to forecast accurately. Let's see now how.
First, break down the products into a percentage of your total customers. For example:
80% of the customers may choose to get a haircut at an average price of $55.00;
another 20% choose a hair coloring treatment at an average price of $75.00;
7% get a manicure for $50.00, and so on..
That way, you can now multiply the number of customers for each product by their respective price to obtain revenue.
Now you can obtain your revenue projections broken down by the type of product categories as shown below. Instead of using separate menu items, we recommend to group them under categories instead (e.g. hair styling, hair color, manicure, makeup etc.).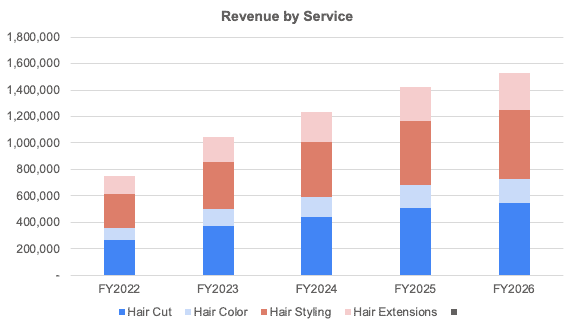 3. Forecast Expenses
In addition to the one-off startup costs discussed for hair salons / barbershops here and beauty salons there, you must also budget for all the operating costs of running a salon.
We have laid out below a clear overview of all the key expenses you can expect to operate a standard beauty salon with 5 employees below. These are key costs that any salon financial model should include. Yet, note that the amounts are purely for illustrative purposes and depend on a number of factors as explained earlier.
Operating cost
Amount (per month)
COGS
$5,000
Rent/Mortgage Payment
$3,500 – $6,000
Employee salaries (incl. taxes)
$19,200
Utilities
$1,000 – $4,000
Cleaning
$2,000 – $4,000
Marketing
$1,000 – $2,700
Other (software, insurance, etc.)
$1,000 – $2,500
Total
$32,500 – $43,200
COGS
This is one of the most important costs you need to consider. It will cover things like shampoos, conditioners, hair colors, oils, shine sprays, etc.
Unfortunately, beauty and hair supplies aren't cheap. Logically, the cost will depend on your number of clients and the quality of the products you buy.
On average, expect to spend 10% of your sales in COGS.
So assuming that you and your team attend to 30 clients a day with a mix of services like hair styling, pedicure & manicure, facial, etc., with an average order value of $80, the total monthly revenue they would generate is $48,000 (assuming 5 days a week). Therefore COGS would be anywhere around $5,000.
Rent/Mortgage Payment
If you leased a beauty salon space, you will need to pay monthly rent. On the other hand, if you took a loan to buy the salon space, there will be monthly mortgage repayment. However, the amount you pay per month will depend on a number of factors including the size of the space, location, lease or purchase, and more.
Assuming an average of $40 per square foot per year in a premium location in a city like Portland, you would be paying around $3,500 per month in rent for a 1,000-square-foot space.
Similarly, if you take out an SBA business loan of $500,000 with a 3% SBA fee, 8% APR, and 15% down payment, you will end up paying around $6,000 per month for a 10-year loan tenure.
Employee Salaries
Employee salaries make up another major cost of operating a beauty salon. Here is a quick list of some of the most important salaries you need to pay:
Assuming that you hire 5 aestheticians, you would be paying a total monthly salary of around $13,000. In addition with a salon manager for another $3,000 a month, the total monthly salary cost (including taxes and benefits) would be around $19,200.
This represents 40% of your total sales, which makes total sense as the service payroll benchmark for the spa and salon industry is about 35% of revenue.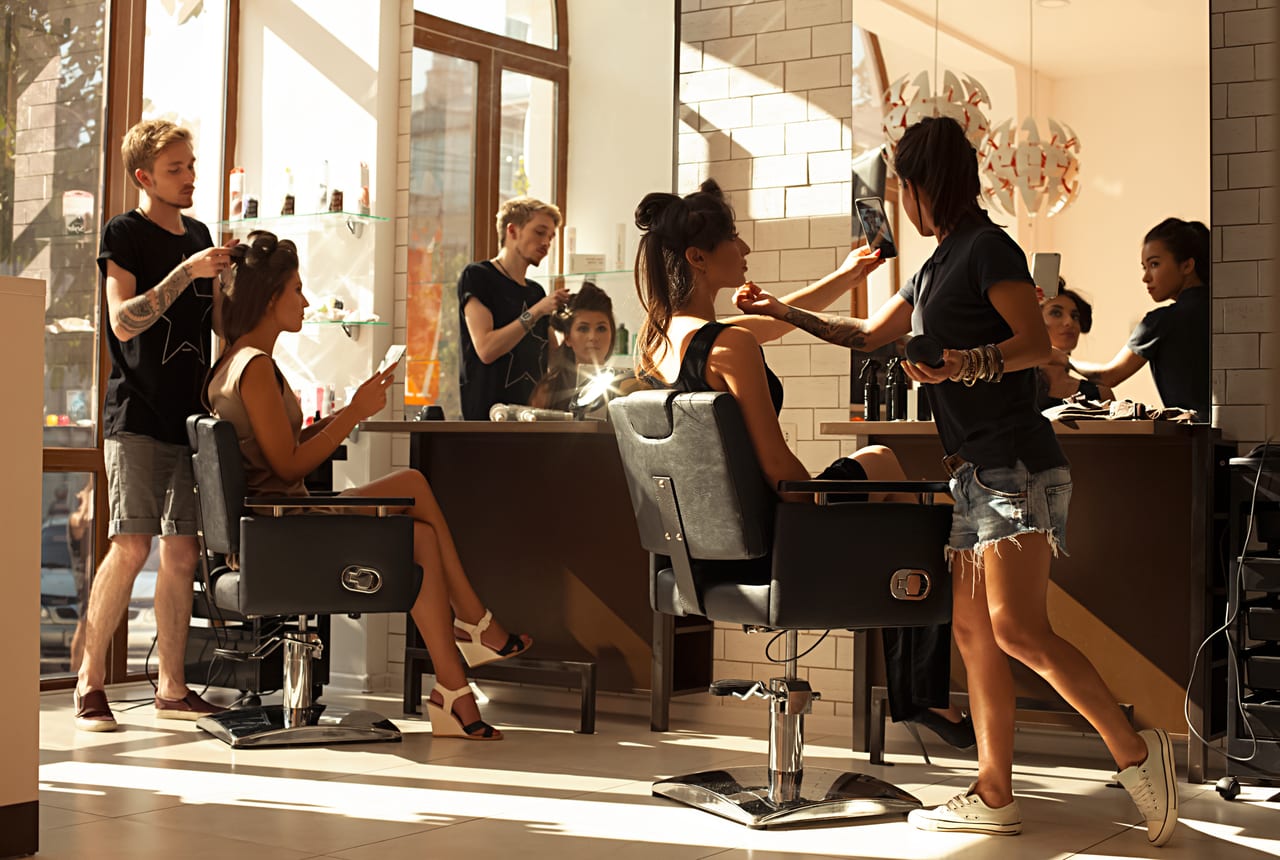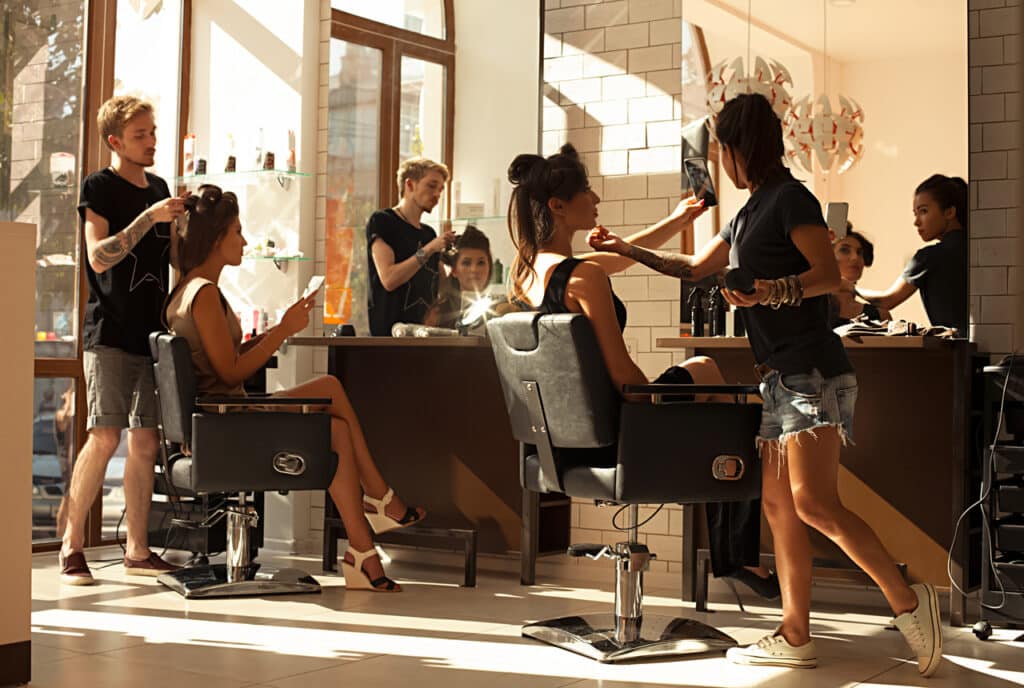 Utilities
A beauty salon, in general, will use electricity, water, and gas to run different types of salon equipment. Plus, there will be lighting decor, AC, a TV to entertain people waiting in line, and more. According to Sage, you can expect the utility bills to be between $1,000 and $4,000. Of course, the exact cost will depend on the scale of your business.
Cleaning Services
You need to keep your beauty salon health-compliant. Regular housekeeping is necessary and that will require vacuums, mops, bleach, toilet paper, wipes, and more. Those supplies can cost you anywhere between $50 and $200 a month.
You can call for professional cleaning services that can charge you up to $200 for a weekly visit. But even if you are taking this route, day-to-day upkeep will be necessary that you and your crew members must take care of.
Assuming that you go for a combination of professional and self-services for cleaning, you can expect a monthly cost of approximately $4,000.
Insurance
A beauty salon belongs to the personal care business industry. The average insurance costs for the industry, according to Insureon, are:
General liability insurance: Median monthly premium – $35
Business owners' policy: Median monthly premium – $70
Professional liability insurance: Median monthly premium – $40
Workers' compensation insurance: Median monthly premium – $80
If you consider buying all types of insurance, you will be paying $225 a month.
Marketing
To attract loyal consumers to your beauty salon, you must engage in appropriate marketing. Therefore, make sure you put up a marketing and advertising budget. Your beauty salon's marketing expenses will vary based on the media employed and the intended audience.
Marketing and paid advertising will often be more expensive during the first six months of business. Before you can rely on organic growth (word-of-mouth), you will require a sizable expenditure to market your beauty salon as you launch your firm.
Ideally, you should not spend any more than 2% to 5% of your gross revenue on marketing.
So, if we continue with the above example of $54,000 gross revenue, you should typically be spending between $1,000 and $2,700.
You can spend that amount for offline advertising such as billboards, posters, etc., or you can allocate a part of the fund for online advertisements such as PPC ads and social media ads.
For PPC advertisements and social media ad campaigns, you can set a monthly budget. It is totally your choice and budget. Some people spend up to $500, while others can spend up to $2,000 or more.
If you want to run radio campaigns for example, it can cost you anywhere between $20 and $80 per ad spot.
Software Costs
There will be various recurring costs for software that will include:
Segmenting your expenses, either as a fixed value over time or a percentage of revenue, will allow you to accurately estimate their amount over time as shown in the chart below.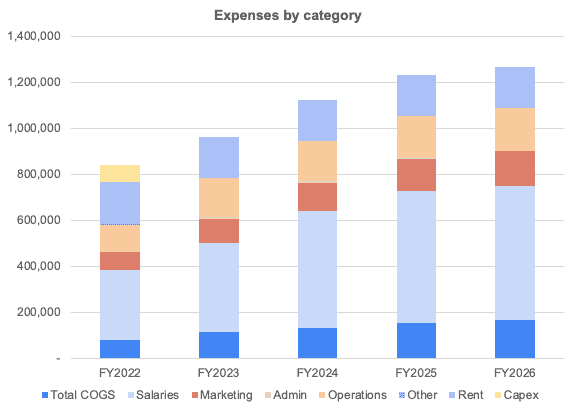 4. Build your P&L And Cash flow
Once we have forecasted revenues and expenses, the last step to complete our salon financial model is to build the profit-and-loss (P&L) from revenues down to net profit. This will help you to visualise key financial metrics such as Gross Profit or EBITDA margin as shown below: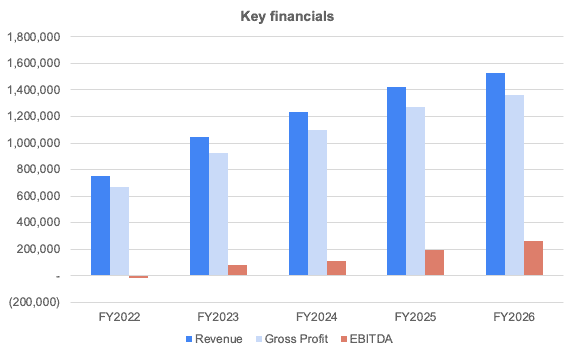 The cash flow statement, in comparison, needs to include all cash items from the P&L and other cash movements such as capital investments (also referred as "Capex"), fundraising, debt, etc.
Cash flow is vital as it will help you understand how much funding you should get, either from investors or the bank (SBA loan for example) to start and run your own salon.
In this chart below, we're showing you an example of a typical cost structure a standard beauty salon with 5 employees would incur. Unsurprisingly, salaries and rent represent ~60% of total expenses.