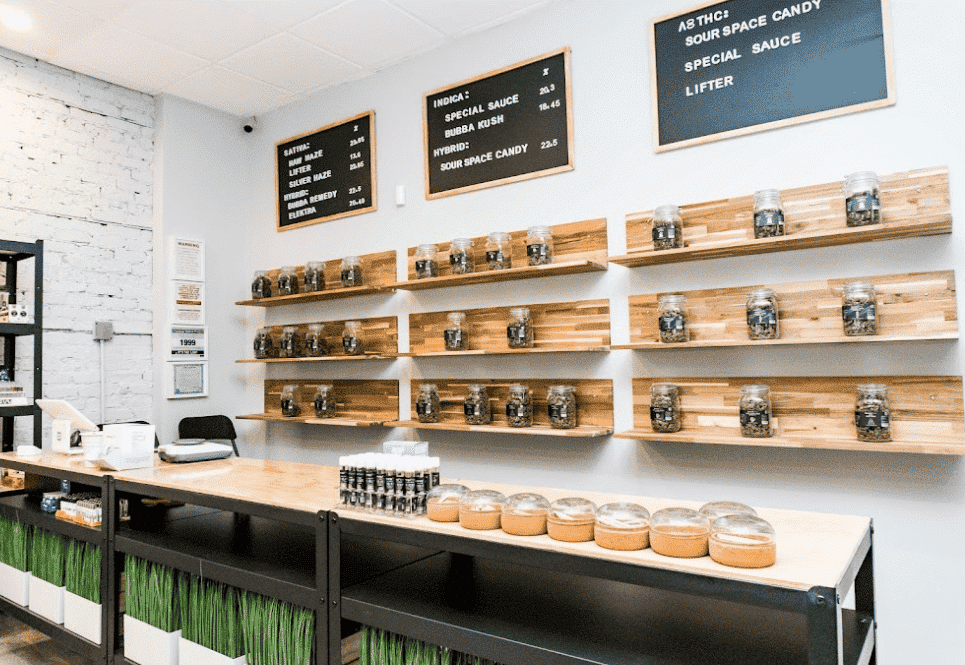 Whether you're looking to raise funding from private investors or to get a loan from a bank (like a SBA loan) for your CBD dispensary, you will first need to prepare a solid business plan.
In this article we go through, step-by-step, all the different sections you need in the business plan of your CBD dispensary. Use this template to create a complete, clear and solid business plan that get you funded.
For more information CBD dispensaries, make sure to read:
How to Open a CBD Dispensary in 9 Steps?
How Profitable Are CBD Online Shops?
How To Build a Financial Model For a CBD Dispensary?
1. CBD Dispensary Executive Summary
The executive summary of a business plan gives a sneak peek of the information about your business plan to lenders and/or investors.
If the information you provide here is not concise, informative, and scannable, potential lenders and investors will lose interest.
Though the executive summary is the first and the most important section, it should normally be the last section you write because it will have the summary of different sections included in the entire plan.
Why do you need a business plan for a CBD dispensary?
The purpose of a business plan is to secure funding through one of the following channels:
Obtain bank financing or secure a loan from other lenders (such as a SBA loan)
Obtain private investments from investment funds, angel investors, etc.
Obtain a public or a private grant
How to write an executive summary for CBD dispensary?
Provide a precise and high-level summary of every section that you have included in the business plan of your CBD dispensary. The information and the data you include in this segment should grab the attention of potential investors and lenders immediately.
Also make sure that the executive summary doesn't exceed 2 pages in total: it's supposed to be a summary for investors and lenders who don't have time to scroll through 40-50 pages, so keep it short and brief.
The executive summary usually consists of 5 major sub-sections:
Business overview: start by introducing your store, where it is located, how big it is (space and counters) and give a brief of the products that you want to sell as well as their average prices. Also, mention whether you plan to open an independent retail dispensary or a franchise store instead.
Market analysis: summarise the market where you will operate and provide a brief about your target audience (your customers) i.e. their age, demographics, etc. Also give certain data points about the CBD industry in the area where you want to operate (size and growth), as well as an overview of the main competitors, etc.
People: introduce your CBD dispensary's management and employee structure. Provide a brief (no more than a couple of sentences each) of the knowledge and experience of the team. Also, mention how the company will be structured (management roles and reporting lines)
Financial plan: how much profit and revenue do you expect in the next 5 years? When will you reach the break-even point and start making profits? You can include here a chart with your key financials (revenue, gross profit, net profit)
Funding ask: what loan/investment/grant are you seeking? How much do you need? How long will this last?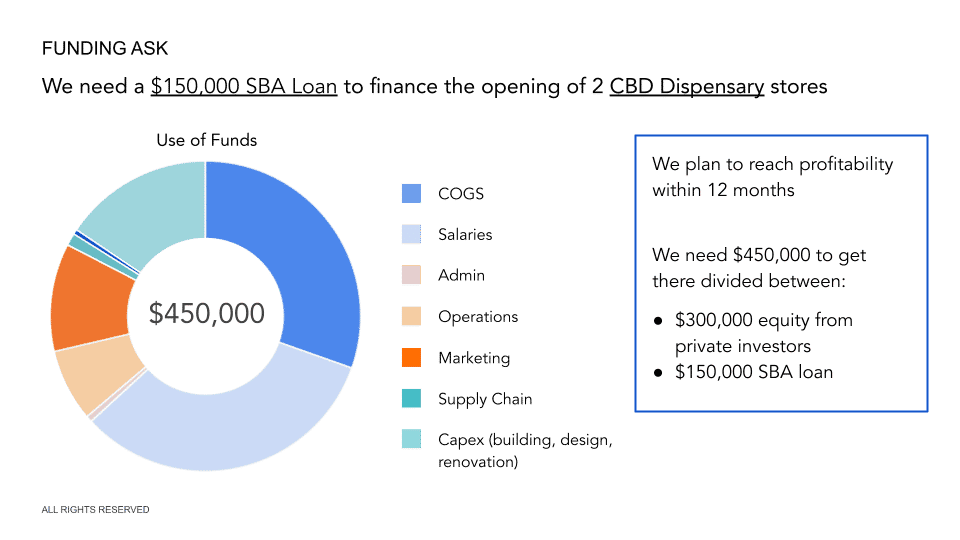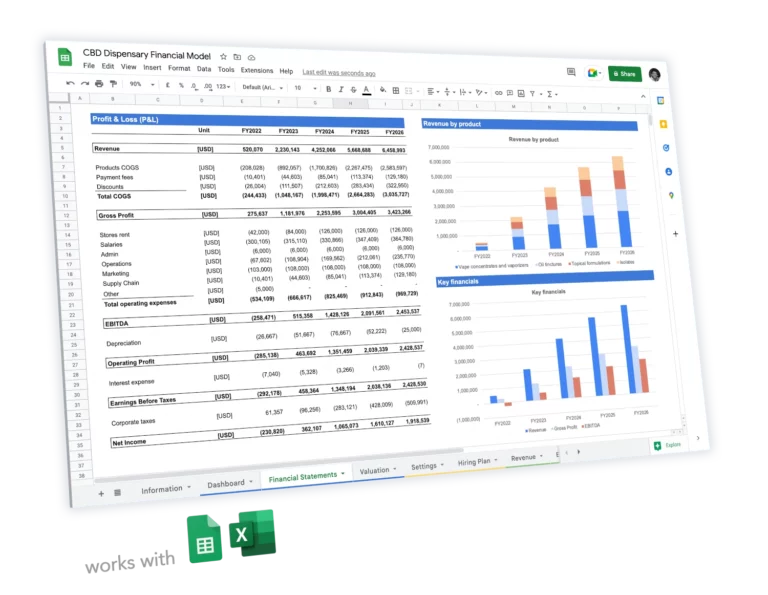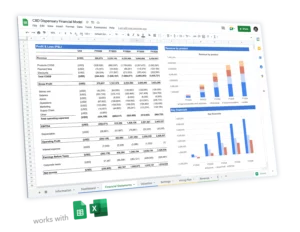 CBD Dispensary Financial Model
5-year financial projections
Suitable for bank loan applications and investors
2. CBD Dispensary Business Overview
In this segment of the business plan, you will provide details about your CBD dispensary.
You must answer here some important questions that potential investors and lenders often ask about your business and operations. Here are some examples of questions you must answer:
What is the rationale behind you opening a CBD dispensary today?
What's the CBD dispensary's location and why did you select that location?
Why did you select the type of CBD dispensary you want to open?
What will be the products and services you will offer?
What will be your pricing strategy and why?
What is your expected customer footfall?
What will be the legal structure of your company?
a) History of the Project
Any business overview must start with explaining the history of the project. There are 2 components here:
Passion & experience of the business owner
Rationale behind starting a CBD dispensary today
Passion & experience
You may or may not have prior experience. If you have experience, speak about it and how it will help you to run your business. For instance, you may have been a regional manager of a leading CBD brand for 5 years, and now you want to start your own CBD dispensary and use your knowledge to run it more efficiently.
Rationale
Is there a certain problem (or perhaps, a set of problems) that your CBD dispensary will try to solve when it comes into existence? For example, there may not be any CDB dispensary in your area that offers CBD products for pets despite a large number of pet owners living in the area.
But that's not all! The market must be suitable for a business to exist and thrive. For instance, if you are trying to open your CBD dispensary in an area where there is limited or no CBD awareness, you may run into losses.
Similarly, if the population of the target market has a high percentage of non-pet owners and you want to open a dispensary to sell CBD-infused pet products, there won't be enough demand.
The rationale behind your project must be backed up by a thorough analysis of the industry in the area where you plan to open your CBD store. This is what we will cover under Market Overview further below.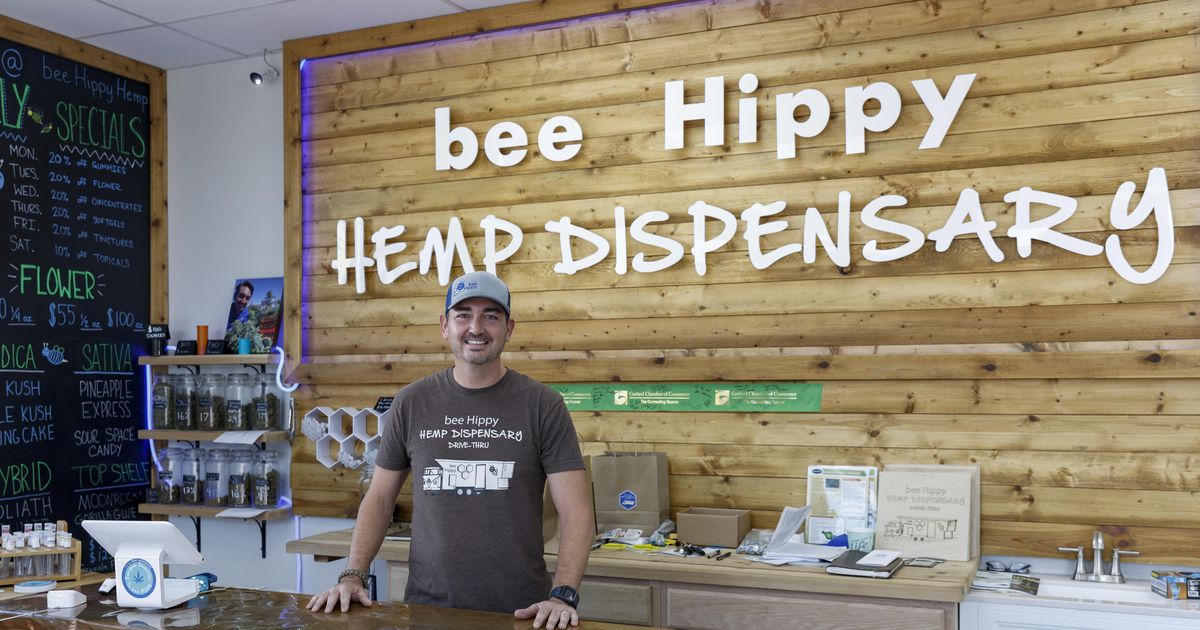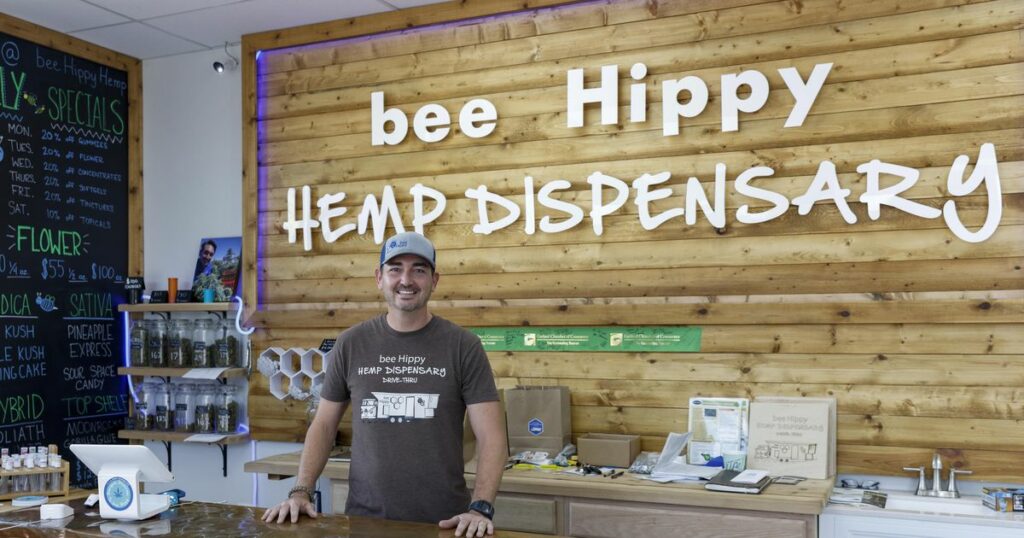 b) Business Model
This section of the Business Overview should explain what type of business model and CBD store you want to open. For example:
Will you buy an existing CBD dispensary and do some remodeling, or will you start a new CBD dispensary and design it from scratch?
Will you open a franchise or an independent store instead?
Will you sell medicinal products or discretionary CBD products (personal care, recreational, etc.)
What are the different types of CBD dispensaries?
There are multiple types of CBD dispensaries. Some of them that you may consider include, but are not limited to:
Personal Care: Your CBD dispensary may focus only on personal care products infused with CBD. These are usually soaps, balms, creams, etc. that are meant for external use only.
Food and Drink: You may sell food and drinks that are infused with CBD. You may also sell CBD products that people can mix with their food or use to make drinks such as tea
Pets: You may sell a variety of pet products that contain CBD
Medicinal: In this type, you will sell CBD products that have therapeutic usage such as patches, ointments, supplements, etc.
You may even open a CBD dispensary that will sell all types of CBD products to attract different types of customers. No matter what you select, you must ensure that the dispensary is located in an area with a high percentage of the target audience.
c) Products
It is needless to say that the products that you will sell through your CBD dispensary will depend on the type of dispensary you are opening. So give here a list of the products you will sell. Yet, if there are too many products, highlight the main ones and save the rest for the appendix instead.
Another important thing that you must mention is how you are going to source the products: you may source your CBD products from third-party manufacturers. Alternatively, you may want to produce the products yourself. If so, what licenses and production facilities you will need must be included.
Finally, a CBD dispensary usually sells products, yet you can also add extra services to differentiate your business vs. competitors and increase your reach (e.g. home delivery services, educational leaflets and videos, etc.).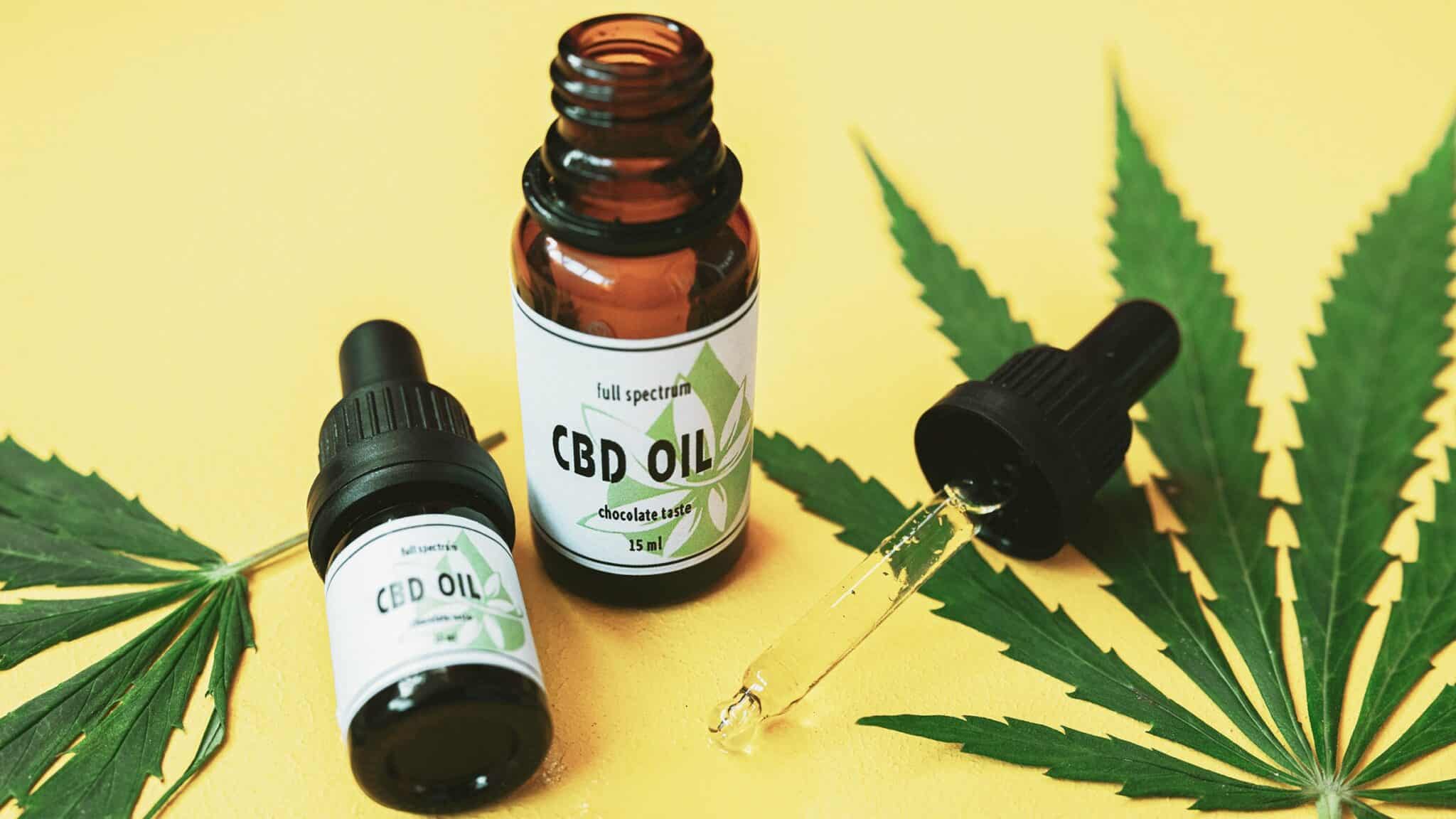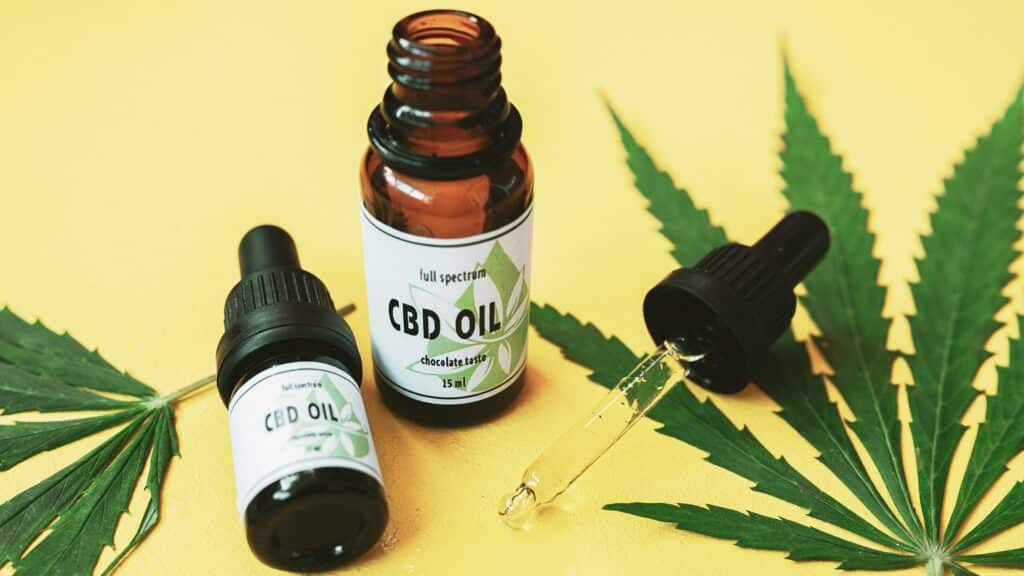 d) Pricing Strategy
Strategy
This is where you will provide an overview of your pricing strategy. For instance, you may sell the products at a lower price point than your competitors because you enjoy a bulk purchase discount from the product supplier.
Again, the quality of the CBD products you are selling will also impact the pricing. For example, if you are selling CBD-infused medical products, you may be focusing on the potency of the product.
Instead, a high-quality product may be more potent than a low-quality product. In that case, you may charge higher than your competitors.
Your pricing strategy will also significantly depend on the spending capability of the target audience in your area of operation.
For example, if you are trying to sell super high-quality CBD products in a neighborhood that has a demand for CBD products but not the necessary purchasing power (i.e. younger population with lower disposable income), it wouldn't necessarily be a good idea. In that case, offering slightly lower quality products at affordable rates would make more sense.
Pricing table
For CBD dispensaries and stores alike, it's always good practice to create a pricing table to provide price ranges for your products. Yet, you don't need to provide exact pricing for each product.
For example, if you are selling CBD massage oils for pain, stress relief, etc., you don't need to list each oil. Instead, just mention something like: CBD oils – $20 to $75.
Offering a pricing chart is important as it will allow investors to tie your pricing strategy with your financial projections later on.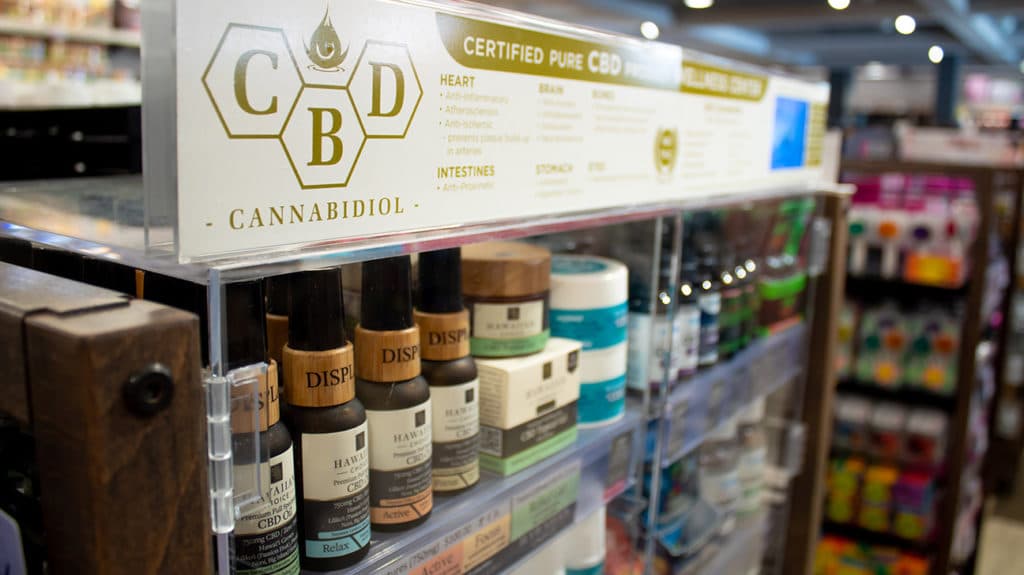 e) Company Legal Structure
Finally, your business overview section should specify what type of business structure you want. Is this a corporation or a partnership (LLC)? Who are the investors? How much equity percentage do they own? Is there a Board of Directors? If so, whom? Do they have experience in the industry?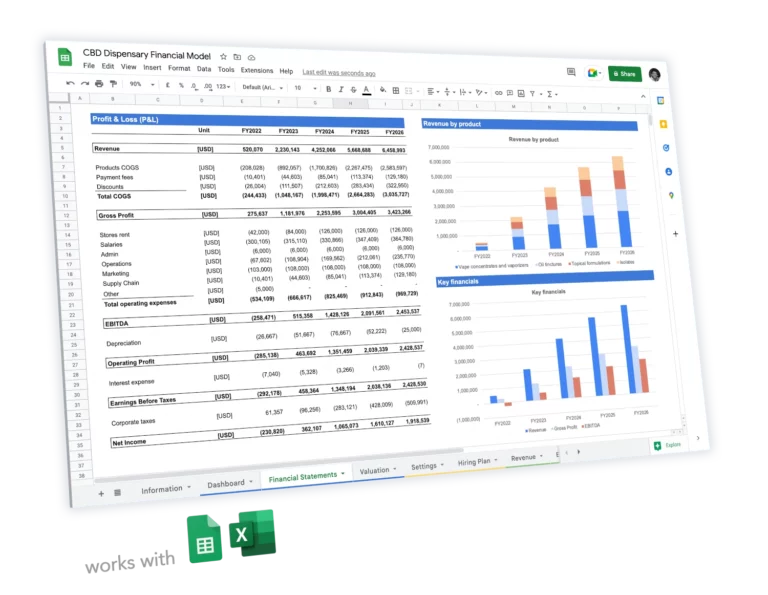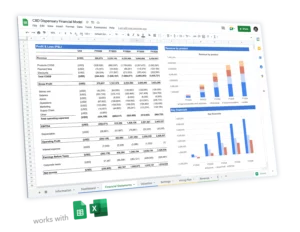 CBD Dispensary Financial Model
5-year financial projections
Suitable for bank loan applications and investors
3. CBD Market Overview
A complete understanding of the market where you want to operate is important for the success of your business. That's also something you must showcase in your business plan.
For example, if you are trying to sell CBD-infused personal care products in a location with a high population of aged people, it may not be a good strategy. On the contrary, you may want to sell CBD-infused medicinal products to help them with health-related issues.
Therefore, you must cover here 3 important areas:
Market trends: how big is the CBD industry in your area? What is its growth rate (or decline rate) and what are the factors contributing to its growth or decline?
Competition overview: how many competitors are there? How do they compare vs. your business? How can you differentiate yourself from them?
Customer analysis: who is your target audience? What type of CBD products do they prefer? How regularly do they purchase CBD products? What type of CBD products do they buy? How much do they spend on CBD products per month?
a) CBD Industry Status Quo
How big is the CBD industry in the US?
Statista research says that the sales of CBD products in the US in 2020 amounted to $4.6 billion, and are expected to increase to a whopping $16 billion by 2026.
Another recent study is more optimistic and estimated the hemp- and cannabis-derived US CBD market at $4 billion in 2019. It also forecasted the market to grow at an impressive 49% annual growth rate (CAGR) by 2024 to reach $25 billion.
The same study reported that 44% of regular CBD users spend $20-$80 per month on CBD products, with the top 13% spending over $160..!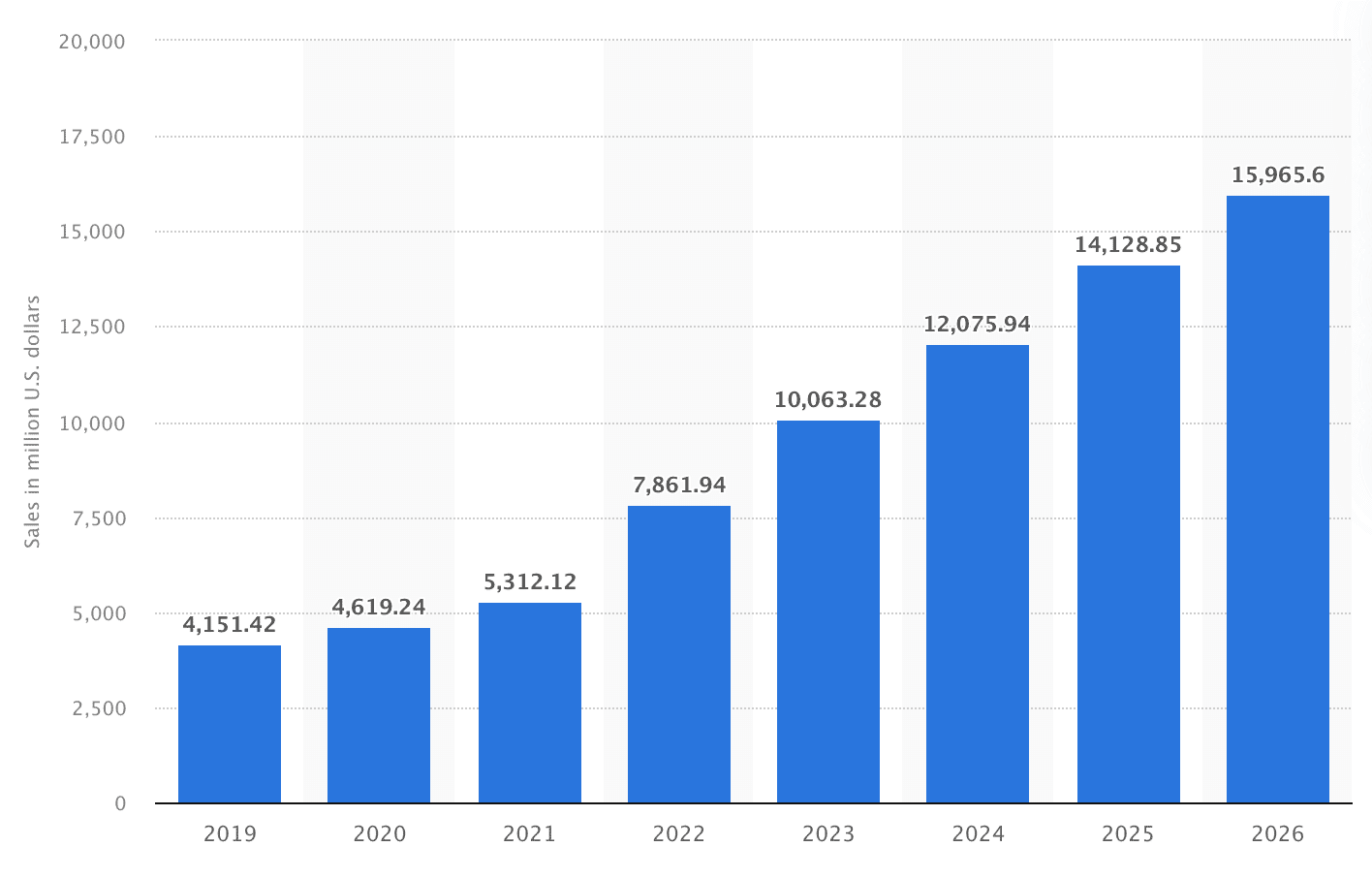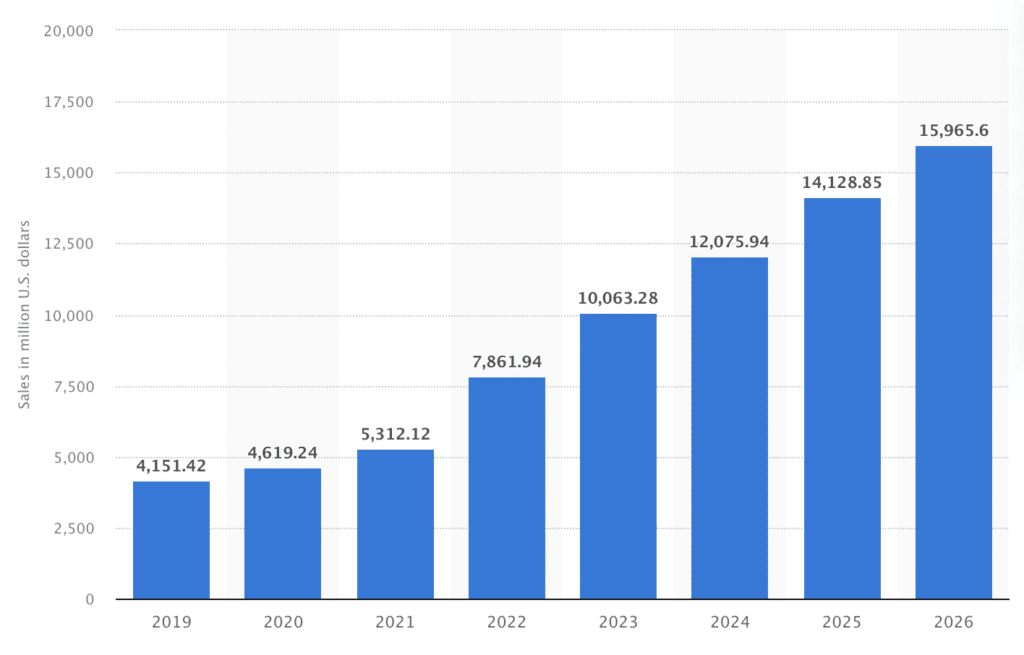 How big is the CBD industry in your area?
After getting a clear picture of the CBD dispensary industry in the US as a whole, narrow down to your location. It's very likely that you won't find the number anywhere (at least not for free).
In that case, you can use our guide to estimate the TAM, SAM, and SOM for your business. Here is an example of how to do it:
There were 7,490 CBD dispensaries across the US in 2020. Together we know they generate a total annual turnover of $4.6 billion, so the average annual turnover per CBD store is around $600,000.
Therefore, if the area where you want to open your CBD dispensary has 20 CBD dispensaries, you can safely assume that the CBD industry in your area is worth approximately $12 million.
How fast is the CBD industry growing in your area?
Looking at publicly information online, we know that the US CBD dispensary market grew from 4.1 billion in 2019 to $5.3 billion in 2021: that's an average of 14% per year.
What about where you live? US national averages can be a great addition to your business plan, yet they don't necessarily help to assess the CBD industry where you want to open your store.
For example, the industry might be growing in the US, but declining in your region for a number of reasons (decreasing population or disposable income, etc.).
As you likely won't find this information online, you can instead rely on the number of dispensaries to calculate the average growth rate of the industry in your area.
For example, if the region had only 12 dispensaries in 2019 and 20 in 2022, you can assume that the average annual growth rate of the CBD industry in the area is ~18%, in line with the US average.


b) CBD Dispensary Competition Overview
Studying your competitors' business models is vital. You need to understand what makes them successful or why they fail. A clear understanding of their CBD product offerings, marketing strategies, etc., will allow you to provide a better service.
If your competitors are offering nearly the same products & services, then what is their market share and how do they market their products & services to attract new customers?
It is always a good idea to do some research (if necessary, physically visit your competitors without revealing your business intentions) and create a comparative table summarizing their product & service offerings, marketing strategies, target audience, etc.
Here is a sample table that you can use:
Competitor #1
Competitor #2
Competitor #3
Location
xx
xx
xx
Business model
Franchise
Independent
Independent
Products
Oils
Topicals
Food & Drink
Capsules
Oils
Topicals
Flower/vape pen
Food & Drink
Capsules
Oils
Flower/vape pen
Food & Drink
Marketing strategy
Signage
Social media outreach
Loyalty rewards
Vehicle branding
Flyers
Signage
Social media outreach
PPC ads
Loyalty rewards
Vehicle branding
Flyers
Signage
Social media outreach
PPC ads
Loyalty rewards
Gift cards and coupons
Google Rating
4.4 (125+)
4.7 (570+)
4.3 (510+)
Pricing
$$
$$$
$
Shop size
1,200 sq. ft.
2,000 sq. ft.
1,800 sq. ft.
Staff
3
6
4
CBD Dispensary SWOT Analysis
SWOT stands for Strength, Weakness, Opportunities, and Threats. This analysis will help lenders and investors better understand how you compare vs. competitors as well as the overall risk and reward profile of your business.
Here is a sample that you can use as a reference:
Strengths: Worked as a regional manager at a leading CBD company for 5 years; professional cannabis business training from Gateway Community College (SharpSheets is not affiliated with the college and the name is used only as an example)
Weaknesses: Startup cost, no initial brand reputation
Opportunities: An affluent area with a high population of people aged 25 to 34 and 35 to 44. 45% of people in the age group 25-34 spend less than $50 and 29% of them spend more than $50 per month on CBD products. 40% of people in the age group 35-44 spend less than $50 and 37% of them spend more than $50 a month on CBD products
Threats: Two biggest brands – Charlotte's Web and Medterra – are rapidly expanding in the area by opening retail chains and franchise stores.
c) Customer Analysis
This is the sub-section where you will provide a detailed analysis of your target audience.
Some important points that you must include in your customer analysis include:
Age and gender distribution (you can get local demographic data from census.gov)
Average monthly income and disposable income
Average spend on CBD products (per month or per year)
Types of CBD products they prefer
The expected price range for CBD products
Reasons to use CBD products (medicinal benefits, high healthcare costs, no health insurance, etc.)
Inclination towards loyalty programs & free perks
Things they dislike about existing CBD dispensaries and what they expect to be improved
You can add as many data points as required to validate your business decision. The idea here is to display your deep understanding of the target audience and their needs, preferences, and expectations. This knowledge can help you to tailor your products & services to attract new customers.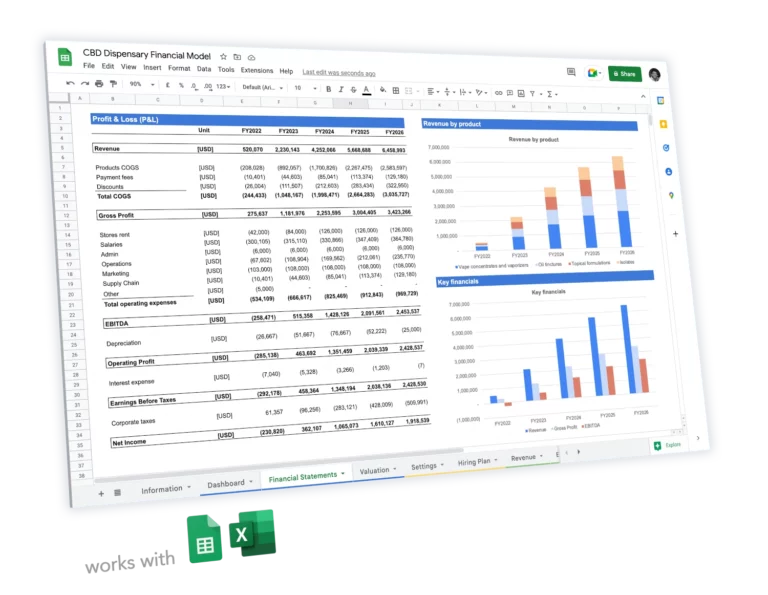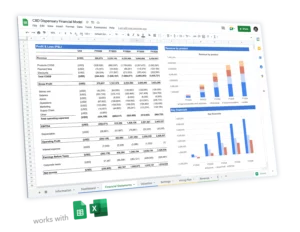 CBD Dispensary Financial Model
5-year financial projections
Suitable for bank loan applications and investors
4. Sales & Marketing Strategy
This is the segment where you outline your customer acquisition strategy. Try to answer the following questions:
What is your Unique Selling Proposition (USP)?
What are the different marketing strategies you will use?
How do you intend to track the success of your marketing strategy?
What is your CAC or customer acquisition cost?
What is your marketing budget?
What introductory promos and offers do you intend to provide for attracting new customers?
What marketing channels do CBD dispensaries use?
A few marketing channels that CBD dispensaries typically use are:
PPC ads, Facebook ads, etc.
Customer interaction through social platforms like Instagram, Facebook, etc.
Billboards & signages
Loyalty programs
Vehicle branding
Pamphlets & flyers
Coupons & gift cards
Word of mouth
It is not necessary to use all channels. Instead, you can start by focusing on a few of them, and include other marketing strategies later.
Also, you must have a fair and nearly accurate estimate of your marketing budget. Failure to display a well-planned and adequate cash flow for advertising and marketing can lead to investors losing confidence. That's because investors are fully aware that if adequate funds are not allocated for marketing, the business will be derailed before becoming a success.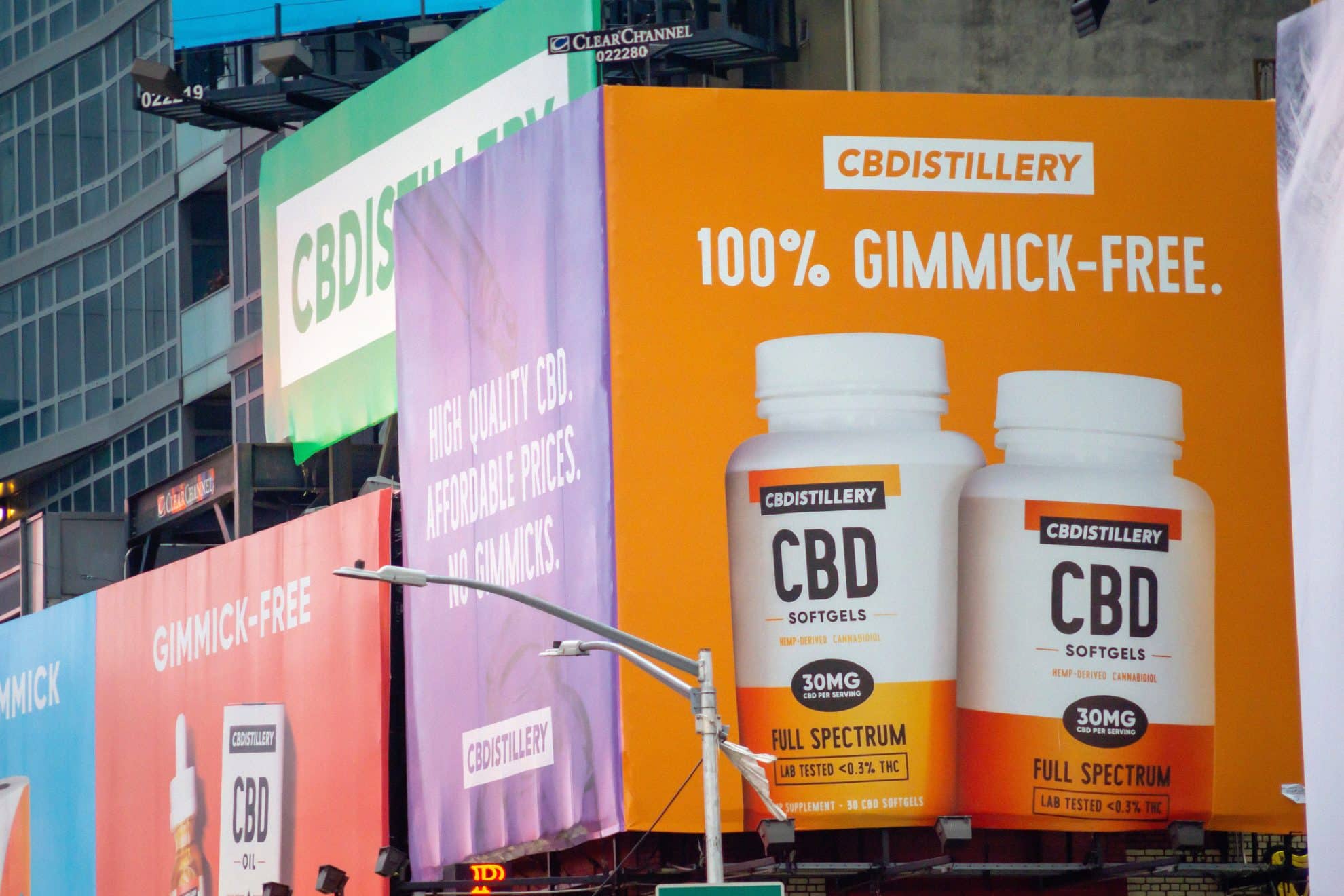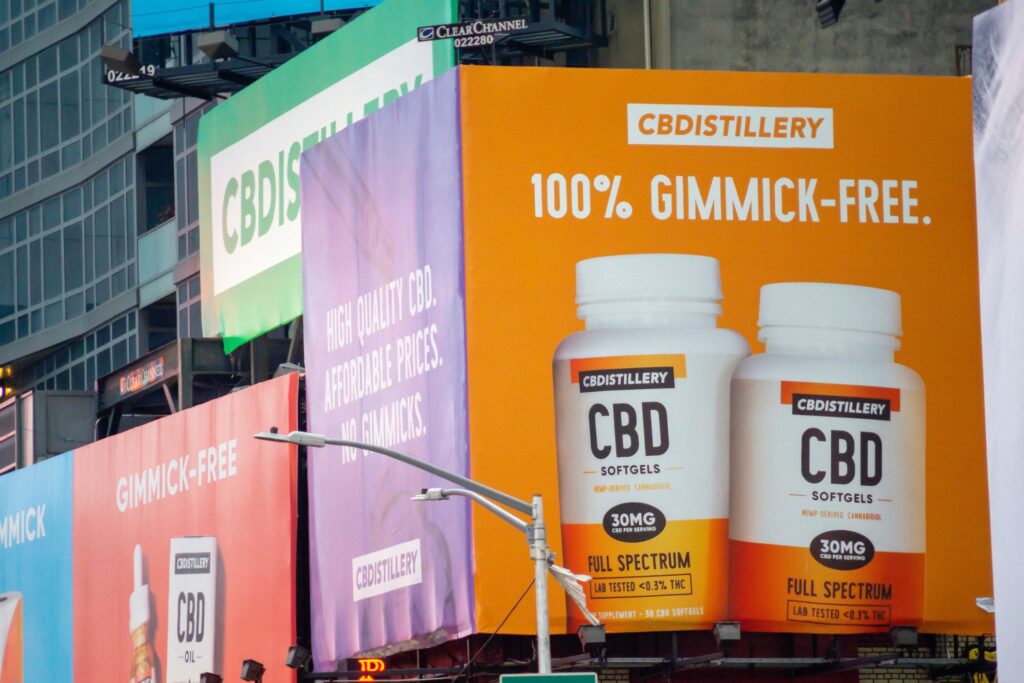 What is your Unique Selling Proposition (USP)?
In other words, how do you differentiate yourself vs. competitors? This is very important as you might need to win customers from competitors.
A few examples of USPs are:
Product quality: you may be offering higher quality products vs. your competitors, for example pure hemp products extracted from organically farmed hemp by American farmers
Location: your store may be located closer to your target audience and/or closer to a busy street where new potential customers can see your signage
Price: your services may be cheaper vs. competitors
Referrals and partnerships: you could partner with well-known CBD brands (and resell their products) that would also refer you to their customers via their email list for example
Your USP will depend on your business model, competitor analysis, and target audience. Whatever your USP be, it should be clear and appeal to your target audience.
5. Management & People
You must address two things here:
The management team and their experience/track record
The organizational structure: different team members and who reports to whom?
Management
Small businesses often fail because of managerial weaknesses. Thus, having a strong management team is vital. Highlight the experience and education of senior managers that you intend to hire to oversee your CBD dispensary business.
Describe their duties, responsibilities, and roles. Also, highlight their previous experience and explain how they succeeded in their previous roles.
It is also important that you explain how their experiences and qualifications help you in implementing the CBD dispensary you are proposing. If they have specialized training and experience (such as professional CBD business training, managerial experience in a leading CBD company, CBD product marketing specialist, etc.), add that information.
Organization Structure
Even if you haven't already hired a general manager, administrative staff, budtenders, security, cashier, and other relevant staff members, you must provide a flowchart of the organizational structure defining hierarchy and reporting lines.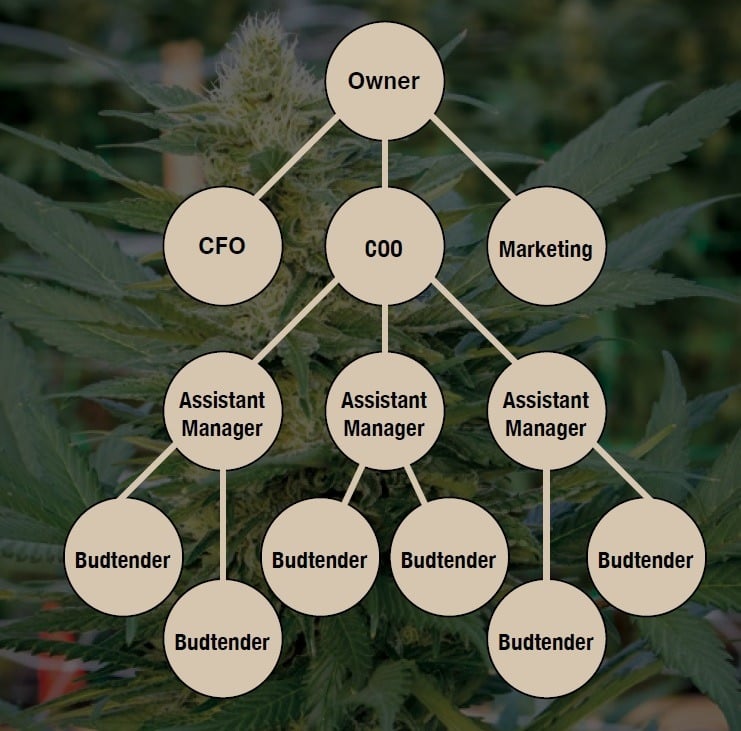 6. CBD Dispensary Financial Plan
The financial plan is perhaps, with the executive summary, the most important section of any business plan for a CBD dispensary.
Indeed, a solid financial plan tells lenders that your business is viable and can repay the loan you need from them. If you're looking to raise equity from private investors, a solid financial plan will prove them your CBD dispensary is an attractive investment.
There should be 2 sections to your financial plan section:
The startup costs of your CBD dispensary
The 5-year financial projections
a) Startup Costs
Before we expand on 5-year financial projections in the following section, it's always best practice to start with listing the startup costs of your project. For a CBD dispensary, startup costs are all the expenses you incur before you open your clinic.
These expenses typically are: the lease for the space, the renovation costs, the equipment and furniture.
Logically, the startup costs vary depending on the size of your store, the quality of the design and furniture, whether you buy the real estate or rent a commercial space, etc.
For more information on how much it costs to open and run a CBD dispensary, read our article here.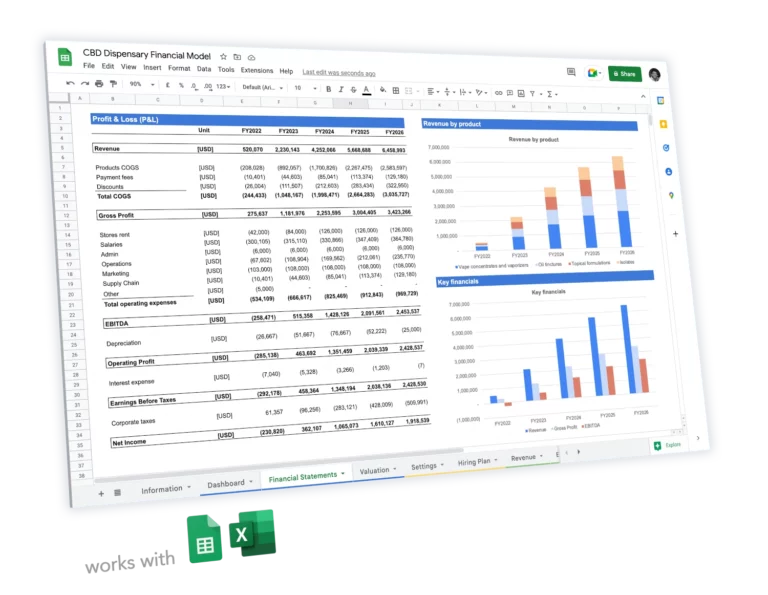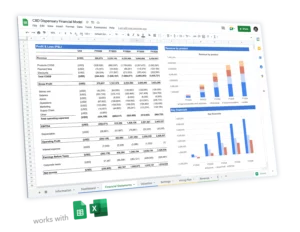 CBD Dispensary Financial Model
5-year financial projections
Suitable for bank loan applications and investors
b) Financial Projections
In addition to startup costs, you will now need to build a solid 5-year financial model for your CBD dispensary.
Your financial projections should be built using a spreadsheet (e.g. Excel or Google Sheets) and presented in the form of tables and charts in the business plan of your CBD dispensary.
As usual, keep it concise here and save details (for example detailed financial statements, financial metrics, key assumptions used for the projections) for the appendix instead.
Your financial projections should answer at least the following questions:
How much revenue do you expect to generate over the next 5 years?
When do you expect to break even?
How much cash will you burn until you get there?
What's the impact of a change in pricing (say 15%) on your margins?
What is your average customer acquisition cost?
You should include here your 3 financial statements (income statement, balance sheet and cash flow statement). This means you must forecast:
The number of products you sell over time ;
Your expected revenue ;
Operating costs to run the business ;
Any other cash flow items (e.g. capex, debt repayment, etc.).
When projecting your revenue, make sure to sensitize the prices of products and your sales volume (number of customers and/or orders). Indeed, a small change in these assumptions may have a significant impact on your revenues and profits.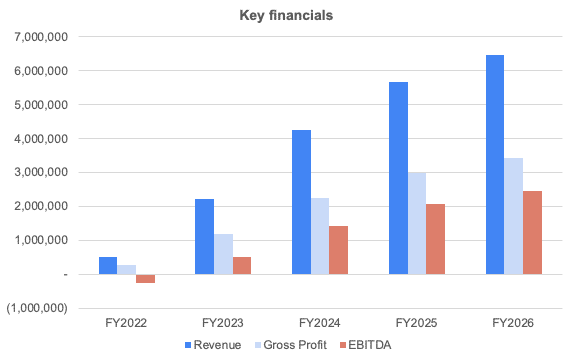 7. Use of Funds
This is the last section of the business plan of your CBD dispensary. Now that we have explained what your CBD dispensary's business model is, the products you sell and to whom, your marketing strategy, etc., this section must now answer the following questions:
How much funding do you need?
What financial instrument(s) do you need: is this equity or debt, or even a free-money public grant?
How long will this funding last?
Where else does the money come from? If you apply for a SBA loan for example, where does the other part of the investment come from (your own capital, private investors?)
If you raise debt:
If you raise equity
What percentage ownership are you selling as part of this funding round?
What is the corresponding valuation of your business?
Use of Funds
Any CBD dispensary business plan should include a clear use of funds section. This is where you explain how the money will be spent.
Will you spend most of the loan / investment in paying your employees' salaries? Or will it cover mostly the cost for the lease deposit for the space, the renovation and equipment?
Those are very important questions you should be able to answer in the blink of an eye. Don't worry, this should come straight from your financial projections. If you've built solid projections like in our CBD dispensary financial model template, you won't have any issues answering these questions.
For the use of funds, we also recommend using a pie chart like the one we have in our financial model template where we outline the main expenses categories as shown below.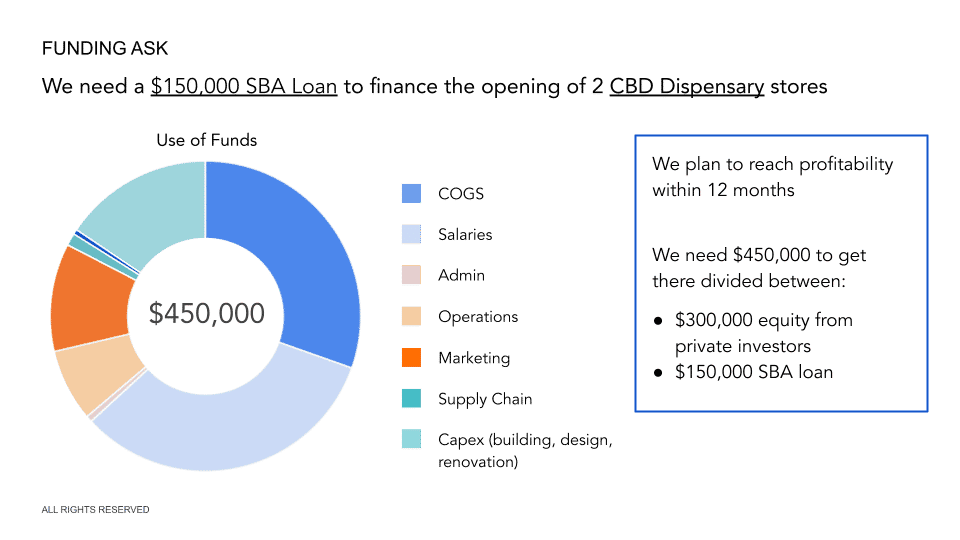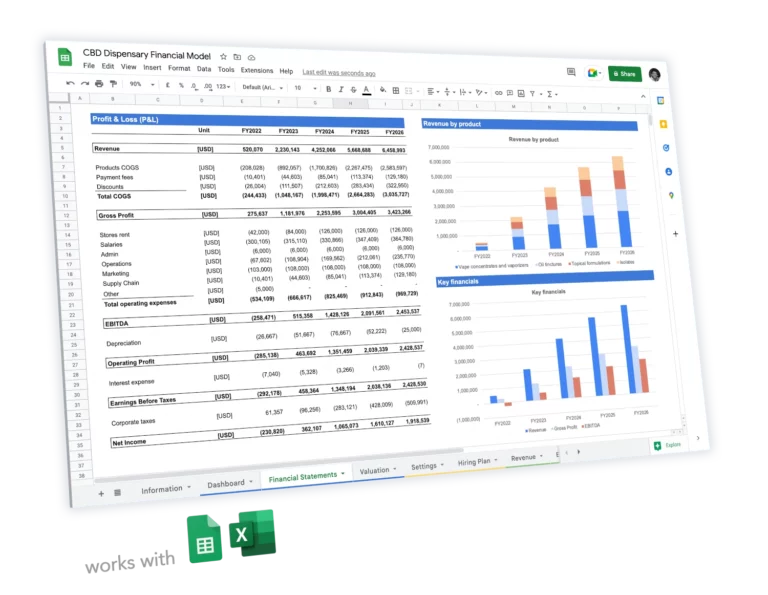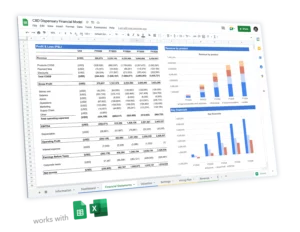 CBD Dispensary Financial Model
5-year financial projections
Suitable for bank loan applications and investors