Laundry Shop Business Plan: Complete Guide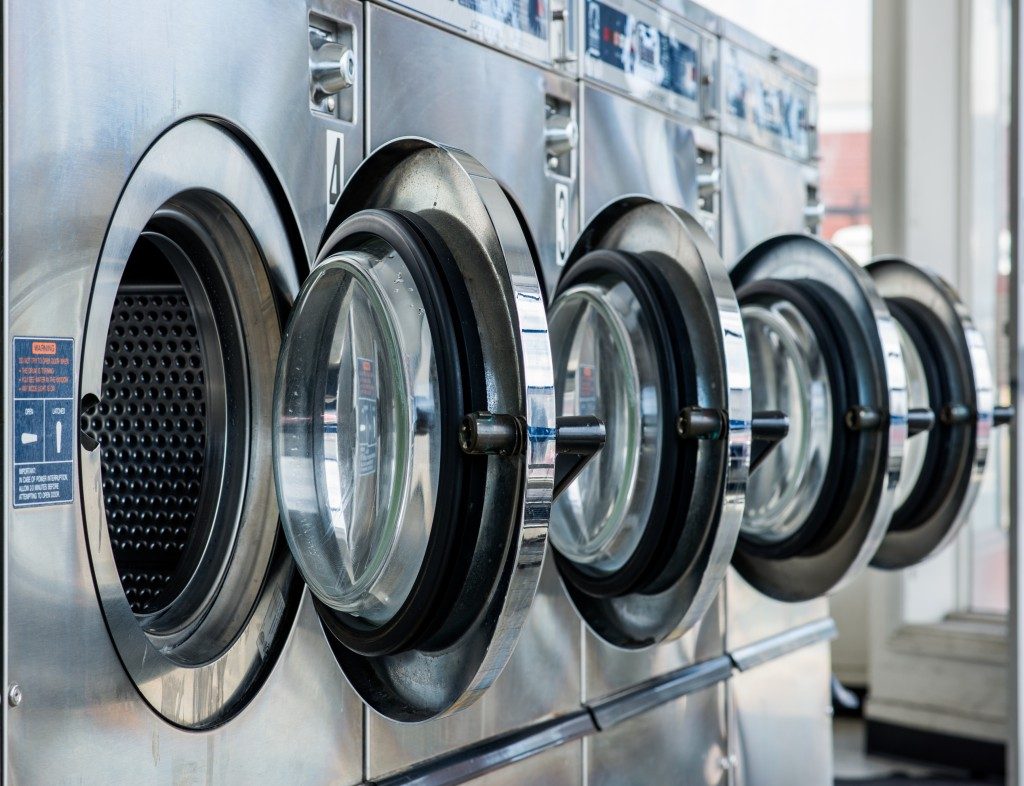 Whether you're looking to raise funding from private investors or to get a loan from a bank (like a SBA loan) for your laundry shop, you will need to prepare a solid business plan.
In this article we go through, step-by-step, all the different sections you need in your business plan for a laundromat or a dry cleaning business. Use this template to create a complete, clear and solid business plan that get you funded.
For more information on laundromats and dry cleaners, make sure to read our guides below:
How To Open a Laundry Shop In 10 Steps
How Much Does It Cost to Start a Laundry Shop?
How To Build a Financial Model For a Laundry Shop
1. Executive Summary
The executive summary is one of the most important elements of your laundry shop business plan. It gives everyone an overview of your business, including the potential lenders and investors, so it's important to get all the details right.
An executive summary is simply a summary of your business plan, highlighting all the important sections and the funding ask.
Why you need a business plan for a laundry shop
The only reason you would want a business plan is to get a clear roadmap when executing your business strategies from start to finish. This is important when considering a business as competitive as a laundromat, where a lack of attention to minor detail could have a massive impact on the revenue potential. Ideally, your business plan should help you achieve one of the following objectives;
Help secure funding from banks or other lenders (think about a SBA loan).
Get financing from private investors (angel investors, private funds, etc.)
Obtain a public or private grant
How to write an executive summary for a laundry shop
The structure of any executive summary is always the same, same goes for laundry shops.
Business Overview
What's your business name? What is your business model? Do you operate a dry cleaning or a laundromat? This section should contain the answers to all these questions and more.
Note that entrepreneurs have 2 business models to choose from when starting a laundry shop. You may want to purchase a franchise or instead open an independent shop. This needs to be crystal clear from the outset in this section.
Other important elements to consider here include the services you plan to offer, the location of your shop and the legal structure of your company.
Market analysis
In this section, you should summarise the market research you would have conducted as part of your business plan. Indeed, conducting a proper market analysis will give you an accurate estimation of the total number of customers that may visit your shop every month.
For example, do you have a clear picture of the exact number of laundry shops in your area? If you are launching a laundry shop within a busy neighborhood, then what's the competition like?
Other important elements that will come up at this point include the region's demography and the demand for laundry services, ultimately determining your pricing strategy.
Management & People
Expand here on the management team and their experience in the industry. Also, make sure you have a clear organizational structure with the different teams and their reporting lines.
Financial Plan
How much profit and revenue do you expect in the next 5 years? When will you reach the break-even point and start making profits? It is ideal to include a chart depicting your key financials such as revenue, gross profits, and net profit
Funding Ask
There's no better way to conclude the executive summary than by laying out the objective of your business plan: to raise funding from investors, banks or to obtain a grant.
Therefore, answer the following questions here: What loan/investment/grant are you seeking? How much do you need? How long will this last?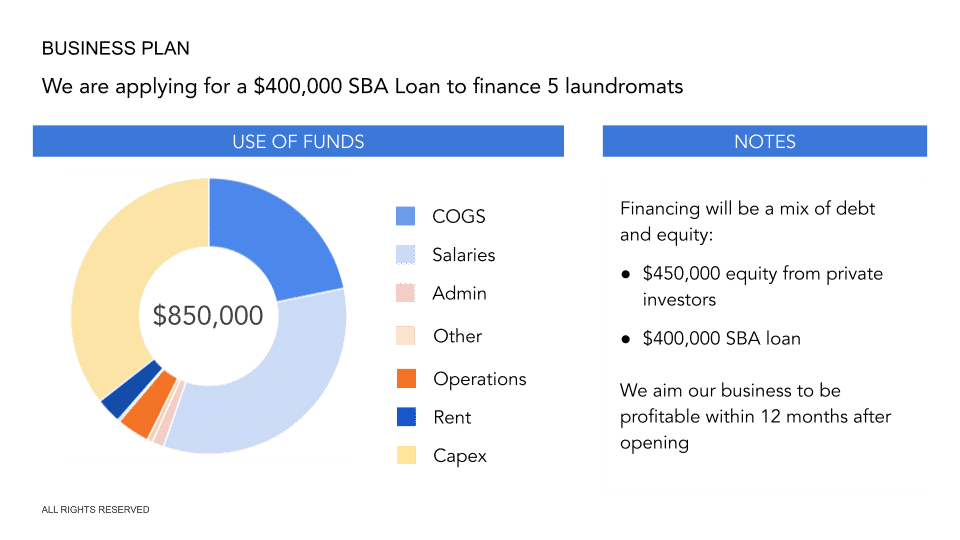 2. Laundry Shop Business Overview
A business overview is exactly what it sounds like: a description of your company and what it offers to your target customers. For a laundry shop, the focus will be on your specific services, how every product is priced, and who your target market is.
Here are the different sub-sections you should cover here:
History
As part of the business overview section, describe the history of your laundry shop, covering your interest and reason for starting the business today. Explaining the rationale and the "why you" to investors goes a long way.
For example, if your analysis showed that most laundry shops in the region welcome customers to come in for their cleaning services, you could offer pickup and delivery services instead, to stand out from the crowd.
Business Model
The business model answers specific questions about your laundry shop. For instance, will you purchase an already established franchise or start from scratch? Also, are you opening an independent store or opting for a partnership?
Laundry Services and Products
There's no limit to the number of services and products you can offer at your laundry shop. However, you need a clear strategy to truly stand out from the crowd and target the desired market base. Most importantly, you need to show the potential investors why they should trust your business model and nothing else.
A standard laundry shop in the US will almost certainly focus on washing, drying, and folding services. However, you can take it a notch higher by offering additional services like dry cleaning, ironing, and stain treatment. Be clear if you cater to a specific target market like colleges, toddlers (diaper services), restaurants, animal shelters, inns, or hospitals.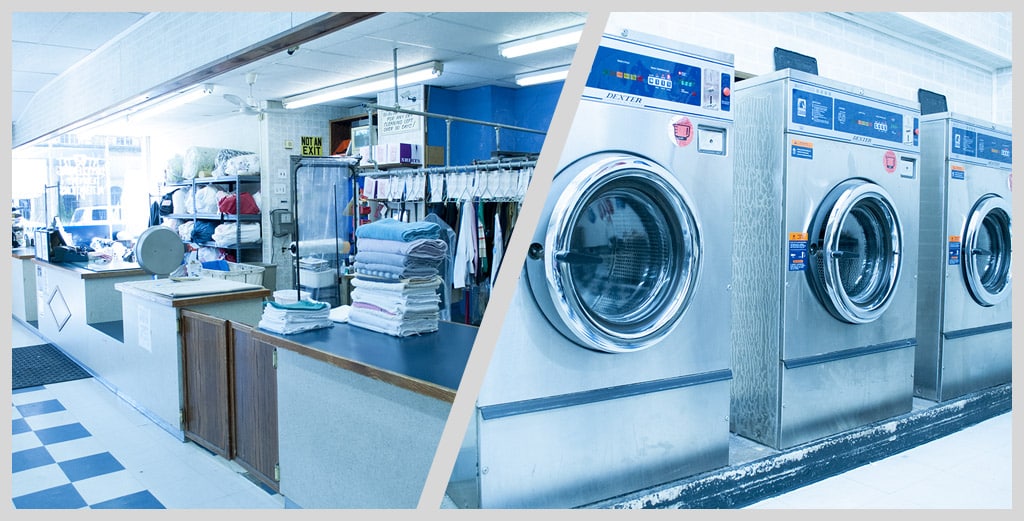 Pricing Strategy
What's a fair price for laundry services? Such questions are best answered after assessing your target audience and other important details related to the laundry shop business. Of course, you don't have to go overboard when setting your prices for a new start-up.
On average, laundry services cost about $2.00 per load in most US states. So, this could be a good starting point as you continue to explore the market to determine the most reasonable prices for your audience.
Generally, the cost of laundry services depend on the location and quality of services. While most laundry services that allow clients to drop off their laundry for cleaning charge by weight, some will help customers pick the desired services from the menu.
Target Audience
Understanding your target audience is almost as good as increasing your revenue potential. Indeed, you will never increase the profit margins if you don't know your potential clients.
For a laundry shop business, it's important to find out if the local area even needs your services in the first place. And even after identifying an obvious market gap, you will want to dig deeper to find out what the customers will appreciate most about your business and why they need laundry services.
Knowing your target market not only helps you attract and retain new clients but also shows the lenders the viability of your business model.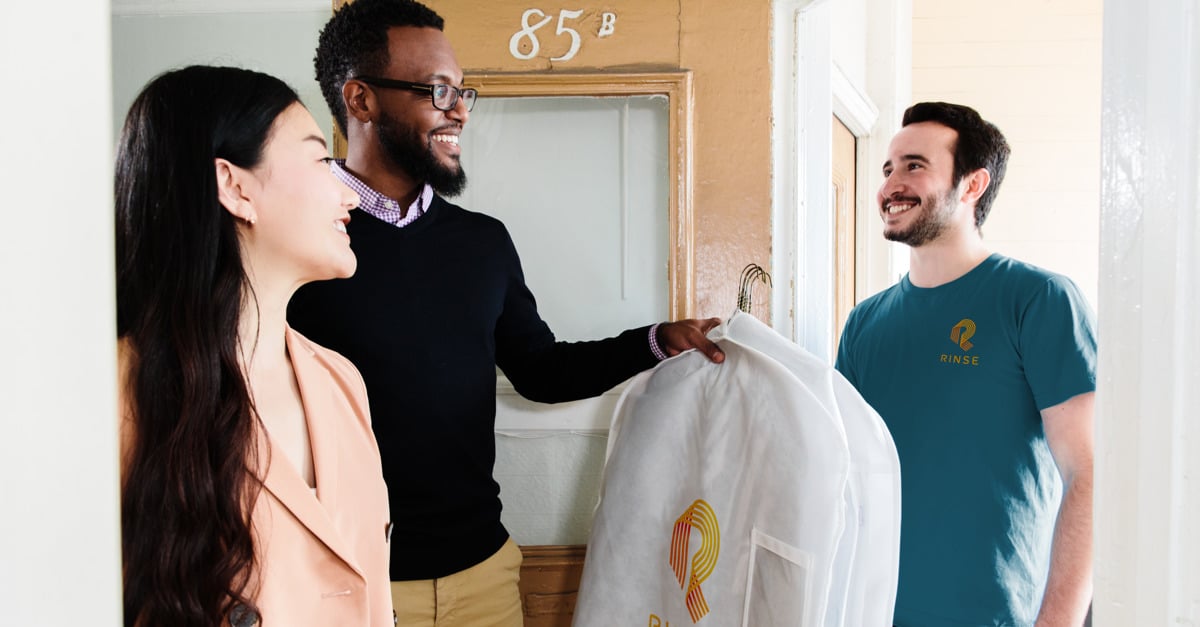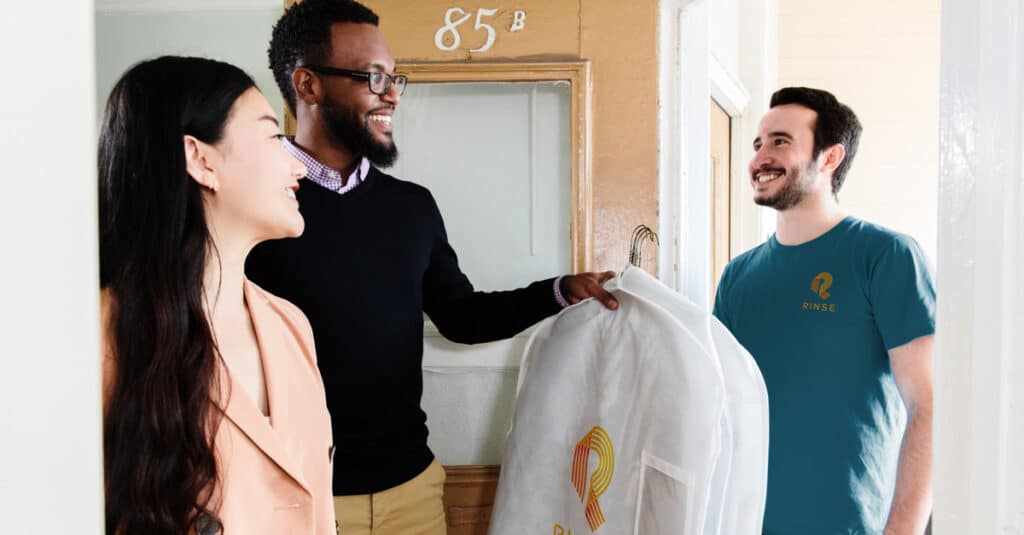 Legal Structure
The legal structure is the last element you may want to include in your laundry shop's business overview section. Most laundry shops in the US are operating as a limited liability company (LLC).
But as you may already know, the legal structure is never a one-size-fits-all affair. So choose a structure that matches your needs between a corporation or a partnership.
Get a rock-solid business plan with the 
Laundry shop financial model
5-year financial plan already built

20+ charts for your business plan

Video tutorial 🎥

5,900+ downloads
3. Laundry Shop Market Analysis
A proper market analysis is another very important section in your laundry shop business plan, helping you showcase your wealth of knowledge about the market. And that's exactly what many investors will want to see.
For a laundry business, setting up your shop in a busy location with lots of apartments might be a goldmine, helping you reach out to a large audience in little to no time. Unless you want to spend a couple of hours on the road traveling to offer your pick and delivery services, you will want your laundry shop to be as close to the target market as possible.
Laundry Shop Market Trends
As part of a comprehensive market analysis, ensure you understand the market trends before jumping on the laundry shop train. An overview of the current market size and a prediction of the future growth opportunities should help you make clear business decisions.
How big is the laundry industry in the US?
It's always good to present a few numbers for the US market. For example, you could use the US market size of $10 billion in 2020, expected to grow by 4% annually from 2021 to 2028.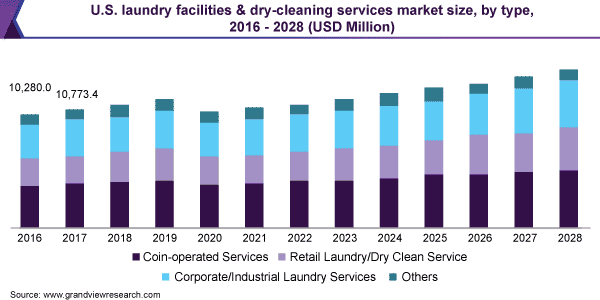 How big is the laundry industry in your area?
However, there are good chances you will want to be as specific as possible by restricting your analysis where you plan to operate instead. Indeed, whilst the US market for laundry facilities might be growing overall for certain reasons, it might not be the case at all in your area.
This can be as easy as listing all the different laundry shops (laundromats, online on-demand delivery / pickup laundry, dry cleaners) in your area.
How fast is the laundry industry growing in your city?
Now let's look at growth.
Here, you can use the number of laundry shops in your city. For example, assuming there were 20 shops in your city in 2020 and 24 in 2022, we can assume your market is growing at +10% per year.
Laundry Shop Competitor Analysis
A healthy competition puts you on your toes, ensuring you work hard to improve your services and never stay in your comfort zone. However, competition only makes sense if you are smart enough to understand your competitors' biggest deficiencies.
After finding out the number of laundry shops in the area, some of your biggest competitors in the field, and the services they offer, you will want to go a step higher to evaluate other vital elements.
For example, you may want to know how much your competitors charge for the same laundry services, the average number of employees and their salaries, and the estimated number of customers they serve every month. The data you obtain from such analyses should help you make smart decisions, fully motivated to meet your clients' expectations.
Laundry Shop Customer Analysis
Now that you know the market trends and the level of competition, who exactly are you selling to? This is more or less the same as the target audience, and everything still hinges on the nature of the individuals you intend to serve.
You can deduce this information from the competitive analysis, taking note of the need for laundry services in the area and the region's demographic pattern. Find out if the local community appreciates online booking because that will force you to design a reliable website with a user-friendly booking section.


4. Sales & Marketing Strategy
The sales and marketing strategy section of your business plan should include information on how you will attract new customers to your laundry shop.
Keep it simple by answering specific questions about your business. For example, what marketing channels are best suited to your target audience? How will you know that your marketing strategy is working? What's the estimated marketing budget? And do you plan to include incentives like bonuses and offers to attract new clients within the first few days/weeks of operation?
Laundry Shop Marketing Channels
You will never run out of options when it comes to the marketing channels for a laundry shop business. The only question is whether the chosen strategy suits your target market.
Ideally, the chosen marketing channel should be creatively designed to deliver results while helping you outshine some of your biggest competitors in the field. And there are numerous options, including;
Social media ads (Facebook, Instagram)
Local pay-per-click campaigns (e.g. Google Ads)
Billboards
Website
Partnerships (with corporates, hotels, fitness clubs, etc.)
What Are Your Unique Selling Points (USP)?
A unique selling point explains how you stand out from the competition. This section includes a specific feature that customers can only find in your business and should be communicated concisely.
Your USPs separate your business from competitors, and help customers make a decision between one laundry shop and another.
Of course, a unique selling point varies from one company to another, but some of the key factors that should guide your decision include;
Price: you may be cheaper vs. your competitors
Location: your laundry shop might be closer to your target customers
Quality: you offer higher-quality services and/or faster turnaround
Services: you might offer an online booking service with the ability for customers to order pickup and delivery so they don't have to leave the comfort of their home
5. Management & Organizational Structure
The 5th section of your laundry shop business plan should be about people. It should include 2 main elements:
The management team and their experience / track record
The organizational structure: what are the different teams and who reports to whom?
Management
Here you should list all the management roles in your company. Of course, the amount of details you need to include here varies depending on the size of your company. A franchise business with a number of laundromats would need more detail vs. an independent laundromat.
If you plan on running your business independently, you may write a short paragraph explaining who are the co-founders and/or senior managers (if there are any in addition to yourself). It's important to highlight their experience in the industry and previous relevant professional experiences.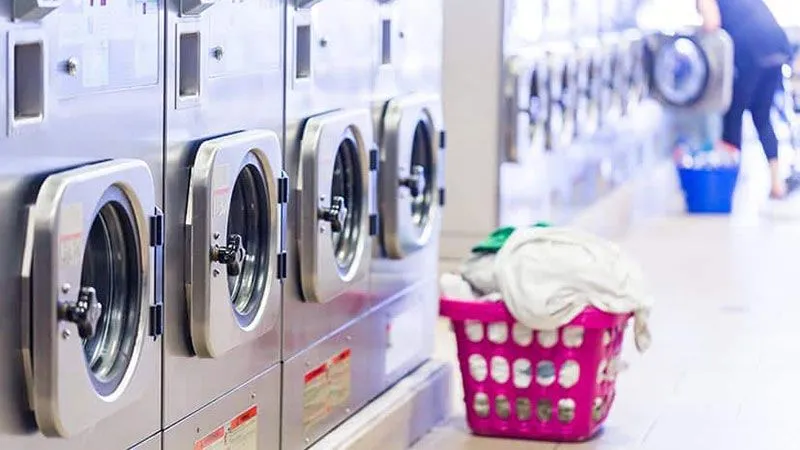 Organizational structure for a laundry shop
No matter how many leadership roles there are, you should now explain how you intend to run the company from a management standpoint.
What are the different teams (management, operations, marketing, etc.)? Note that you should include these details even if you haven't hired anyone yet. It will show lenders and investors that you have a solid hiring and management plan to run the business successfully.
A great addition here is to add an organizational chart that list all the roles, from Directors to managers, key supervisory roles, employees and contractors. Make sure to highlight with reporting lines who manages/supervises whom.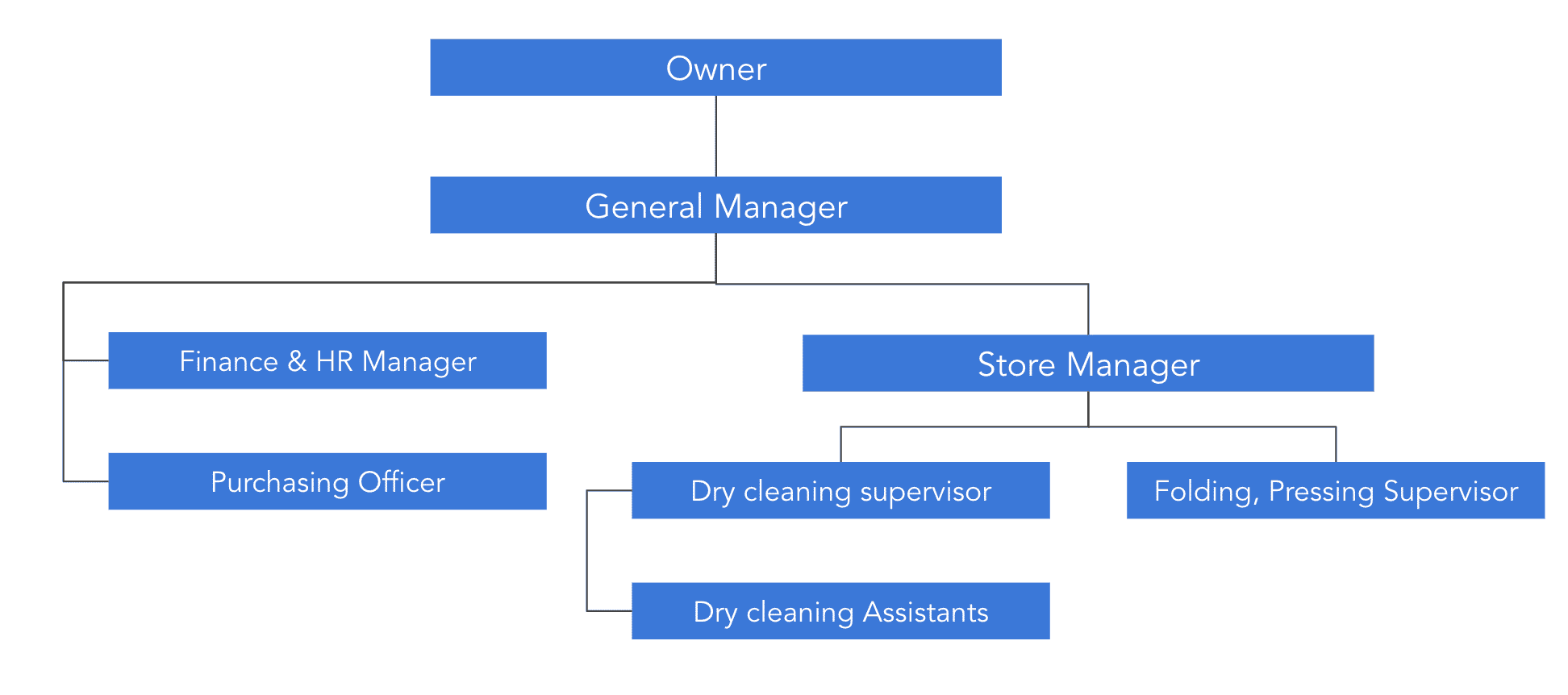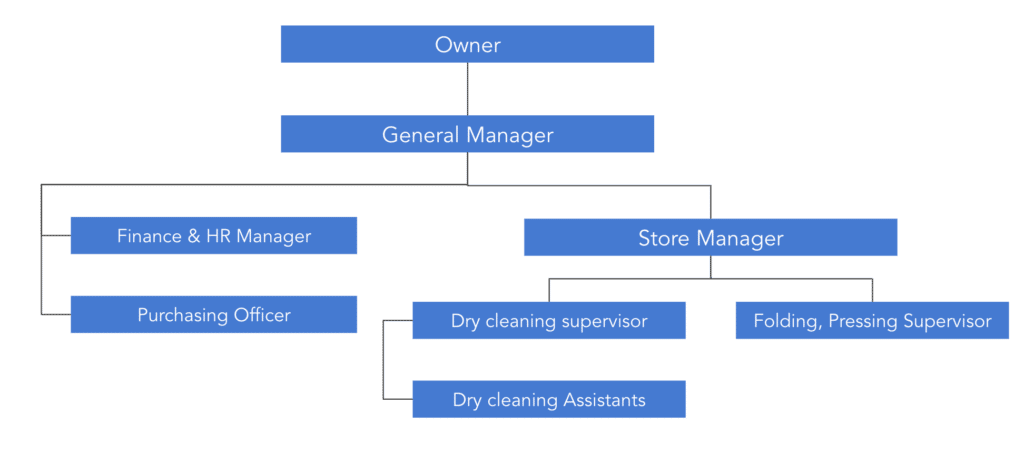 6. Laundry Shop Financial Plan
The financial plan is perhaps, with the executive summary, the most important section of any business plan.
Indeed, a solid financial plan tells lenders that your business is viable and can repay the loan you need from them. If you're looking to raise equity from private investors, a solid financial plan will prove them your laundry shop is an attractive investment.
There should be 3 sections to your financial plan section:
Your historical financials (only if you already operate the business and have financial accounts to show)
The startup costs of your project (if you plan to open a new laundromat, purchase new washing machines, renovate your facilities, etc.)
The 5-year financial projections
Historical Financials (if any)
In the scenario where you already have some historical financials (a few quarters or a few years), include them. A summary of your financial statements in the form of charts e.g. revenue, gross profit and net profit is enough, save the rest for the appendix.
If you don't have any, don't worry, most new businesses don't have any historical financials and that's ok. If so, jump to Startup Costs instead.
Startup Costs
Before we expand on 5-year financial projections in the following section, it's always best practice to start with listing the startup costs of your project. For a laundry shop, startup costs are all the expenses you incur before you open the space to your customers.
These expenses typically are:
The lease deposit for the space you rent (if your decide to rent)
The loan downpayment for the purchase price of the building (if you decide to buy with a mortgage)
The design and renovation of the existing facilities
The equipment (washers, dryers, coin machine, etc.)
The total startup costs depend on a number of factors, such as the type of business model (laundromat vs. dry cleaning), the quality of the building (whether there is a lot or remodeling to do or not), the number and quality of the machines, etc.
As an example, it costs on average $151,000 to $490,000 to start a laundromat with 15 front-loaders and 10 dryers. For more information on how much it costs to open and run a laundry shop, read our complete guide here.
| Startup cost | Amount |
| --- | --- |
| Lease security deposit (or loan down payment) | $11,000 (rent) – $40,000 (buy) |
| Equipment (washers, dryers, POS, etc.) | $150,000 to $450,000 |
| Total | $151,000 – $490,000 |
Get a rock-solid business plan with the 
Laundry shop financial model
5-year financial plan already built

20+ charts for your business plan

Video tutorial 🎥

5,900+ downloads
Laundry Shop 5-Year Financial Projections
In addition to startup costs, you will now need to build a solid 5-year financial model as part of your laundry shop business plan.
Your financial projections should be built using a spreadsheet (e.g. Excel or Google Sheets) and presented in the form of tables and charts in your business plan.
As usual, keep it concise here and save details (for example detailed financial statements, financial metrics, key assumptions used for the projections) for the appendix instead.
Your financial projections should answer at least the following questions:
How much revenue do you expect to generate over the next 5 years?
When do you expect to break even?
How much cash will you burn until you get there?
What's the impact of a change in pricing (say 20%) on your margins?
What is your average customer acquisition cost?
You should include here your 3 financial statements (income statement, balance sheet and cash flow statement). This means you must forecast:
The number of customers over time ;
Your expected revenue ;
Operating costs to run the business ;
Any other cash flow items (e.g. capex, debt repayment, etc.).
When projecting your revenue, make sure to sensitize pricing and the number of customers as a small change in these assumptions will have a big impact on your revenues.
When it comes to the costs, consider both startup and operating costs. For more information, read our complete guide here.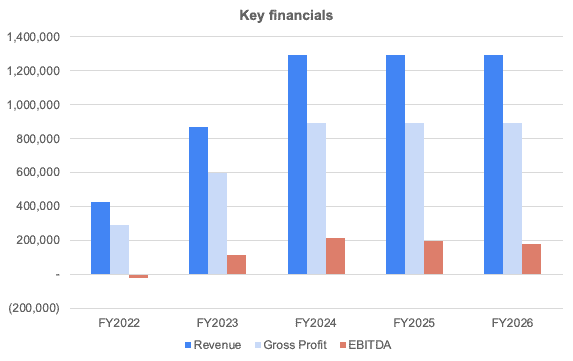 7. Funding Ask
This is the last section of your laundry shop business plan. Now that we have explained what your laundry shop is about, what's your strategy, where you go and how you get there, this section must answer the following questions:
How much funding do you need?
What financial instrument(s) do you need: is this equity or debt, or even a free-money public grant?
How long will this funding last?
Where else does the money come from? If you apply for a SBA loan for example, where does the other part of the investment come from (your own capital, private investors?)
If you raise debt:
If you raise equity
What percentage ownership are you selling as part of this funding round?
What is the corresponding valuation of your business?
Use of Funds
Any laundry shop business plan should include a clear use of funds section. This is where you explain how the money will be spent.
Will you spend most of the loan / investment in buying the real estate? Or will it cover mostly the cost for the acquisition of the machines?
Those are very important questions you should be able to answer in the blink of an eye. Don't worry, this should come straight from your financial projections. If you've built solid projections like in our laundry shop financial model template, you won't have any issues answering these questions.
For the use of funds, we recommend using a pie chart like the one we have in our financial model template where we outline the main expenses categories as shown below.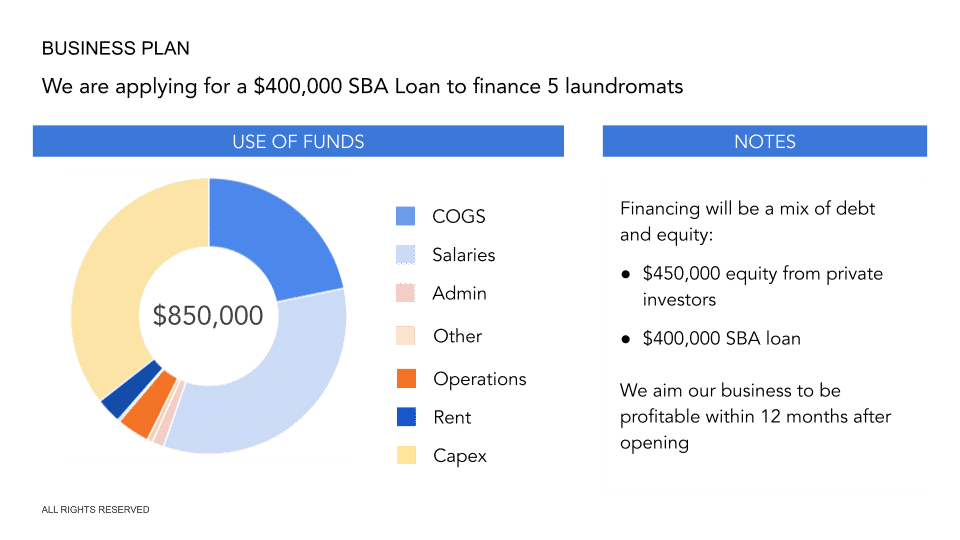 Get a rock-solid business plan with the 
Laundry shop financial model
5-year financial plan already built

20+ charts for your business plan

Video tutorial 🎥

5,900+ downloads